Artist Hashtags
Best Hashtags for Artist Instagram Posts
Last Updated:
#artist is currently the 59th most popular hashtag on Instagram, with 239.95M posts.
Best Hashtags for Artist
27 Hashtags

            #artist #instagood #fashion #creative #artists #artwork #artofinstagram #artistic #modern #art #design #follow #style #artgallery #arts #instaart #artistsofinstagram #artistoninstagram #cool #happy #handmade #instaartist #color #love #digital #artistsoninstagram #beautiful
        
See more hashtags below! ⬇️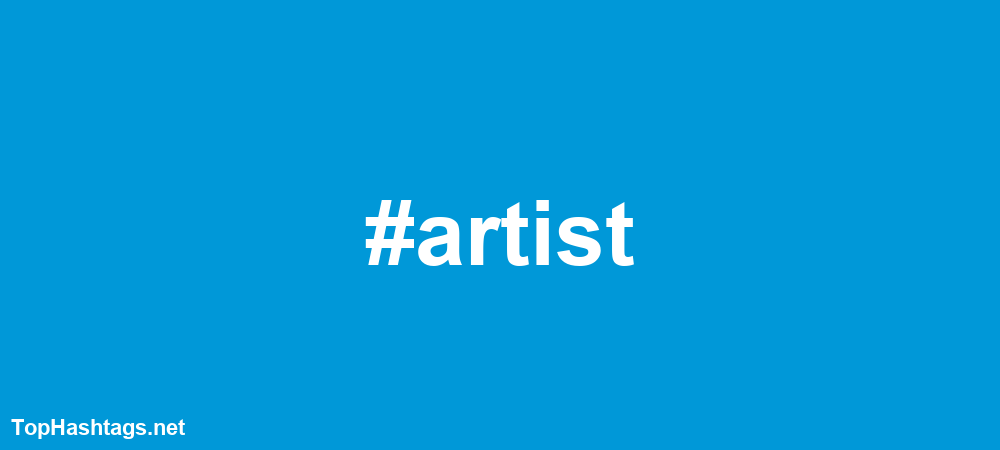 Set 1
27 Hashtags

                #artist #instagood #artoftheday #love #artists #digitalart #photography #artwork #abstractartist #art #artistsoninstagram #draw #sketch #photooftheday #artgallery #painting #artistsofinstagram #instaartist #tattooartist #drawing #fashion #artistoninstagram #illustration #artista #makeupartist #nailartist #artistic
            
Set 2
26 Hashtags

                #artist #drawing #artoftheday #painting #colorful #drawings #ink #illustratorsoninstagram #trippy #myart #procreate #follow #artofinstagram #arts #music #instagood #eyes #abstract #beautiful #illustrator #sketch #singer #creative #illustrationartists #live #art
            
Set 3
27 Hashtags

                #artist #hiphopartist #independentartist #artista #artistatwork #hairartist #artistlife #artistssupportingartists #indieartist #instagramartist #femaleartist #artistsoninstagram #rapartist #artistic #illustrationartist #emergingartist #artistsupportartists #darkartist #youngartist #pmuartist #makeupartist #artist_sharing #abstractartist #artists #artist_4_shoutout #artistry #nailartist
            
Set 4
24 Hashtags

                #artist #art #artwork #artistsoninstagram #drawing #illustration #draw #digitalart #sketch #artoftheday #painting #love #arte #instaart #artgallery #artofinstagram #creative #color #procreate #paint #abstract #artlovers #instagood #abstractart
            
Set 5
29 Hashtags

                #artist #makeupartist #artistsoninstagram #instaartist #artistic #tattooartist #artists #artistsofinstagram #artistoninstagram #artista #nailartist #digitalartist #lashartist #unsignedartist #contemporaryartist #newartist #independentartist #artistofinstagram #abstractartist #artistlife #makeupartistworldwide #indieartist #hiphopartist #upcomingartist #femaleartist #artistas #emergingartist #artistry #hairartist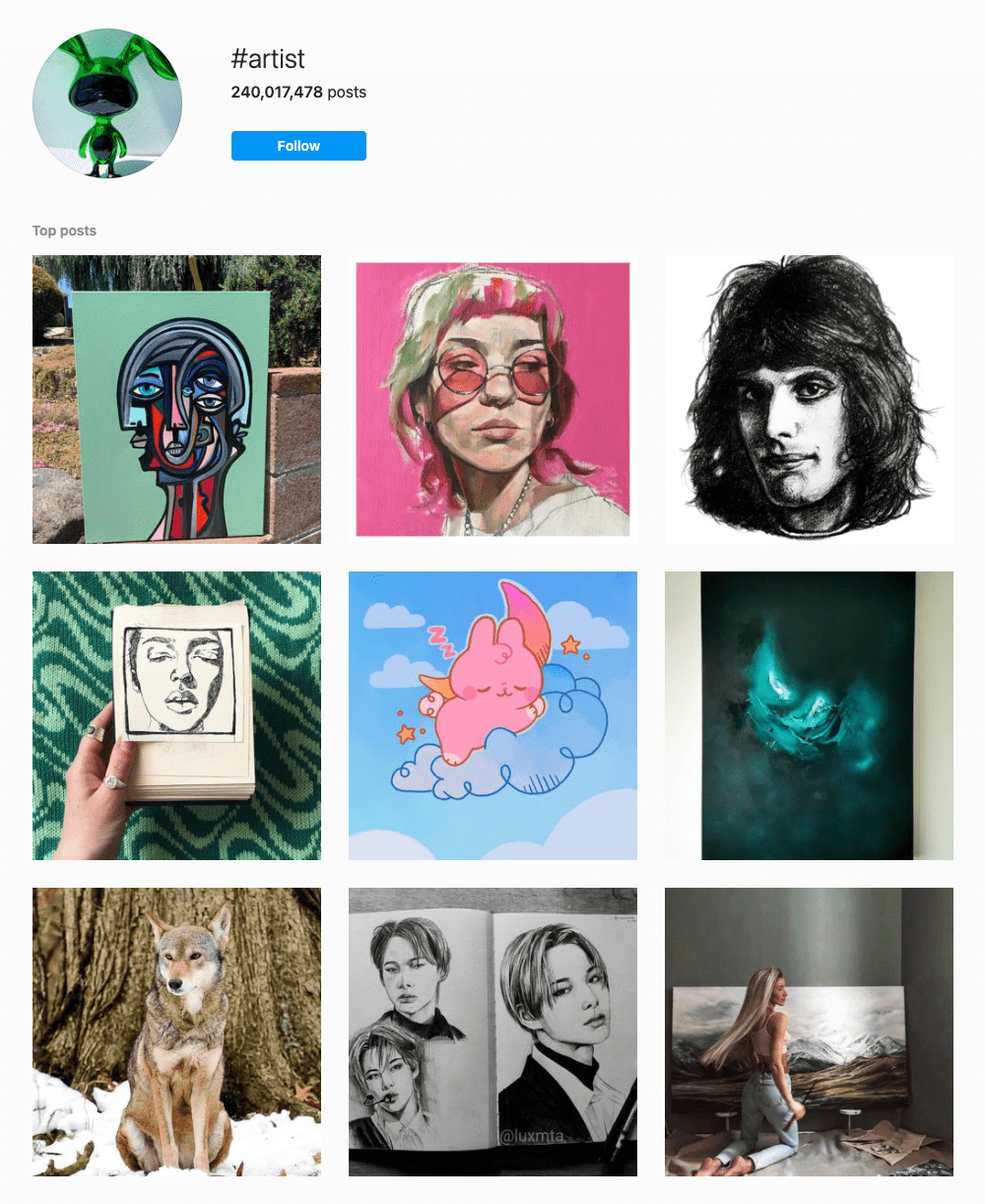 Suggested Hashtags
#

Hashtag

Posts

1

#makeupartist

103.63M

2

#artistsoninstagram

76.96M

3

#instaartist

27.09M

4

#artistic

24.68M

5

#tattooartist

22.08M

6

#artists

17.02M

7

#artistsofinstagram

15.57M

8

#artistoninstagram

13.47M

9

#artista

10.13M

10

#nailartist

9.69M

11

#digitalartist

9.6M

12

#lashartist

7.4M

13

#unsignedartist

6.31M

14

#contemporaryartist

5.31M

15

#newartist

4.72M
Show More Suggested Tags

16

#independentartist

4.68M

17

#artistofinstagram

4.56M

18

#abstractartist

4.05M

19

#artistlife

3.98M

20

#makeupartistworldwide

3.79M

21

#indieartist

3.71M

22

#hiphopartist

3.51M

23

#upcomingartist

3.44M

24

#femaleartist

3.4M

25

#artistas

2.65M

26

#emergingartist

2.64M

27

#artistry

2.61M

28

#hairartist

2.54M

29

#streetartist

2.52M

30

#rapartist

2.51M

31

#hennaartist

2.41M

32

#animeartist

2.41M

33

#artistsupport

2.36M

34

#youngartist

2.22M

35

#illustrationartist

2.02M

36

#photoartist

1.94M

37

#watercolorartist

1.64M

38

#visualartist

1.63M

39

#instagramartist

1.41M

40

#artiststudio

1.4M

41

#pmuartist

1.32M

42

#artistic_share

1.28M

43

#traditionalartist

1.22M

44

#darkartist

1.19M

45

#artist_features

1.15M

46

#artistsofig

1.04M

47

#artist_4_shoutout

1.03M

48

#artisticphotography

968.46k

49

#artforsalebyartist

933.32k

50

#artist_sharing

859.55k

51

#artistatwork

841.58k

52

#artvsartist

771.64k

53

#artisticmakeup

662.43k

54

#artistsupportartists

651.1k

55

#artistry_vision

628.21k

56

#artistsupportpledge

620.6k

57

#undiscoveredmakeupartist

576.51k

58

#artistoninsta

569.97k

59

#artistssupportingartists

444.96k
Back to Top ⏫
Similar Hashtags
Given a sample of 89 posts using #artist, here are some of the hashtags most frequently used.
#art

62.50%

#artwork

32.50%

#artistsoninstagram

31.25%

#drawing

26.25%

#draw

15.00%

#illustration

15.00%

#digitalart

12.50%

#sketch

12.50%

#love

11.25%

#painting

11.25%

#artoftheday

11.25%

#arte

10.00%

#instaart

8.75%

#artgallery

7.50%

#artofinstagram

7.50%

#color

6.25%

#paint

6.25%

#creative

6.25%

#procreate

6.25%

#tattoo

5.00%

#handmade

5.00%

#abstractart

5.00%

#photography

5.00%

#rock

5.00%

#abstract

5.00%

#instagood

5.00%

#portrait

5.00%

#eyes

5.00%

#artlovers

5.00%

#illustrationartists

5.00%