Bitcoin Hashtags
Best Hashtags for Bitcoin Instagram Posts
Last Updated:
NOTE: #bitcoin is currently restricted (or hidden) on Instagram. This means that people will not currently be able to find your posts by searching for this hashtag (unless your posts are very popular and become "top posts").
Best Hashtags for Bitcoin
26 Hashtags

            #bitcoin #bitcoiner #technology #investing #trading #blockchain #cryptocurrency #bitcoinexchange #entrepreneur #bitcoincharts #bitcointechnology #money #success #investment #crypto #bitcoinnews #defi #bitcoinprice #decentralizedfinance #wealth #btc #bitcointrading #bitcoinmining #satoshi #nfts #bitcoins
        
See more hashtags below! ⬇️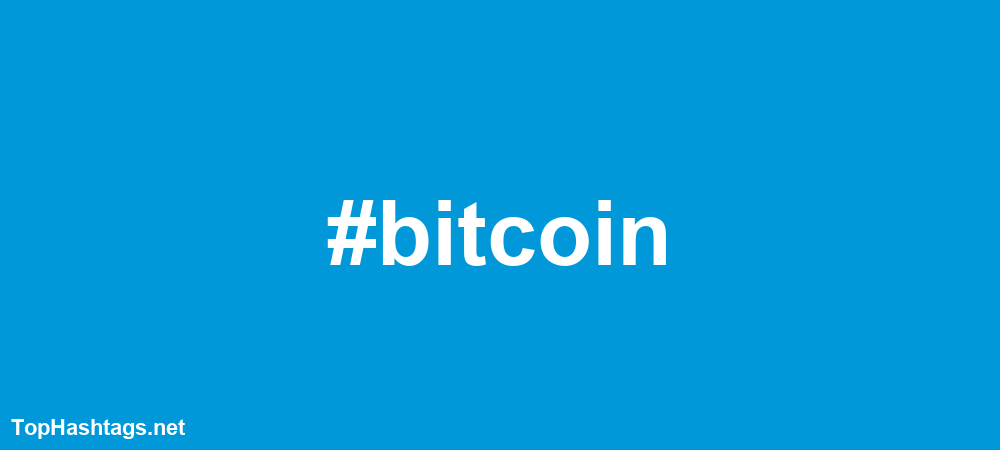 Set 1
24 Hashtags

                #bitcoin #bitcoinexchange #investment #bitcoinmining #blockchain #investing #cryptocurrency #btc #bitcointrading #invest #bitcoincash #bitcoinminer #decentralizedfinance #trading #bitcoins #bitcoinbillionaire #coindesk #bitcoinnews #block #forex #money #bitcoinvalue #bitcoinprice #crypto
            
Set 2
24 Hashtags

                #bitcoin #bitcoincash #coinbase #business #fx #hustle #motivation #gramshop #rich #bitcoinnews #investor #cash #altcoin #entrepreneurship #forextrade #tesla #forexlifestyle #btc #benincity #stockmarket #entrepreneur #bitcoinmining #cryptotrading #daytrading
            
Set 3
26 Hashtags

                #bitcoin #bitcoinminers #bitcoinprogress #bitcoineurope #bitcointrade #bitcoinmoney #bitcoingold #bitcoinbillionaire #bitcoinbrazil #bitcoincanada #bitcoinvalue #bitcoinsouthafrica #bitcoinchina #bitcoininvestor #bitcoinguru #bitcoinasia #bitcoinnews #bitcoincash #bitcoins #bitcointrader #bitcoiner #bitcoininfo #bitcointechnology #bitcoininvestors #bitcoininvestment #bitcoinminer
            
Set 4
28 Hashtags

                #bitcoin #cryptocurrency #forex #crypto #trading #investing #money #investment #invest #btc #blockchain #entrepreneur #ethereum #business #finance #success #forextrader #bitcoinmining #stocks #investor #trader #motivation #wealth #binaryoptions #wallstreet #forextrading #cryptocurrencies #bitcoins
            
Set 5
26 Hashtags

                #bitcoin #bitcoinmining #bitcoins #bitcoinnews #bitcoincash #bitcointrading #bitcoinprice #bitcoinexchange #bitcoinbillionaire #bitcoinminer #bitcoinvalue #bitcointechnology #bitcoincharts #bitcoinusa #bitcoininvestment #bitcoiner #bitcoinasia #bitcoinmillionaires #bitcointrader #bitcoinuk #bitcoinsallday #bitcoinwallet #bitcoinmemes #bitcointrade #bitcoincanada #bitcoininfo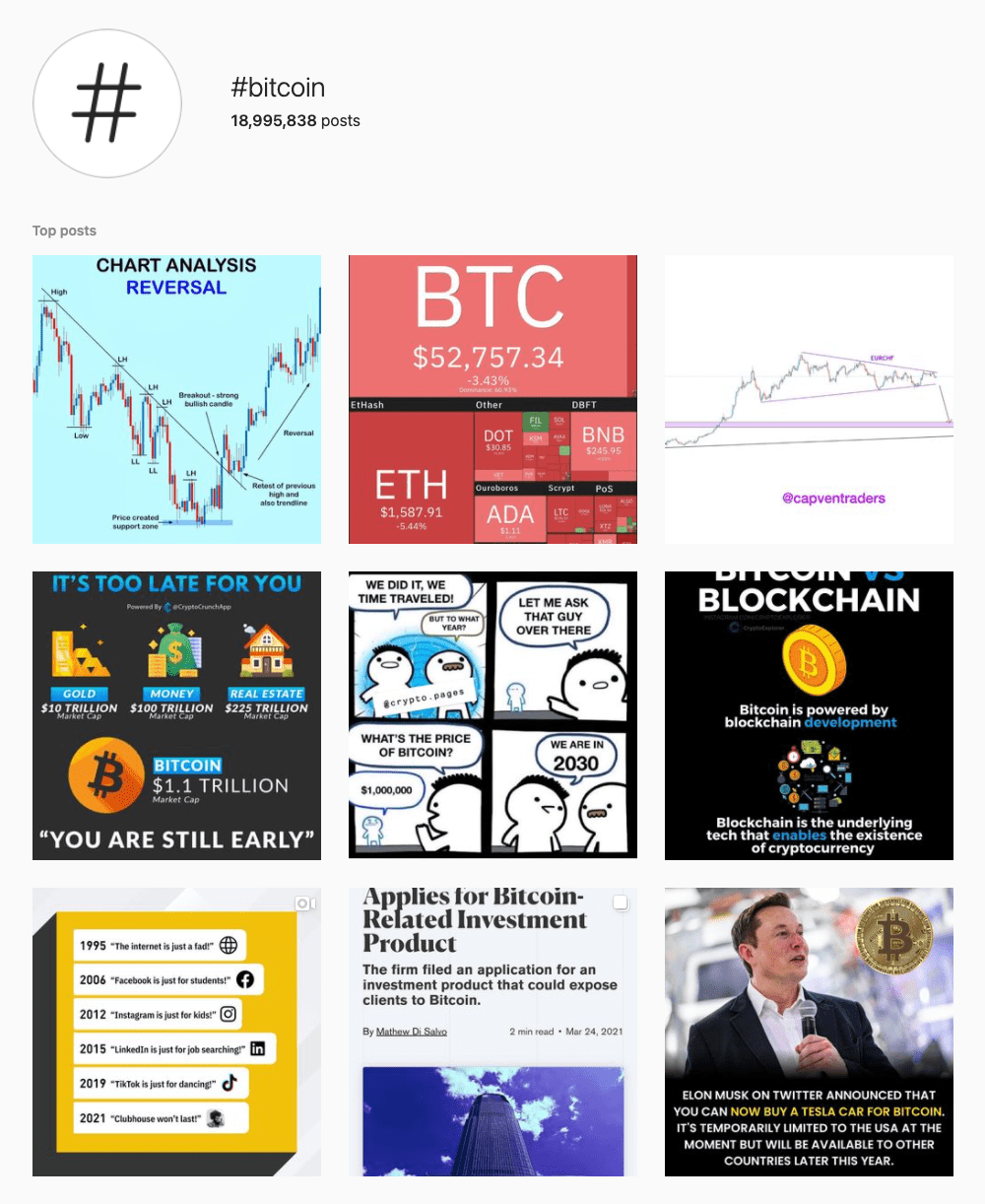 Suggested Hashtags
#

Hashtag

Posts

1

#bitcoinmining

4.38M

2

#bitcoins

2.82M

3

#bitcoinnews

2.28M

4

#bitcoincash

1.82M

5

#bitcointrading

1.7M

6

#bitcoinprice

1.29M

7

#bitcoinexchange

1.02M

8

#bitcoinbillionaire

847.67k

9

#bitcoinminer

655.21k

10

#bitcoinvalue

592.31k

11

#bitcointechnology

521.17k

12

#bitcoincharts

485.23k

13

#bitcoinusa

473.19k

14

#bitcoininvestment

453.19k

15

#bitcoiner

449.94k
Show More Suggested Tags

16

#bitcoinasia

441.82k

17

#bitcoinmillionaires

425.32k

18

#bitcointrader

418.03k

19

#bitcoinuk

377k

20

#bitcoinsallday

342.52k

21

#bitcoinwallet

325.07k

22

#bitcoinmemes

276.89k

23

#bitcointrade

276.28k

24

#bitcoincanada

264.92k

25

#bitcoininfo

250.41k

26

#bitcoinbrasil

248.2k

27

#bitcoinguru

232.52k

28

#bitcoinmillionaire

201.04k

29

#bitcoingold

180.12k

30

#bitcoininvestor

158.44k

31

#bitcoinindia

145.24k

32

#bitcoineurope

144.46k

33

#bitcoinsouthafrica

144.22k

34

#bitcoinindonesia

124.3k

35

#bitcoinaustralia

119.15k

36

#bitcoinmanagement

113.67k

37

#bitcoinminning

98.35k

38

#bitcoinatm

97.7k

39

#bitcoinchina

96.56k

40

#bitcoingermany

86.41k

41

#bitcoinprogress

82.4k

42

#bitcoinexpert

80.56k

43

#bitcoinmoney

72.38k

44

#bitcoinminers

70.92k

45

#bitcoinbrazil

68.92k

46

#bitcoininvestors

67.54k

47

#bitcoinbillionaires

56.99k

48

#bitcointürkiye

52.87k

49

#bitcoinvenezuela

51.13k

50

#bitcoinrussia

50.43k

51

#bitcointips

47.12k

52

#bitcoininvestments

39.69k

53

#bitcoinafrica

33.9k

54

#bitcoinsingapore

32.9k
Back to Top ⏫
Similar Hashtags
Given a sample of 228 posts using #bitcoin, here are some of the hashtags most frequently used.
#cryptocurrency

36.41%

#forex

34.24%

#crypto

32.07%

#trading

29.35%

#investing

27.72%

#money

26.63%

#investment

26.09%

#invest

25.54%

#btc

23.91%

#blockchain

22.83%

#entrepreneur

22.28%

#ethereum

20.11%

#business

19.02%

#success

16.85%

#forextrader

16.30%

#finance

16.30%

#bitcoinmining

15.22%

#stocks

13.04%

#investor

13.04%

#trader

12.50%

#binaryoptions

11.41%

#motivation

11.41%

#wealth

11.41%

#wallstreet

10.87%

#forextrading

10.87%

#cryptocurrencies

10.33%

#forexsignals

9.78%

#bitcoins

9.78%

#millionaire

9.78%

#rich

9.78%