Books Hashtags
Best Hashtags for Books Instagram Posts
Last Updated:
#books is currently the 206th most popular hashtag on Instagram, with 49.96M posts.
Best Hashtags for Books
27 Hashtags

            #books #booknerd #bookstack #booksofig #book #reading #bookstagramfeature #bookstore #bookish #bookworm #booksbooksbooks #bookshelf #bookreview #read #bookstagram #library #bookaddict #bibliophile #booklover #bookslover #bookshelves #literature #reader #art #bookstagrammer #booksofinstagram #love
        
See more hashtags below! ⬇️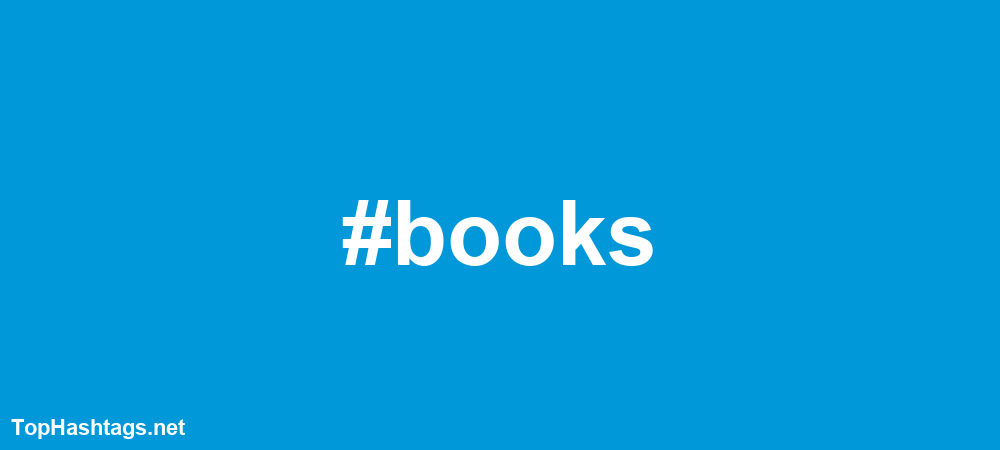 Set 1
23 Hashtags

                #books #booklover #bibliophile #booksofig #love #instagood #read #bookreview #book #bookstagramfeature #comicbooks #bookstagrammer #booksofinstagram #booknerd #bookworm #bookstore #bookaddict #reading #bookstagrampl #bookshelf #bookstagram #bookish #booksbooksbooks
            
Set 2
25 Hashtags

                #books #library #instabook #author #bank #bookclub #mpsc #ssccgl #queerart #bookaholic #queer #literature #writer #writers #livro #instabooks #bookblogger #readingtime #cds #stonewall #reader #book #bookstagrammer #motivation #bookcover
            
Set 3
25 Hashtags

                #books #bookstore #bookshelves #booksta #bookstagramargentina #booksofinstagram #bookstagramarg #booksandflowers #booksofig #bookspines #bookster #bookstoread #bookstagramtopasja #booksaremylife #bookstagrammer #booksbooksbooks #bookshelfdecor #booksforsale #bookshelfie #booksaleph #bookslovers #bookstagramit #booksgram #booksandbooks #bookstagramer
            
Set 4
24 Hashtags

                #books #bookstagram #book #booklover #reading #bookworm #bookish #booknerd #bookstagrammer #bookreview #read #bookaddict #booksbooksbooks #bibliophile #reader #love #bookaholic #bookcommunity #library #art #bookgram #booksofinstagram #literature #history
            
Set 5
27 Hashtags

                #books #bookstagram #bookstagrammer #booksofinstagram #bookshelf #comicbooks #bookstore #booksbooksbooks #bookstagramfeature #booksofig #bookstagrampl #bookstack #bookshelves #bookslover #booksarelife #bookstagrammers #bookstagramgermany #bookstagramespaña #bookstoread #booksph #bookstagramer #booksofinsta #bookstagramfeatures #booksforsale #bookstagramtopasja #bookster #bookslovers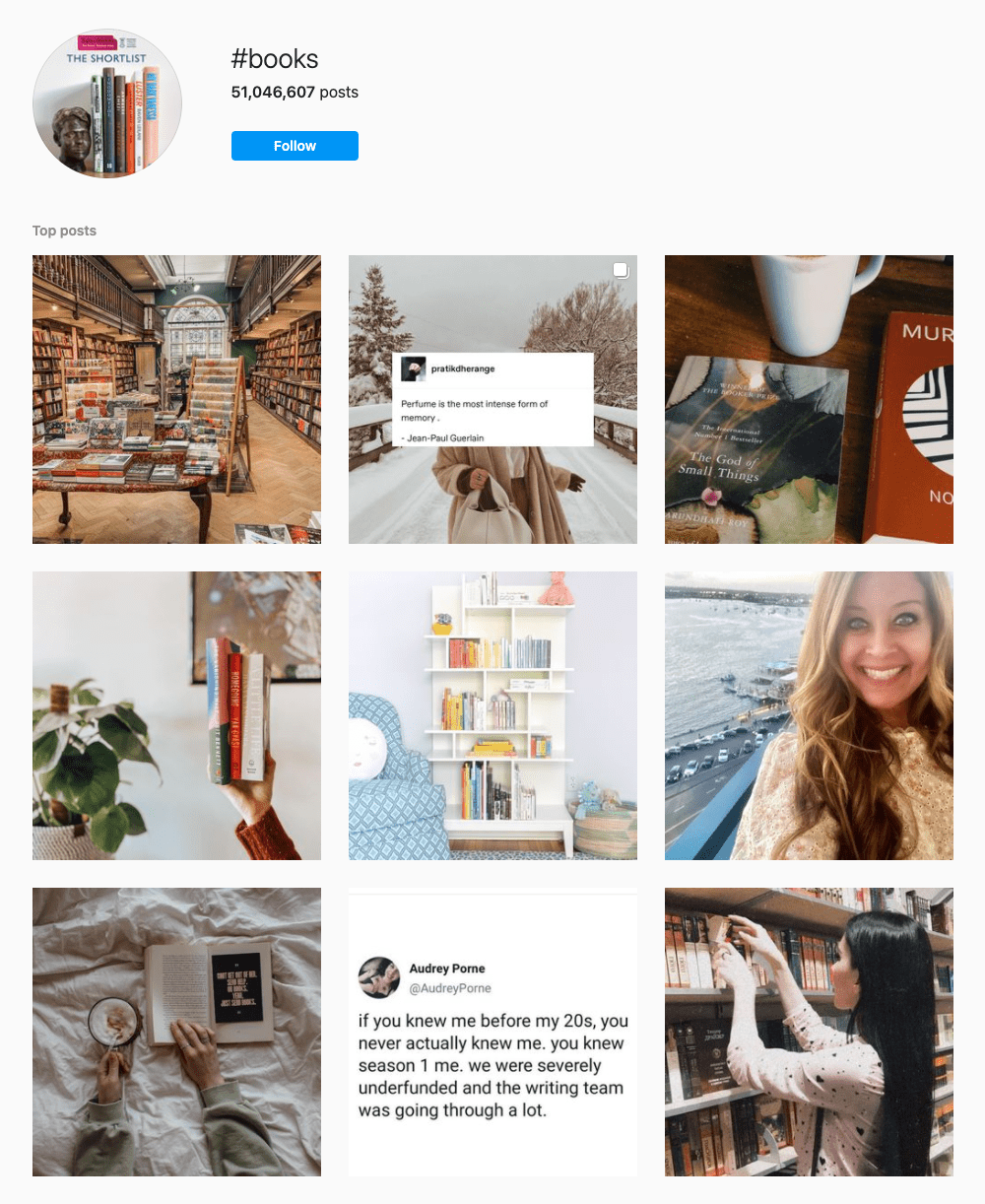 Suggested Hashtags
#

Hashtag

Posts

1

#bookstagram

55.72M

2

#bookstagrammer

8.93M

3

#booksofinstagram

6.5M

4

#bookshelf

5.98M

5

#comicbooks

5.5M

6

#bookstore

3.38M

7

#booksbooksbooks

3.28M

8

#bookstagramfeature

2.17M

9

#booksofig

1.08M

10

#bookstagrampl

1.02M

11

#bookstack

1.02M

12

#bookshelves

913.24k

13

#bookslover

814.58k

14

#booksarelife

656.36k

15

#bookstagrammers

655.22k
Show More Suggested Tags

16

#bookstagramgermany

592.86k

17

#bookstagramespaña

572.09k

18

#bookstoread

563.8k

19

#booksph

547.67k

20

#bookstagramer

547.39k

21

#booksofinsta

488.13k

22

#bookstagramfeatures

456.93k

23

#booksforsale

348.95k

24

#bookstagramtopasja

345.7k

25

#bookster

311.41k

26

#bookslovers

300.22k

27

#booksforsaleph

296.04k

28

#booksaremagic

254.91k

29

#booksta

248.8k

30

#booksaddict

235.89k

31

#booksandflowers

234.73k

32

#booksaremylife

233.61k

33

#bookshelfie

230.12k

34

#bookstagramcommunity

225.88k

35

#bookstagramindonesia

218.65k

36

#booksonbooks

217k

37

#booksgram

206.54k

38

#bookstagramfrance

196.31k

39

#booksforlife

177.52k

40

#bookspines

175.3k

41

#bookstafeatures

171.15k

42

#bookstagramit

162.19k

43

#bookslove

153.85k

44

#booksaleph

153.83k

45

#bookstagramph

151.7k

46

#booksforlessph

131.5k

47

#bookstragram

127.76k

48

#bookstagramarg

105.71k

49

#bookstagramchallenge

105.27k

50

#bookstagramargentina

90.67k

51

#bookshelfdecor

90.4k

52

#bookstan

88.33k

53

#booksandbooks

73.09k

54

#booksforkidsph

70.55k
Back to Top ⏫
Similar Hashtags
Given a sample of 88 posts using #books, here are some of the hashtags most frequently used.
#bookstagram

43.04%

#book

30.38%

#booklover

27.85%

#reading

24.05%

#bookworm

20.25%

#bookish

17.72%

#booknerd

17.72%

#bookstagrammer

15.19%

#bookreview

12.66%

#booksbooksbooks

11.39%

#bookaddict

11.39%

#read

10.13%

#bibliophile

10.13%

#love

8.86%

#bookcommunity

7.59%

#library

7.59%

#bookgram

7.59%

#reader

7.59%

#bookaholic

7.59%

#booksofinstagram

7.59%

#art

7.59%

#literature

6.33%

#instabooks

6.33%

#history

6.33%

#bookphotography

6.33%

#readers

6.33%

#igreads

5.06%

#instagood

5.06%

#bookshelf

5.06%

#livre

5.06%