Christmas 2021 Hashtags
Best Hashtags for Christmas Instagram Posts in 2021
Last Updated:
#christmas is currently the 95th most popular hashtag on Instagram, with 165.56M posts.
Best Hashtags for Christmas
27 Hashtags

            #christmas #friends #christmasspirit #winter #xmas #happy #gifts #christmaslights #cheer #fun #christmas2021 #christmasdecorations #giving #christmaseve #christmastime #food #family #christmasgift #christmasiscoming #🎄 #christmasparty #christmastree #christmasgifts #christmasday #joy #christmas🎄 #merrychristmas
        
See more hashtags below! ⬇️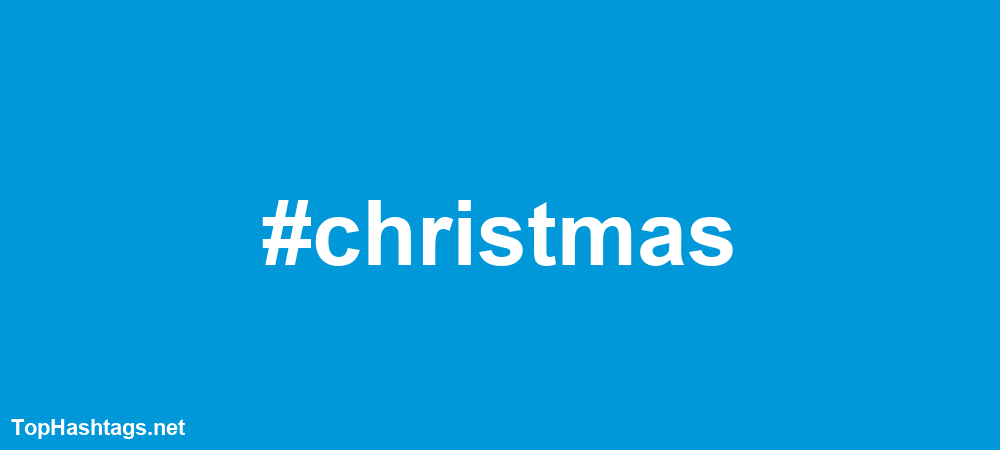 Set 1
27 Hashtags

                #christmas #christmasgifts #snow #christmasparty #love #christmaseve #picoftheday #christmastree #merrychristmas #beautiful #christmasdecorations #photography #christmasideas #winter #instagram #brunchlife #fashion #photooftheday #christmasiscoming #christmasdecor #nature #travel #art #instagood #christmaslights #christmastime #follow
            
Set 2
27 Hashtags

                #christmas #soca #christmasgifts #sdvtodos #music #all_shots #explore #naturephotography #xmas #beautiful #funny #sky #prestigeempireevtents #wanderlust #vscocam #dog #sexandthecitybrunch #smallbusiness #fitness #mimosas #nice #likeforfollow #holiday #gainparty #navidad #giftideas #beauty
            
Set 3
29 Hashtags

                #christmas #christmas2019 #christmasday #christmasvillage #christmaslights #christmasparty #christmasideas #christmasornaments #christmascupcakes #christmastrees #christmasmood #christmasmarket #christmasphotoshoot #christmasinlondon #christmastable #christmastime #christmasnails #christmaseve #christmasdecorations #christmasdecorating #christmastree🎄 #christmascrafts #christmaspresents #merrychristmas #christmastime🎄 #christmascountdown #christmasdecoration #christmas2020 #christmascheer
            
Set 4
25 Hashtags

                #christmas #love #photography #snow #winter #beautiful #instagood #nature #travel #photooftheday #picoftheday #style #art #instagram #travelphotography #fashion #giftideas #navidad #cold #mountains #naturephotography #sky #beauty #happy #music
            
Set 5
29 Hashtags

                #christmas #merrychristmas #christmastree #christmastime #christmasdecor #christmaseve #christmasiscoming #christmasgifts #christmaslights #christmasdecorations #christmasparty #christmasgift #christmas2020 #christmas2018 #christmasspirit #christmas2019 #christmasmood #christmasnails #christmasday #christmasmarket #christmascookies #christmasdinner #christmascountdown #christmaspresents #christmasvibes #christmascard #christmascake #christmasseason #christmas🎄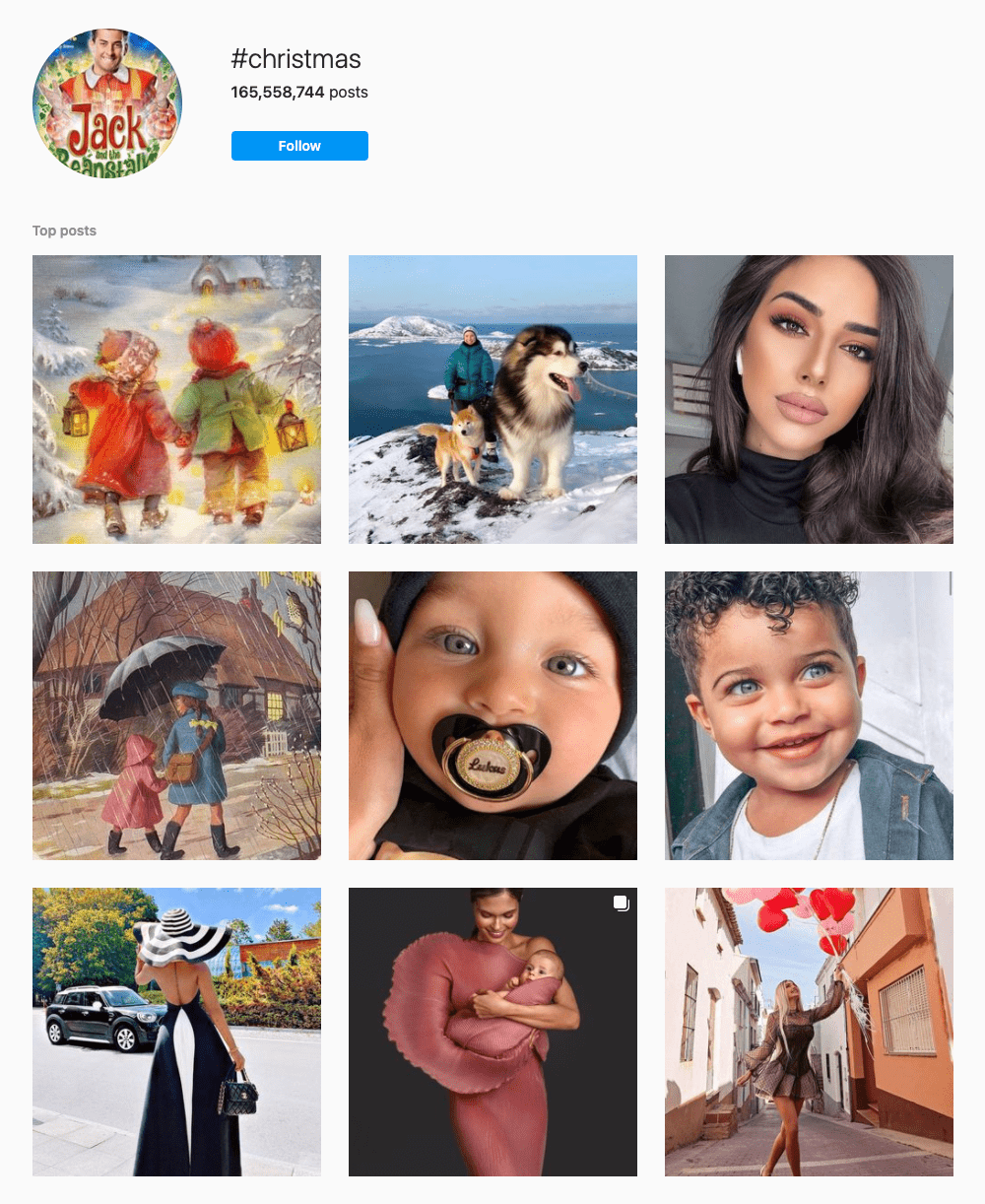 Suggested Hashtags
#

Hashtag

Posts

1

#merrychristmas

50.66M

2

#christmastree

26.33M

3

#christmastime

16.09M

4

#christmasdecor

8.86M

5

#christmaseve

8.51M

6

#christmasiscoming

7.8M

7

#christmasgifts

6.48M

8

#christmaslights

6.11M

9

#christmasdecorations

5.12M

10

#christmasparty

4.91M

11

#christmasgift

4.75M

12

#christmas2020

4.63M

13

#christmas2018

2.99M

14

#christmasspirit

2.97M

15

#christmas2019

2.82M
Show More Suggested Tags

16

#christmasmood

2.69M

17

#christmasnails

2.59M

18

#christmasday

2.47M

19

#christmasmarket

2.21M

20

#christmascookies

1.95M

21

#christmasdinner

1.57M

22

#christmascountdown

1.47M

23

#christmaspresents

1.43M

24

#christmasvibes

1.41M

25

#christmascard

1.16M

26

#christmascake

1.06M

27

#christmasseason

1.01M

28

#christmas🎄

981.73k

29

#christmasornaments

950.37k

30

#christmastime🎄

939.13k

31

#christmascards

929.42k

32

#christmascheer

882.4k

33

#christmasdecoration

820.91k

34

#christmaswreath

820.23k

35

#christmasmagic

760.27k

36

#christmasbaking

675.02k

37

#christmasmakeup

630.14k

38

#christmastree🎄

587.9k

39

#christmasdecorating

582.21k

40

#christmaslove

574.59k

41

#christmasfood

561.86k

42

#christmastrees

555.65k

43

#christmasphotoshoot

515.87k

44

#christmascrafts

445.24k

45

#christmasideas

444.35k

46

#christmasornament

416.05k

47

#christmasmovies

410.65k

48

#christmastradition

397k

49

#christmassongs

320.26k

50

#christmasgiveaway

279.81k

51

#christmascollection

217.64k

52

#christmastable

216.44k

53

#christmasinspiration

200.32k

54

#christmasvillage

197.56k

55

#christmasinlondon

197.22k

56

#christmascupcakes

164.54k
Back to Top ⏫
Similar Hashtags
Given a sample of 85 posts using #christmas, here are some of the hashtags most frequently used.
#love

21.05%

#photography

15.79%

#winter

13.16%

#snow

13.16%

#instagood

10.53%

#nature

10.53%

#travel

10.53%

#beautiful

10.53%

#photooftheday

9.21%

#style

7.89%

#art

7.89%

#instagram

7.89%

#picoftheday

7.89%

#giftideas

6.58%

#travelphotography

6.58%

#fashion

6.58%

#xmas

5.26%

#cold

5.26%

#mountains

5.26%

#Christmas

5.26%

#beauty

5.26%

#happy

5.26%

#music

5.26%

#sky

5.26%

#naturephotography

5.26%

#likeforfollow

5.26%

#navidad

5.26%

#gift

3.95%

#atlantabrunch

3.95%

#dayparty

3.95%