Coffee Hashtags
Best Hashtags for Coffee Instagram Posts
Last Updated:
#coffee is currently the 131st most popular hashtag on Instagram, with 139.95M posts.
Best Hashtags for Coffee
24 Hashtags

            #coffee #coffeelove #good #coffeeholic #coffeegram #cafe #food #latte #coffeelover #love #coffeeaddict #coffeeoftheday #foodie #instagood #cappuccino #breakfast #coffeeshop #coffeelovers #coffeelife #drink #coffeetime #coffeebreak #caffeine #espresso
        
See more hashtags below! ⬇️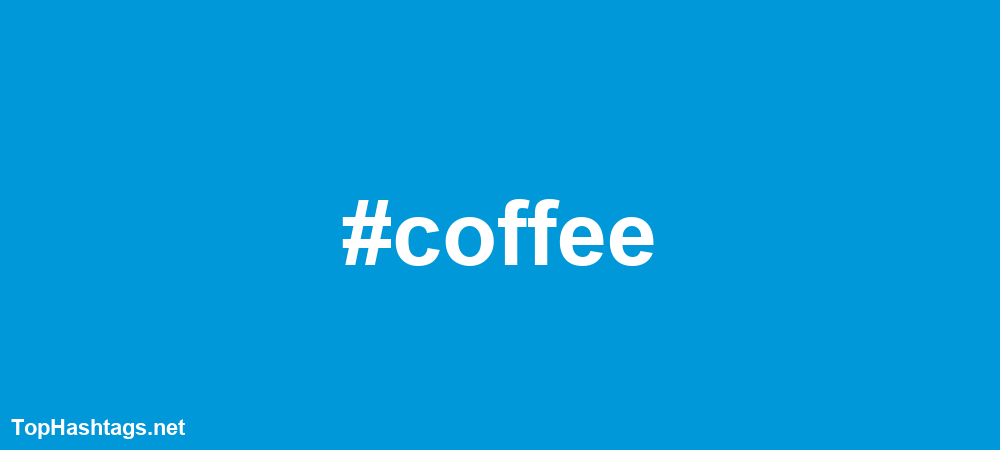 Set 1
27 Hashtags

                #coffee #coffeelovers #latteart #breakfast #coffeeaddict #coffeetime #coffeelove #love #food #photography #monday #instacoffee #coffeelover #instagood #caffeine #coffeebreak #cafe #latte #brewed #coffeeholic #coffeeshop #coffeelife #fashion #roasted #good #photooftheday #coffeegram
            
Set 2
25 Hashtags

                #coffee #coffeelover #instagood #latteart #artwork #foodie #design #coffeetime #coffeeoftheday #cappuccino #love #breakfast #photooftheday #coffeelovers #instagram #coffeeshop #monday #picoftheday #food #tea #instacoffee #bookstagram #coffeegram #espresso #cafe
            
Set 3
24 Hashtags

                #coffee #coffeevibes #coffeebreak #coffeelover #coffeebrewing #coffeeroaster #coffeeislove #coffeecorner #coffeephotography #coffeeprops #coffeequotes #coffeesesh #coffeeshopcorners #coffeemugs #coffeecake #coffeecommunity #coffeebeans #coffeegeek #coffeeroastery #coffeetable #coffeeoftheday #coffeemaker #coffeeporn #coffeeaddicts
            
Set 4
29 Hashtags

                #coffee #coffeetime #coffeelover #cafe #coffeeaddict #instagood #coffeeshop #photography #love #latte #latteart #coffeegram #coffeelovers #food #monday #breakfast #instacoffee #instagram #friends #coffeeoftheday #picoftheday #tea #vegan #cappuccino #coffeedaily #likeforlikes #coffeeholic #espresso #foodie
            
Set 5
29 Hashtags

                #coffee #coffeetime #coffeelover #coffeeshop #coffeeaddict #coffeelovers #coffeebreak #coffeegram #coffeeholic #coffeelove #coffeelife #coffeeart #coffeeoftheday #coffeemug #coffeehouse #coffeecup #coffeetable #coffeeporn #coffeeculture #coffeebean #coffeebeans #coffeeshots #coffeeroaster #coffeesesh #coffeebar #coffeegeek #coffee_inst #coffeedaily #coffeevibes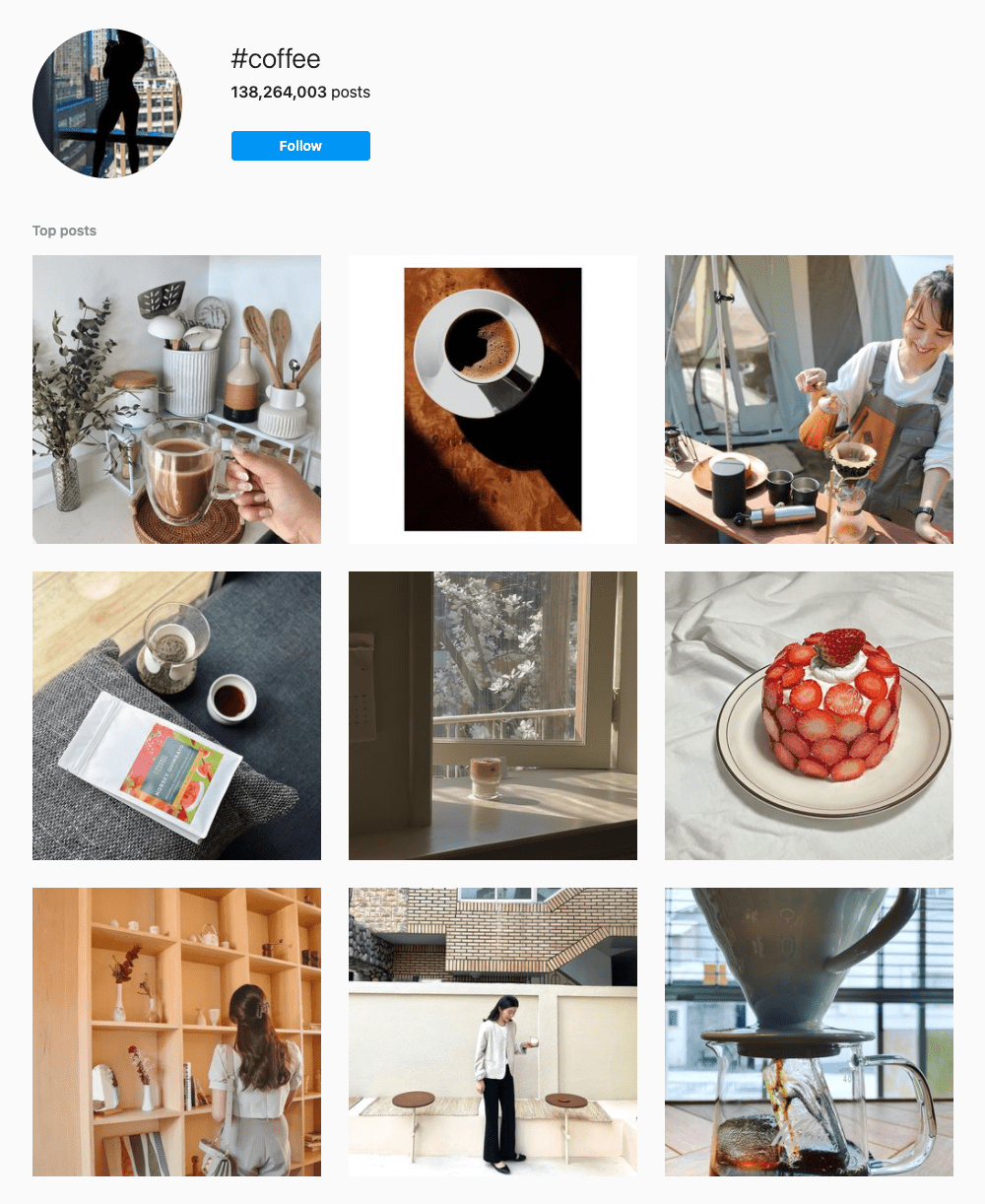 Suggested Hashtags
#

Hashtag

Posts

1

#coffeetime

31.91M

2

#coffeelover

19.88M

3

#coffeeshop

14.72M

4

#coffeeaddict

10.95M

5

#coffeelovers

7.44M

6

#coffeebreak

7.03M

7

#coffeegram

6.64M

8

#coffeeholic

6.33M

9

#coffeelove

4.42M

10

#coffeelife

4.17M

11

#coffeeart

3.36M

12

#coffeeoftheday

3.36M

13

#coffeemug

2.88M

14

#coffeehouse

2.52M

15

#coffeecup

2.36M
Show More Suggested Tags

16

#coffeetable

2.22M

17

#coffeeporn

2.01M

18

#coffeeculture

1.77M

19

#coffeebean

1.67M

20

#coffeebeans

1.45M

21

#coffeeshots

1.32M

22

#coffeeroaster

1.26M

23

#coffeesesh

1.22M

24

#coffeebar

1.14M

25

#coffeegeek

1.12M

26

#coffee_inst

1.11M

27

#coffeedaily

1.03M

28

#coffeevibes

927.33k

29

#coffeeshops

823.69k

30

#coffeeshopcorners

769.92k

31

#coffeecoffeecoffee

746.06k

32

#coffeephotography

723.67k

33

#coffeemaker

712.51k

34

#coffeeroasters

635.38k

35

#coffeequotes

588.97k

36

#coffeeprops

473.42k

37

#coffeeaddicts

450.07k

38

#coffeemugs

419.72k

39

#coffeemachine

409.94k

40

#coffeeandseasons

389.67k

41

#coffeelatte

389.28k

42

#coffeeaddiction

377.91k

43

#coffeecake

372.7k

44

#coffeepeople

353.09k

45

#coffeeandbooks

320.64k

46

#coffeeadict

314.2k

47

#coffeeroasting

301.07k

48

#coffeeislove

293.77k

49

#coffeecommunity

257.27k

50

#coffeeroastery

234.81k

51

#coffeebrewing

227.99k

52

#coffeeblogger

227.25k

53

#coffeetabledecor

203.78k

54

#coffeelifestyle

200.69k

55

#coffeecorner

161.23k

56

#coffeestory

140.88k
Back to Top ⏫
Similar Hashtags
Given a sample of 82 posts using #coffee, here are some of the hashtags most frequently used.
#coffeetime

23.29%

#coffeelover

16.44%

#coffeeaddict

9.59%

#instagood

9.59%

#photography

9.59%

#cafe

9.59%

#coffeeshop

9.59%

#love

8.22%

#coffeelovers

6.85%

#latte

6.85%

#coffeegram

6.85%

#latteart

6.85%

#food

6.85%

#instagram

5.48%

#breakfast

5.48%

#instacoffee

5.48%

#monday

5.48%

#design

4.11%

#coffeeoftheday

4.11%

#artwork

4.11%

#drink

4.11%

#coffeeholic

4.11%

#bookstagram

4.11%

#digitalart

4.11%

#photooftheday

4.11%

#tea

4.11%

#likeforlikes

4.11%

#health

4.11%

#friends

4.11%

#picoftheday

4.11%