Cool Hashtags
Best Hashtags for Cool Instagram Posts
Last Updated:
#cool is currently the 93rd most popular hashtag on Instagram, with 170.7M posts.
Best Hashtags for Cool
27 Hashtags

            #cool #coolmemes #music #happy #instacool #coolart #mood #feelings #instamood #friends #lifestyle #love #photooftheday #coolest #instagood #coolstuff #fashion #coolpic #fun #style #life #photo #coolfacts #me #coolkids #photography #girls
        
See more hashtags below! ⬇️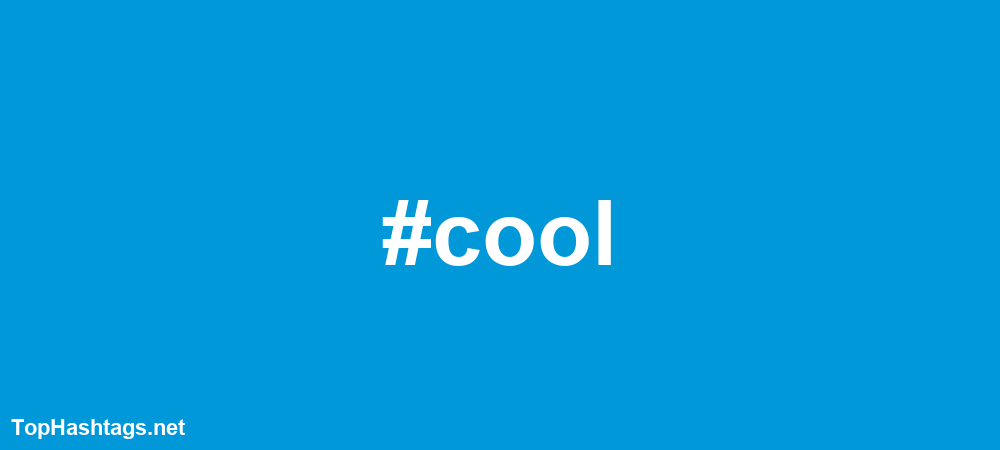 Set 1
27 Hashtags

                #cool #instacool #coolart #life #instagood #photo #beautiful #coolestbadboi🔥 #instagram #photooftheday #style #coolgirl #cooljapan #love #fashion #coolstuff #coolhair #coolestbadboi #coolpic #hair #friends #art #coolsculpting #girl #followforfollow #coolkids #photography
            
Set 2
25 Hashtags

                #cool #fit #instagood #instafollow #dog #photographer #outfit #travel #instamood #likeforlike #instagram #new #moda #photo #follow #clouds #photooftheday #ootd #sunset #lol #nofilter #funny #followme #portrait #design
            
Set 3
25 Hashtags

                #cool #coolcats #coolestbadboi🔥 #coolmemes #coolshoes #coolgirl #cooljapan #coolbaby #cooldown #cooltech #coolkicks #cooldogs #cooltshirt #cooltattoos #coolcar #coolieno1 #coolboys #cooledits #cooloff #coolshit #coolsocks #coolkids #coolvideo #coolblonde #coolsculpting
            
Set 4
29 Hashtags

                #cool #instagood #photo #love #photooftheday #friends #life #hair #fashion #style #girl #beautiful #girls #instamood #photography #happy #fun #pretty #smile #bestoftheday #beauty #funny #swag #nature #amazing #instagram #hot #beach #picoftheday
            
Set 5
29 Hashtags

                #cool #instacool #coolhair #coolkids #coolgirl #coolstuff #coolestbadboi #coolart #coolpic #cooljapan #coolsculpting #coolcars #coolboy #cool_capture_ #coolmemes #coolest #cooldown #coolstyle #coolbaby #coolfacts #coolmom #coolguy #cooldog #coolpics #coolblonde #cools_japan #cooltattoos #coolcats #coolnails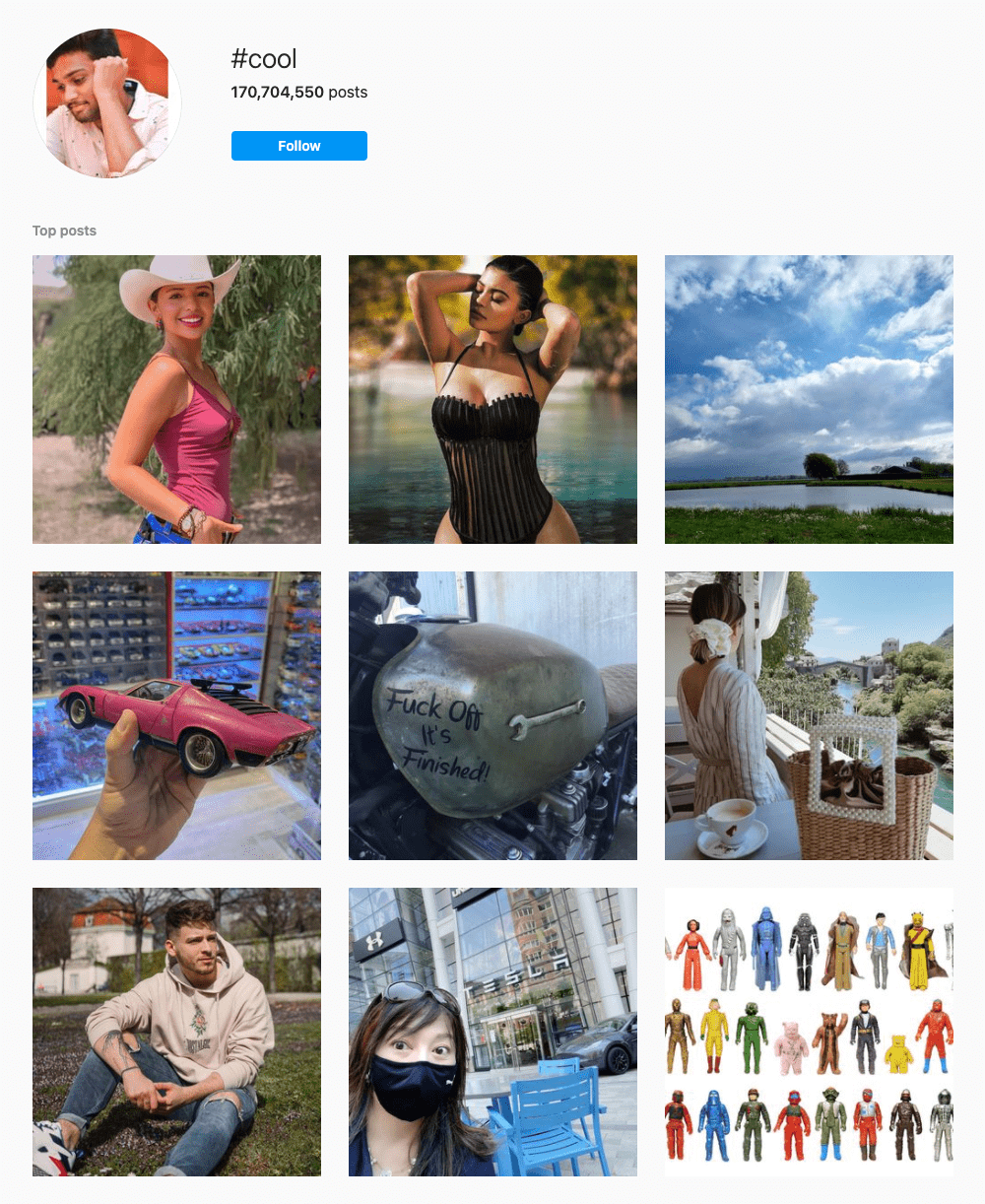 Suggested Hashtags
#

Hashtag

Posts

1

#instacool

115.89M

2

#coolhair

4.27M

3

#coolkids

3.8M

4

#coolgirl

1.37M

5

#coolstuff

1.23M

6

#coolestbadboi

1.22M

7

#coolart

936.45k

8

#coolpic

885.28k

9

#cooljapan

872.74k

10

#coolsculpting

783.82k

11

#coolcars

688.07k

12

#coolboy

680.12k

13

#cool_capture_

642.65k

14

#coolmemes

637.3k

15

#coolest

629.37k
Show More Suggested Tags

16

#cooldown

562.04k

17

#coolstyle

556.34k

18

#coolbaby

550.96k

19

#coolfacts

541.47k

20

#coolmom

508.38k

21

#coolguy

498.77k

22

#cooldog

467.15k

23

#coolpics

421.63k

24

#coolblonde

411.18k

25

#cools_japan

409.16k

26

#cooltattoos

402.89k

27

#coolcats

341.9k

28

#coolnails

333.85k

29

#coolcar

322.26k

30

#coolbride

304.42k

31

#coolmariners

294.99k

32

#coolgirls

284.21k

33

#coolshit

282.29k

34

#coolplaces

253.85k

35

#coolhunting

237.13k

36

#coolphoto

233.65k

37

#coolestbadboi🔥

227.49k

38

#cooldesign

226.13k

39

#cooltech

207.1k

40

#coolsocks

190.07k

41

#coollook

173.89k

42

#cooltshirt

173.26k

43

#cooldogs

171.91k

44

#coolgadgets

170.4k

45

#cooloff

168.1k

46

#coolshoes

159.11k

47

#coolshirt

156.58k

48

#cooledits

149.93k

49

#coolvideos

139.33k

50

#cooledbymishimoto

139.29k

51

#cooltattoo

138.25k

52

#coolvideo

130.13k

53

#coolieno1

129.72k

54

#cooltime

127.55k

55

#coolboys

125.46k

56

#coolfashion

117.29k

57

#coolkicks

105.52k
Back to Top ⏫
Similar Hashtags
Given a sample of 85 posts using #cool, here are some of the hashtags most frequently used.
#photo

22.37%

#instagood

22.37%

#photooftheday

21.05%

#love

21.05%

#friends

19.74%

#life

18.42%

#fashion

17.11%

#hair

17.11%

#style

15.79%

#instamood

14.47%

#girls

14.47%

#photography

14.47%

#girl

14.47%

#happy

14.47%

#beautiful

14.47%

#pretty

13.16%

#smile

13.16%

#fun

13.16%

#beauty

11.84%

#bestoftheday

11.84%

#nature

11.84%

#funny

11.84%

#swag

11.84%

#amazing

10.53%

#followme

10.53%

#beach

10.53%

#instagram

10.53%

#picoftheday

10.53%

#hot

10.53%

#art

9.21%