Follow Hashtags
Best Hashtags for Follow Instagram Posts
Last Updated:
#follow is currently the 10th most popular hashtag on Instagram, with 642.18M posts.
Best Hashtags for Follow
25 Hashtags

            #follow #instalike #follow4followback #followers #follower #follow4like #follownow #likeforlikes #followmeback #like #followforlikes #instagram #explore #following #followme #love #instadaily #followforlike #followloop #follow_me #follow4folow #instagood #followforfollowback #fashion #followgaintrain
        
See more hashtags below! ⬇️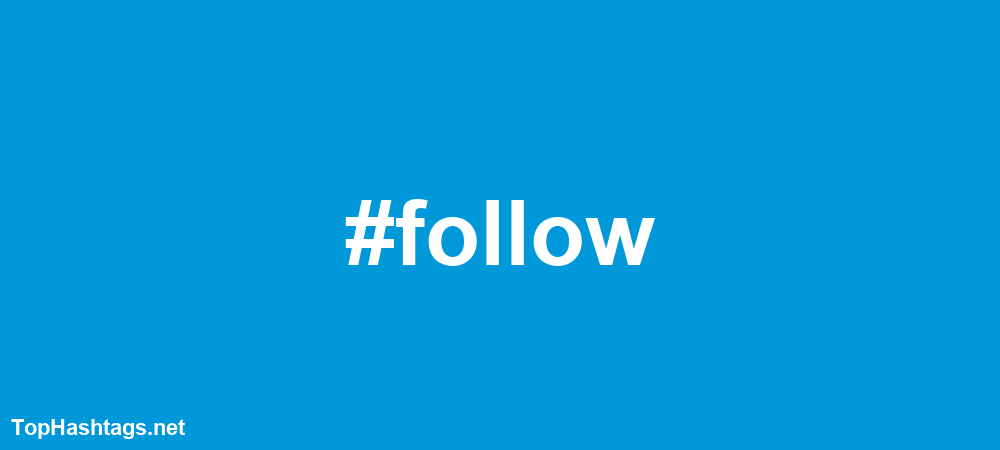 Set 1
25 Hashtags

                #follow #instagood #followforfollowback #followers #followtrain #instagram #photooftheday #like #followme #beautiful #nature #follower #art #happy #followalways #love #cute #follow4like #following #picoftheday #follow4followback #followforlike #fashion #followme #photography
            
Set 2
29 Hashtags

                #follow #life #instadaily #music #makeup #likeforlike #followforfollow #smile #amazing #follower #instafollow #fashionblogger #igers #model #travelphotography #beautiful #instagram #follow4follow #travel #love #followtrain #l #photo #likeforlikes #followforfollowback #photooftheday #happy #tbt #fun
            
Set 3
27 Hashtags

                #follow #follow4followback #followtofollow #followbackalways #followstagram #followyournola #followyourdreams #followparty #followforfollows #followmefollowyou #followforfollowers #followxfollow #followshoutoutlikecomment #followmenow #followtrain #followmeto #followus #followloop #following #followforfollowback #follow4like #followfollowfollow #followme #followfollow #followfriday #followtrickers #followbackinstantly
            
Set 4
23 Hashtags

                #follow #instagood #love #photooftheday #picoftheday #instagram #fashion #followme #like #photography #beautiful #instalike #likeforlikes #followforfollowback #instadaily #smile #me #bhfyp #likes #style #followers #likeforfollow #happy
            
Set 5
24 Hashtags

                #follow #followforfollowback #followers #follow4followback #following #follower #followtrain #followme #follow4like #followforlike #followalways #followus #followmeplease #followshoutoutlikecomment #followbackalways #followbackinstantly #followmeto #followfollow #followmenow #followersaktif #followmeback #followmefollowyou #followforlikes #followformore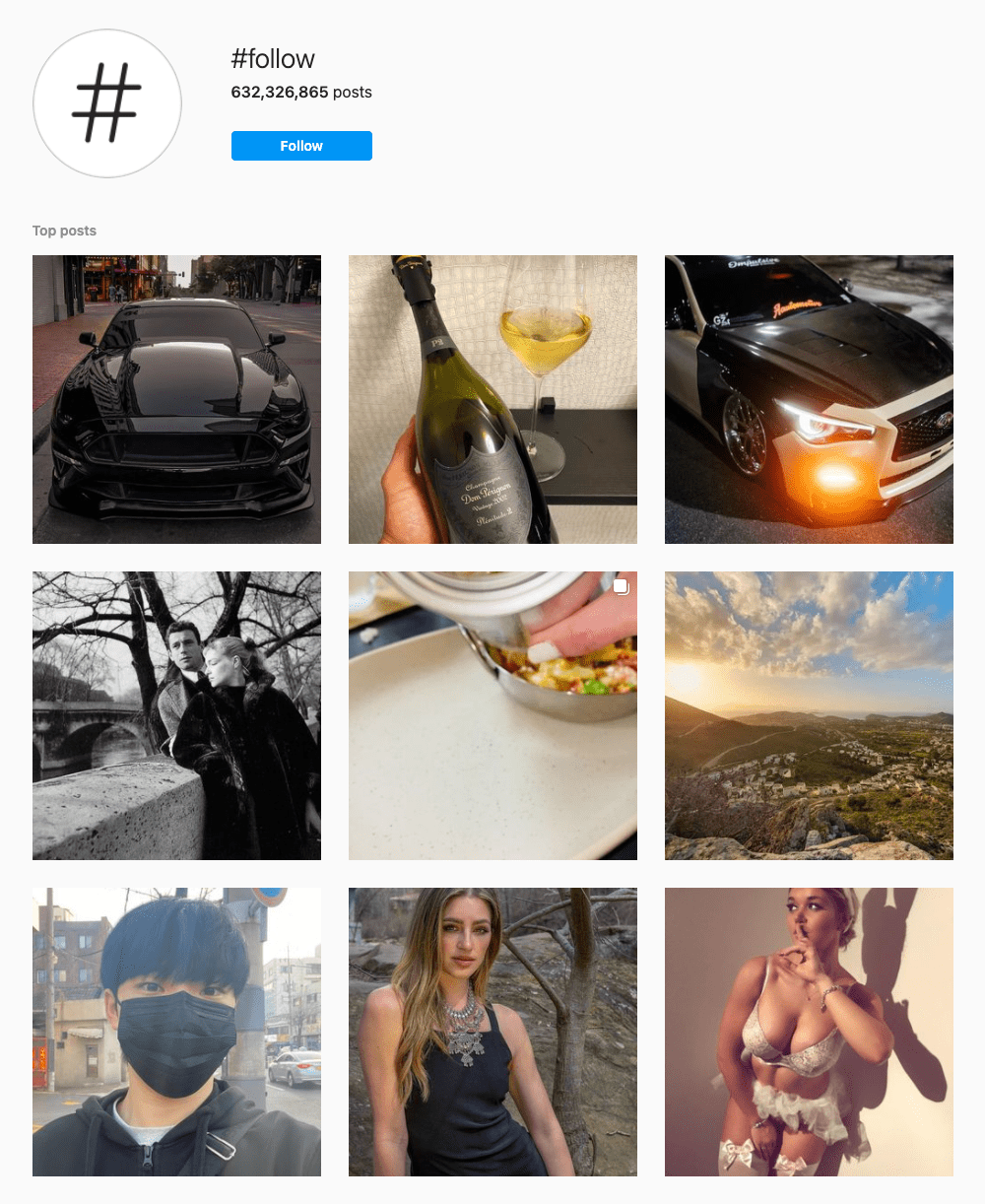 Suggested Hashtags
#

Hashtag

Posts

1

#followforfollowback

184.5M

2

#followers

90.71M

3

#follow4followback

55.74M

4

#following

43.66M

5

#follower

42.91M

6

#followtrain

37.97M

7

#followme

29.8M

8

#follow4like

27.08M

9

#followforlike

26.7M

10

#followalways

23.44M

11

#followus

18.71M

12

#followmeplease

13.16M

13

#followshoutoutlikecomment

11.44M

14

#followbackalways

10.09M

15

#followbackinstantly

6.71M
Show More Suggested Tags

16

#followmeto

5.95M

17

#followfollow

5.82M

18

#followmenow

5.42M

19

#followersaktif

4.99M

20

#followmeback

4.35M

21

#followmefollowyou

4.21M

22

#followforlikes

4.21M

23

#followformore

4.11M

24

#followyourdreams

4.07M

25

#follow_me

4.04M

26

#follownow

3.74M

27

#followyou

3.51M

28

#followersinstagram

3.2M

29

#followfollowfollow

3.18M

30

#followgram

3.13M

31

#follow4likes

2.8M

32

#followtofollow

2.55M

33

#followstagram

2.21M

34

#follow4folow

2M

35

#followyourheart

1.94M

36

#followbacknow

1.92M

37

#followforafollow

1.81M

38

#followparty

1.73M

39

#followxfollow

1.43M

40

#followforfollowers

1.28M

41

#followtrickers

1.27M

42

#followfriday

1.25M

43

#followyournola

1.01M

44

#followforfollowbacks

954.99k

45

#followforfollows

847.25k

46

#followgaintrain

714.83k

47

#followloop

670.03k
Back to Top ⏫
Similar Hashtags
Given a sample of 85 posts using #follow, here are some of the hashtags most frequently used.
#instagood

42.11%

#love

39.47%

#photooftheday

38.16%

#picoftheday

34.21%

#instagram

31.58%

#fashion

30.26%

#followme

28.95%

#photography

27.63%

#like

27.63%

#likeforlikes

26.32%

#instalike

26.32%

#beautiful

26.32%

#smile

25.00%

#followforfollowback

25.00%

#instadaily

25.00%

#me

22.37%

#bhfyp

19.74%

#likes

19.74%

#style

19.74%

#followers

17.11%

#likeforfollow

15.79%

#followback

14.47%

#happy

14.47%

#followforfollow

14.47%

#likeforlike

14.47%

#myself

13.16%

#photo

13.16%

#cute

11.84%

#comment

11.84%

#f

11.84%