Follow Me Hashtags
Best Hashtags for Follow Me Instagram Posts
Last Updated:
#followme is currently the 14th most popular hashtag on Instagram, with 570.33M posts.
Best Hashtags for Follow Me
26 Hashtags

            #followme #followmenow #followmeback #instagram #picoftheday #fashion #likes #smile #instagood #f4f #followmefollowback #love #follow #followme👉 #like4like #followmeplease #me #igers #photooftheday #followers #like #f #instadaily #instafollowme #explore #pleasefollowme
        
See more hashtags below! ⬇️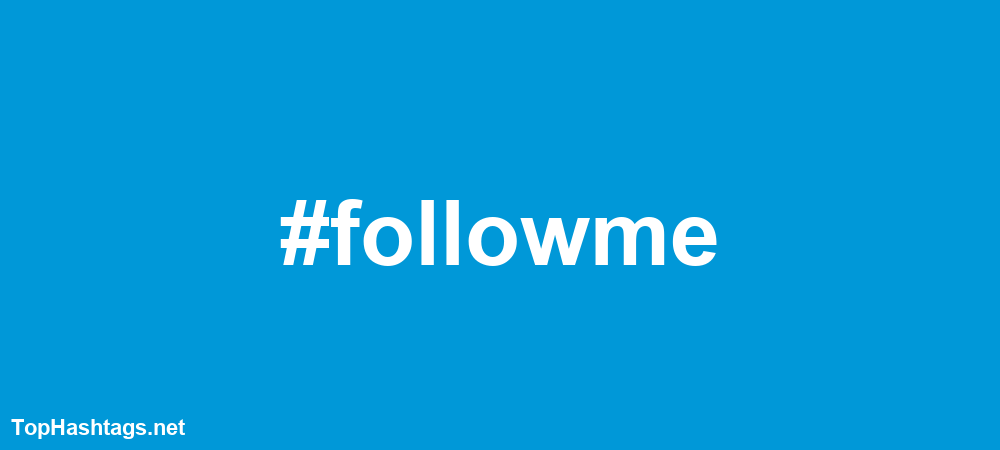 Set 1
24 Hashtags

                #followme #follow #fashion #followmee #followme #followmefollowyou #instafollowme #followmeplease #followmeto #instagram #pleasefollowme #beautiful #like4like #photooftheday #followmeback #instagood #picoftheday #followmefollowback #instadaily #art #followmenow #love #photography #me
            
Set 2
29 Hashtags

                #followme #instago #art #photographer #bestoftheday #instalike #cute #instacool #travel #swag #selfie #fashion #photo #follow #love #photooftheday #likesforlikes #instafollow #likeforlike #myself #tweegram #f4f #all_shots #igdaily #igers #likes #followforfollow #likeforfollow #like4like
            
Set 3
28 Hashtags

                #followme #followmeto #followmekenz #followmealways #followmepls #followmefollowyou #instafollowme #plzfollowme #followmeplz #followmeformore #followmefast #pleasefollowme #followme💋 #10followme #10kfollowme #followme👉 #followmehoes #followme❤ #followme😍😘😍 #followme😍😍😘😘😘😘 #followmeback #followmefaraway #followmelike #followmepleasee #followmeforfollowme #unfollowme #500followme #followmeoninstagram
            
Set 4
28 Hashtags

                #followme #instagood #love #follow #photooftheday #instagram #me #beautiful #picoftheday #instadaily #like4like #photography #likeforlikes #style #instalike #fashion #smile #likes #like #girl #happy #followforfollowback #photo #cute #likeforlike #art #follow4follow #followers
            
Set 5
29 Hashtags

                #followme #followme #followmeplease #pleasefollowme #followmeto #followmenow #followmeback #followmefollowyou #followmefollowback #followmee #instafollowme #followmefaraway #followmeformore #10kfollowme #followmealways #followmeifollowback #followmetoo #fujifollowme #followme👉 #50followme #followme✌ #gayfollowme #plzfollowme #followmefollow #followmeoninstagram #followmeplz #followmepls #followmeandfollowback #comefollowme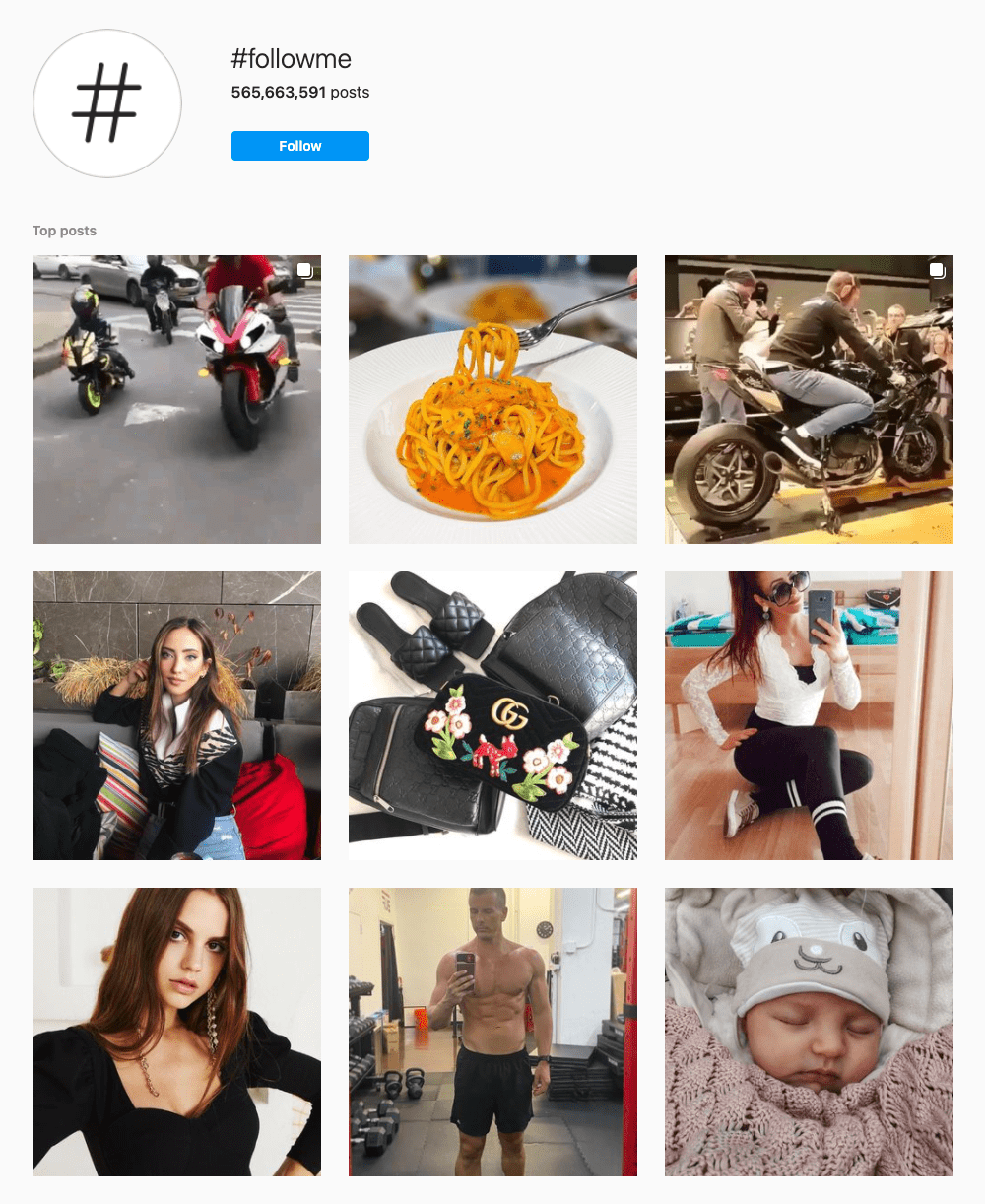 Suggested Hashtags
#

Hashtag

Posts

1

#followme

29.8M

2

#followmeplease

13.16M

3

#pleasefollowme

6.81M

4

#followmeto

5.95M

5

#followmenow

5.42M

6

#followmeback

4.35M

7

#followmefollowyou

4.21M

8

#followmefollowback

1.07M

9

#followmee

1.05M

10

#instafollowme

980.88k

11

#followmefaraway

659.6k

12

#followmeformore

648.32k

13

#10kfollowme

387.1k

14

#followmealways

367.26k

15

#followmeifollowback

312.87k
Show More Suggested Tags

16

#followmetoo

283.81k

17

#fujifollowme

247.83k

18

#followme👉

234.06k

19

#50followme

227.95k

20

#followme✌

216.27k

21

#gayfollowme

188.93k

22

#plzfollowme

169.03k

23

#followmefollow

163.07k

24

#followmeoninstagram

151.85k

25

#followmeplz

143.27k

26

#followmepls

127.44k

27

#followmeandfollowback

127.29k

28

#comefollowme

123.73k

29

#followme😍😘😍

122.1k

30

#f4followme

119.6k

31

#followmeforfollow

95.63k

32

#followmebythesea

92.1k

33

#followmekenz

75.21k

34

#followmelike

75.15k

35

#followmeontiktok

75.08k

36

#followmebaby

74.82k

37

#followmeforlike

70.95k

38

#10followme

69.86k

39

#500followme

69.67k

40

#unfollowme

68.56k

41

#followmeee

60.77k

42

#followmeguys

58.15k

43

#200followme

57.08k

44

#followmebackteam

52.25k

45

#followme💋

49.76k

46

#followme4followme

46.81k

47

#followme4more

41.48k

48

#followmepleas

40.93k

49

#followme❤

40.41k

50

#followmefollowme

36.32k

51

#followmefast

35.1k

52

#followmefollowyouback

33.01k

53

#followmeandifollowyou

31.76k

54

#followme❤️

25.4k

55

#followmehoes

21.69k

56

#followmeforfollowme

20.76k

57

#followmeinstagram

19.83k

58

#followmepleasee

16.28k

59

#followme😍😍😘😘😘😘

14.69k
Back to Top ⏫
Similar Hashtags
Given a sample of 89 posts using #followme, here are some of the hashtags most frequently used.
#instagood

30.00%

#love

28.75%

#follow

27.50%

#photooftheday

26.25%

#instagram

22.50%

#beautiful

18.75%

#me

18.75%

#picoftheday

18.75%

#like4like

17.50%

#photography

17.50%

#instadaily

17.50%

#instalike

16.25%

#likeforlikes

16.25%

#style

16.25%

#smile

15.00%

#fashion

15.00%

#like

13.75%

#likes

13.75%

#photo

11.25%

#happy

11.25%

#followforfollowback

11.25%

#girl

11.25%

#cute

10.00%

#likeforlike

10.00%

#followers

8.75%

#follow4follow

8.75%

#art

8.75%

#tbt

7.50%

#igers

7.50%

#followback

7.50%