Food Hashtags
Best Hashtags for Food Instagram Posts
Last Updated:
#food is currently the 26th most popular hashtag on Instagram, with 442.57M posts.
Best Hashtags for Food
26 Hashtags

            #food #yummy #foodstagram #foodlovers #foodgasm #eat #foodpics #love #foodblogger #hungry #foodgram #instafood #foodpic #cooking #chef #foodblog #foods #meal #instagood #healthy #delicious #foodphotography #foodie #sweet #foodlover #foodies
        
See more hashtags below! ⬇️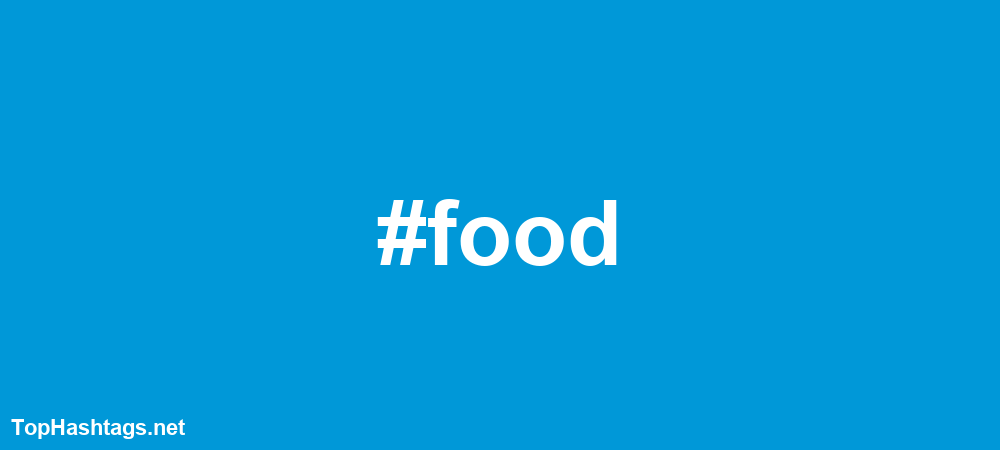 Set 1
29 Hashtags

                #food #cooking #beautiful #yummy #photooftheday #homemade #dessert #foodporn #foodie #foodies #instafood #eats #mealprep #foodpic #foodstagram #photography #art #meal #foodpics #fashion #foodlover #foodgasm #love #foodblogger #instagood #delicious #good #foodphotography #dinner
            
Set 2
24 Hashtags

                #food #iphoneonly #fashion #pastry #eat #lunch #meat #look #motivation #fresh #amazing #baking #foodblog #cakesofinstagram #instafood #veganfood #eatclean #patisserie #foodie #chocolate #photography #eating #health #healthyfood
            
Set 3
23 Hashtags

                #food #foodpornography #fooddiary #foodismedicine #foodinstagram #foodspotting #foodiegram #foodstagram #foody #foodtrucks #foodstylist #foodstyling #foodpics #foodtruck #foodiesofinstagram #foodism #foodshare #foodforthought #foodheaven #foodphotography #foodgasm #foodforfoodies #foodtalkindia
            
Set 4
25 Hashtags

                #food #foodporn #foodie #foodphotography #instafood #love #instagood #foodstagram #yummy #delicious #foodlover #photooftheday #homemade #foodblogger #dinner #dessert #cooking #picoftheday #yum #lunch #tasty #girl #instadaily #eat #healthy
            
Set 5
27 Hashtags

                #food #foodporn #foodie #foodstagram #foodphotography #foodgasm #foodblogger #foodlover #foodpics #foodpic #foodies #foods #foodblog #foodgram #foodlovers #foodstyling #foodiesofinstagram #foodart #fooddiary #foodlove #foodphoto #foodiegram #foodoftheday #foodshare #foodforthought #foodandwine #foodtruck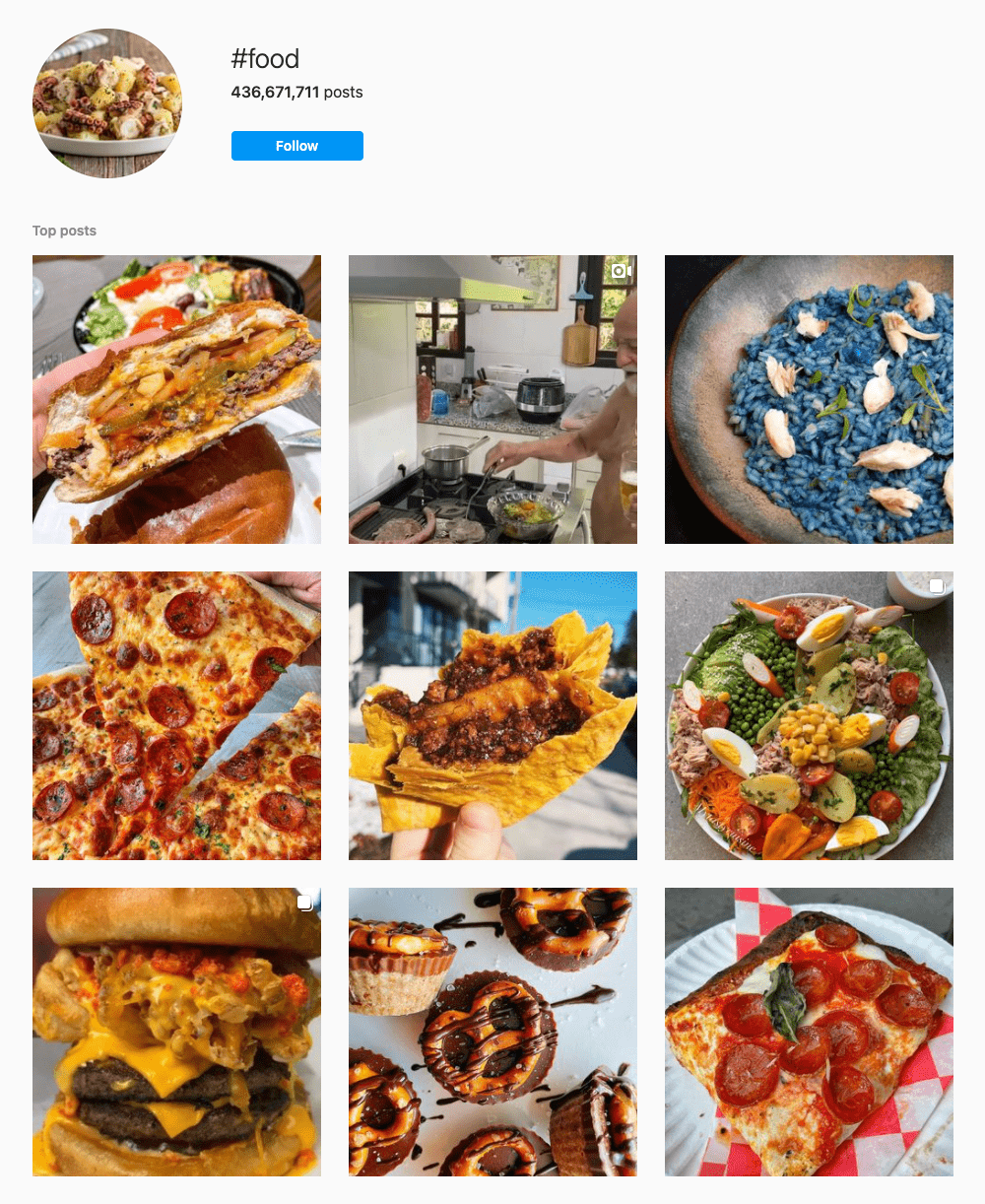 Suggested Hashtags
#

Hashtag

Posts

1

#foodporn

260.25M

2

#foodie

185.96M

3

#foodstagram

89.46M

4

#foodphotography

78.03M

5

#foodgasm

59.89M

6

#foodblogger

57.56M

7

#foodlover

55.62M

8

#foodpics

41.88M

9

#foodpic

36.97M

10

#foodies

33.12M

11

#foods

24.6M

12

#foodblog

19.53M

13

#foodgram

16.54M

14

#foodlovers

15.25M

15

#foodstyling

11.64M
Show More Suggested Tags

16

#foodiesofinstagram

11.4M

17

#foodart

9.86M

18

#fooddiary

9.66M

19

#foodlove

9.33M

20

#foodphoto

9.21M

21

#foodiegram

8.86M

22

#foodoftheday

8.09M

23

#foodshare

7.28M

24

#foodforthought

7.02M

25

#foodandwine

6.48M

26

#foodtruck

6.45M

27

#foodcoma

6.36M

28

#foody

5.76M

29

#foodaddict

5.23M

30

#foodoptimising

5.01M

31

#foodforfoodies

4.78M

32

#foodbloggers

4.64M

33

#foodnetwork

4.26M

34

#foodblogfeed

4.04M

35

#foodism

3.85M

36

#foodspotting

3.67M

37

#foodpornshare

3.62M

38

#foodpost

3.49M

39

#foodofinstagram

3.44M

40

#foodgawker

3.38M

41

#foodstyle

3.18M

42

#foodstylist

3.03M

43

#foodforlife

3.01M

44

#foodheaven

2.86M

45

#foodphotographer

2.79M

46

#foodprep

2.6M

47

#foodinspiration

2.55M

48

#foodismedicine

2.51M

49

#foodlife

2.42M

50

#foodtalkindia

2.42M

51

#foodinsta

2M

52

#foodinstagram

1.82M

53

#foodvsco

1.69M

54

#foodpornography

1.64M

55

#foodtrucks

1.61M

56

#foodphotos

1.24M

57

#foodfeed

1.11M
Back to Top ⏫
Similar Hashtags
Given a sample of 90 posts using #food, here are some of the hashtags most frequently used.
#foodporn

29.63%

#foodie

25.93%

#foodphotography

24.69%

#instafood

20.99%

#love

20.99%

#instagood

19.75%

#foodstagram

17.28%

#yummy

16.05%

#photooftheday

13.58%

#foodlover

13.58%

#delicious

12.35%

#foodblogger

11.11%

#cooking

9.88%

#homemade

9.88%

#picoftheday

9.88%

#dessert

9.88%

#eat

8.64%

#instadaily

8.64%

#healthyfood

8.64%

#girl

8.64%

#dinner

8.64%

#tasty

8.64%

#healthy

8.64%

#sweet

7.41%

#yum

7.41%

#foodgasm

7.41%

#cake

7.41%

#chocolate

7.41%

#style

7.41%

#follow

6.17%