Landscape Hashtags
Best Hashtags for Landscape Instagram Posts
Last Updated:
#landscape is currently the 97th most popular hashtag on Instagram, with 163.49M posts.
Best Hashtags for Landscape
28 Hashtags

            #landscape #landscapes #landscapelover #landscapehunter #picoftheday #landscapelovers #landscapecaptures #landscapepainting #photo #travelphotography #photooftheday #landscape_captures #travel #art #love #photography #landscape_lovers #landscapephoto #instagood #landscapephotography #landscapestyles_gf #landscapestyles #landscapedesign #photographer #naturephotography #landscapeart #nature #landscapearchitecture
        
See more hashtags below! ⬇️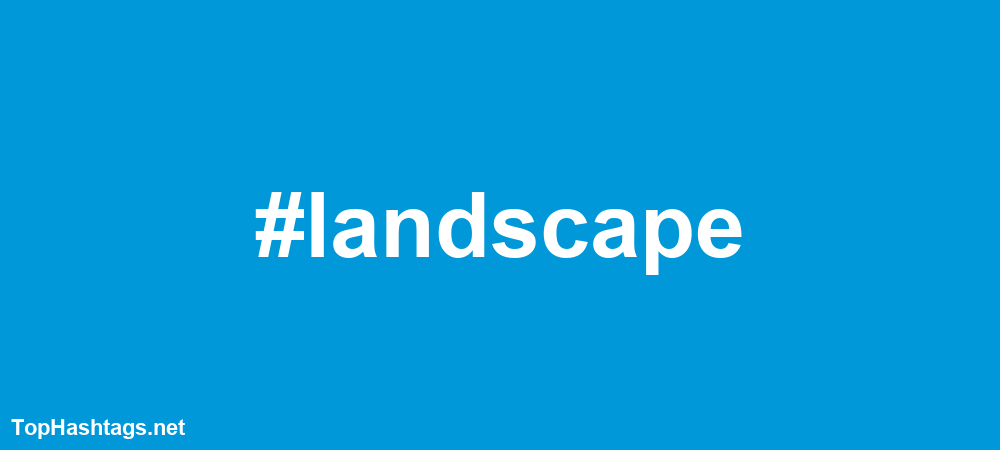 Set 1
27 Hashtags

                #landscape #landscapes #photooftheday #landscapelovers #instagood #art #landscape_lover #picoftheday #landscapedesign #landscape_captures #travel #travelphotography #photo #beautiful #landscapephotography #landscapepainting #love #instagram #naturephotography #landscape_lovers #photography #fashion #nature #landscape_kings #landscapelover #naturaleza #landscapehunter
            
Set 2
25 Hashtags

                #landscape #beautifuldestinations #instatravel #photoshoot #photooftheday #earth #hiking #likeforlikes #mountain #italy #travelphotography #photo #life #wanderlust #photographer #portrait #tbt #photographylovers #beach #landscapephotography #fashion #mountains #lake #sunrise #sea
            
Set 3
28 Hashtags

                #landscape #landscapephotography #landscape_love #landscapealma #landscapephotograpy #landscapelover #landscapemaintenance #landscapeview #landscapedesign #landscapestylesgf #landscapegardening #landscape_captures #landscape_lovers #landscapescapture #landscapeart #landscape_specialist #landscapeshot #landscape_capture #landscapers #landscapepainter #landscapehunter #landscapearchitecture #landscapecapture #landscapeideas #landscapepainting #landscapeindonesia #landscapearchitect #landscapeslovers
            
Set 4
28 Hashtags

                #landscape #nature #photography #travel #naturephotography #photooftheday #landscapephotography #travelphotography #instagood #picoftheday #photo #love #photographer #beautiful #instagram #travelgram #mountains #sunset #winter #naturelovers #art #wanderlust #sky #landscapelovers #instadaily #sea #like #sunrise
            
Set 5
25 Hashtags

                #landscape #landscapephotography #landscapes #landscape_lovers #landscape_captures #landscapelovers #landscapelover #landscapedesign #landscapehunter #landscapepainting #landscape_lover #landscapephoto #landscapestyles_gf #landscapearchitecture #landscape_photography #landscapecaptures #landscapestyles #landscape_hunter #landscape_capture #landscape_specialist #landscapeporn #landscapeart #landscapephotomag #landscapephotographer #landscapesofnorway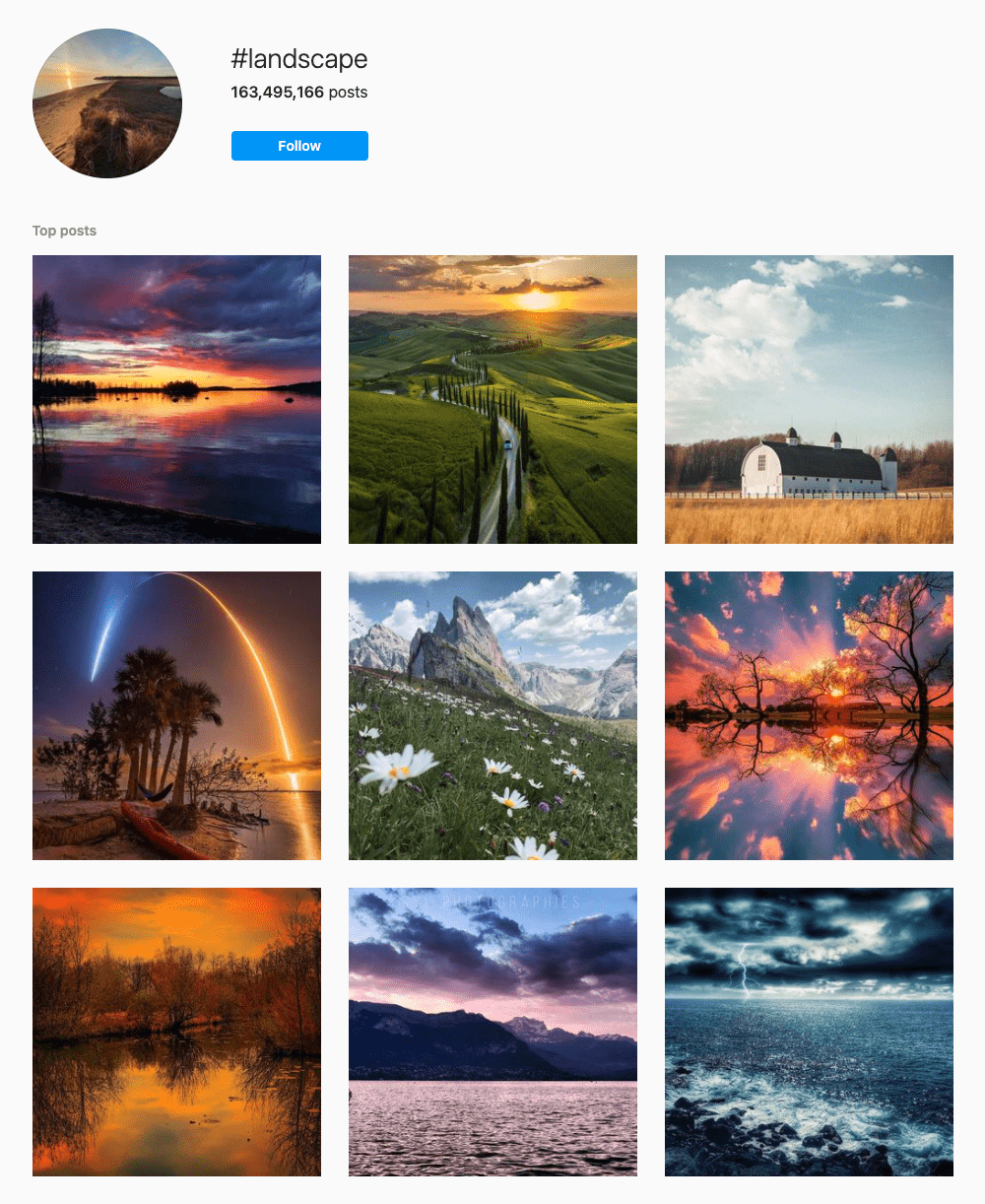 Suggested Hashtags
#

Hashtag

Posts

1

#landscapephotography

50.71M

2

#landscapes

13.26M

3

#landscape_lovers

11.14M

4

#landscape_captures

10.28M

5

#landscapelovers

9.44M

6

#landscapelover

3.29M

7

#landscapedesign

3.23M

8

#landscapehunter

3.17M

9

#landscapepainting

2.73M

10

#landscape_lover

2.65M

11

#landscapephoto

1.92M

12

#landscapestyles_gf

1.65M

13

#landscapearchitecture

1.51M

14

#landscape_photography

1.49M

15

#landscapecaptures

1.46M
Show More Suggested Tags

16

#landscapestyles

1.29M

17

#landscape_hunter

1.2M

18

#landscape_capture

1.09M

19

#landscape_specialist

1.07M

20

#landscapeporn

985.55k

21

#landscapeart

955.59k

22

#landscapephotomag

947.07k

23

#landscapephotographer

837.51k

24

#landscapesofnorway

544.1k

25

#landscape_love

543.54k

26

#landscapeshot

491.22k

27

#landscape_russia

485.09k

28

#landscapephotos

380.26k

29

#landscapedesigner

306.57k

30

#landscapearchitect

303.73k

31

#landscapers

268.52k

32

#landscapeartist

258.6k

33

#landscapephotograpy

232.94k

34

#landscapeofnorway

213.38k

35

#landscapestylesgf

209.25k

36

#landscapescapture

207.65k

37

#landscapecapture

195.99k

38

#landscapeconstruction

185.72k

39

#landscapeslovers

173.48k

40

#landscapepaintings

167.57k

41

#landscape_kings

158.79k

42

#landscapedrawing

158.39k

43

#landscapersofinstagram

150.88k

44

#landscapepainter

139.59k

45

#landscapelove

128.57k

46

#landscapeview

122.12k

47

#landscapelighting

119.29k

48

#landscapeindonesia

117.29k

49

#landscapecontractor

115.25k

50

#landscapealma

80.16k

51

#landscaperid

75.67k

52

#landscapegardening

70.82k

53

#landscapesketch

61.99k

54

#landscapemaintenance

61.45k

55

#landscapetattoo

57.19k

56

#landscapeoilpainting

43.81k

57

#landscapeideas

34.8k
Back to Top ⏫
Similar Hashtags
Given a sample of 89 posts using #landscape, here are some of the hashtags most frequently used.
#nature

50.00%

#photography

42.50%

#travel

37.50%

#naturephotography

35.00%

#photooftheday

35.00%

#landscapephotography

31.25%

#instagood

20.00%

#travelphotography

20.00%

#photo

18.75%

#love

18.75%

#picoftheday

18.75%

#beautiful

17.50%

#photographer

16.25%

#instagram

15.00%

#mountains

13.75%

#travelgram

13.75%

#sunset

13.75%

#winter

12.50%

#naturelovers

12.50%

#art

11.25%

#wanderlust

11.25%

#sky

10.00%

#like

8.75%

#landscapelovers

8.75%

#instadaily

8.75%

#sea

8.75%

#view

7.50%

#trip

7.50%

#bhfyp

7.50%

#travelblogger

7.50%