Memes Hashtags
Best Hashtags for Memes Instagram Posts
Last Updated:
#memes is currently the 81st most popular hashtag on Instagram, with 193.09M posts.
Best Hashtags for Memes
28 Hashtags

            #memes #dankmemes #dailymemes #funnymemes #nichememes #jokes #laugh #edgymemes #comedy #spicymemes #memestagram #wholesomememes #dankmemesdaily #follow #humor #funny #fun #bestmemes #haha #offensivememes #memesdaily #instagood #viral #memer #like #meme #memes😂 #lol
        
See more hashtags below! ⬇️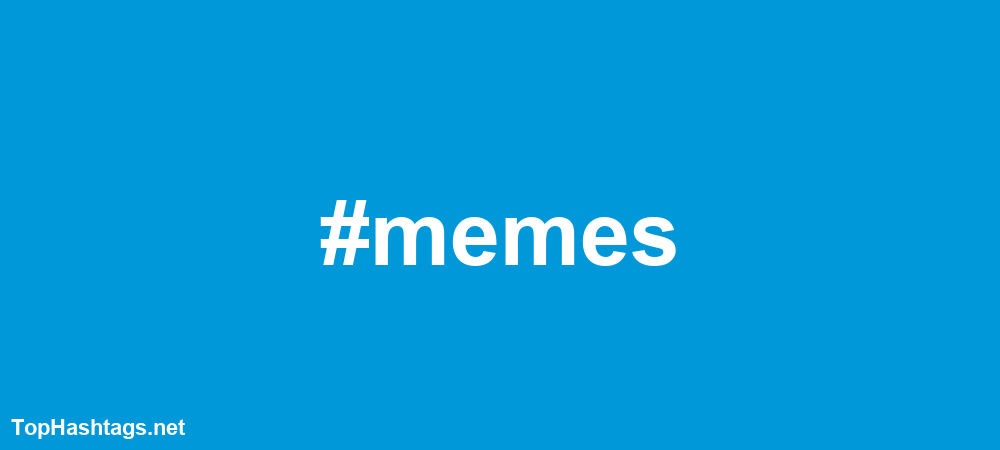 Set 1
24 Hashtags

                #memes #funnymemes #memes😂 #memepage #photooftheday #fashion #funny #lmao #memer #love #memestagram #dailymemes #instagood #memesespañol #dank #edgymemes #dankmemes #fortnitememes #offensivememes #meme #anime #spicymemes #memesdaily #humor
            
Set 2
29 Hashtags

                #memes #animememes #bestmemes #memeaccount #offensivememes #memeschilenos #follow #fun #memer #anime #tiktok #memesbrasil #laugh #memesespañol #memes😂 #love #humorlatino #lol #manga #funnyshit #memepage #edgymemes #followforfollowback #dankmemes #explore #instagram #memesenespañol #haha #risas
            
Set 3
23 Hashtags

                #memes #dailymemes #memesespa #memesenespañol #memesquad #edgymemes #darkmemes #memes2good #dankmemesdaily #btsmemes #relatablememes #memestgram #tamilmemes #memes4ever #memester #stolenmemes #memesfunny #fortnitememes #spicymemes #memesespañol #memestagram #memesengraçados #memes😂
            
Set 4
28 Hashtags

                #memes #meme #memesdaily #funny #dankmemes #funnymemes #memepage #humor #memer #memestagram #love #dank #lmao #memesespañol #memes😂 #anime #follow #tiktok #comedy #viral #edgymemes #funnyvideos #bhfyp #like #lol #offensivememes #dankmeme #memeaccount
            
Set 5
25 Hashtags

                #memes #dankmemes #funnymemes #memesdaily #edgymemes #offensivememes #dailymemes #memestagram #memes😂 #spicymemes #fortnitememes #animememes #memesespañol #btsmemes #dankmemesdaily #tiktokmemes #memesbrasil #bestmemes #nichememes #relatablememes #darkmemes #freefirememes #kpopmemes #wholesomememes #pubgmemes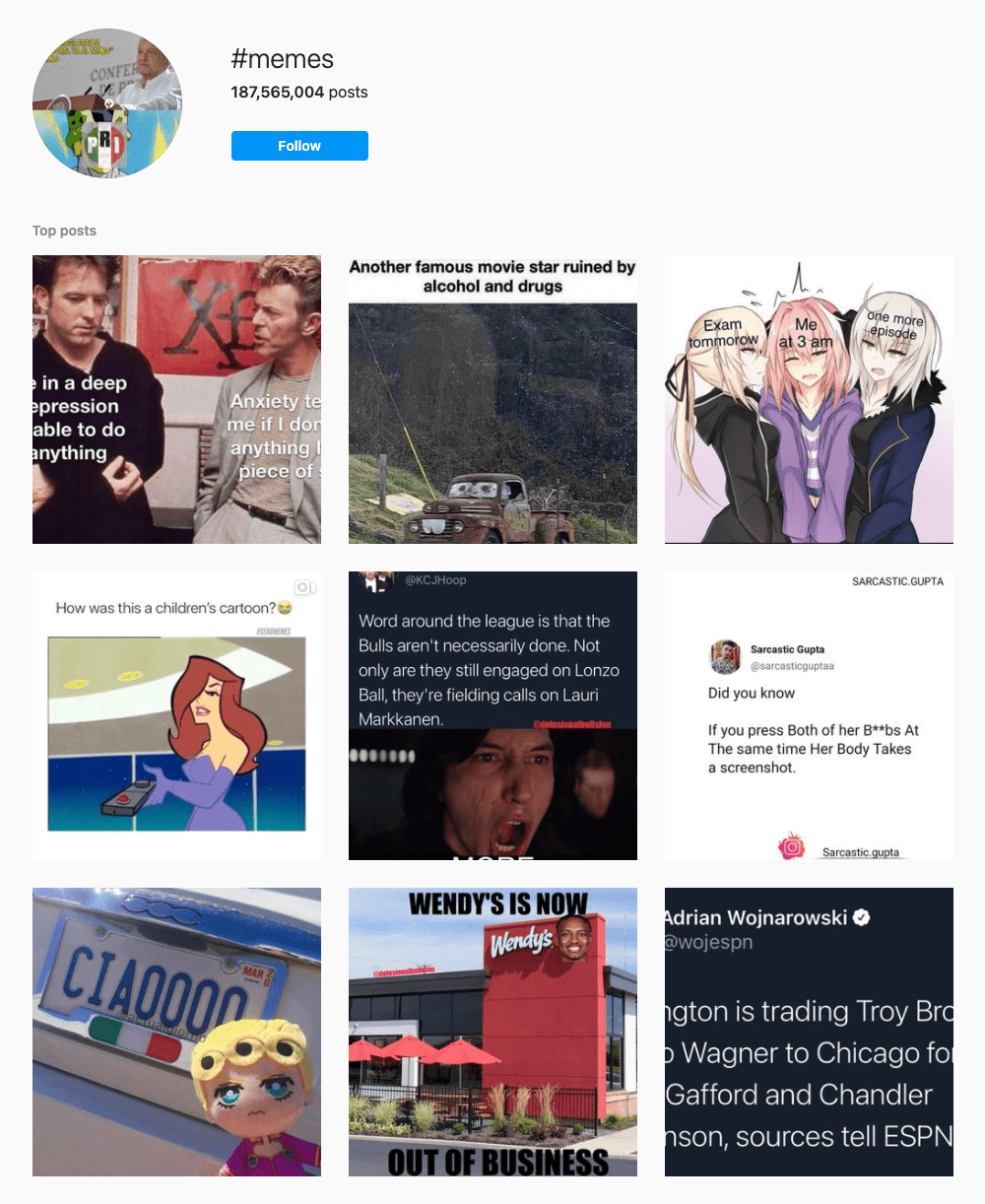 Suggested Hashtags
#

Hashtag

Posts

1

#dankmemes

87.15M

2

#funnymemes

69.58M

3

#memesdaily

62.93M

4

#edgymemes

36.53M

5

#offensivememes

31.44M

6

#dailymemes

21.72M

7

#memestagram

18.81M

8

#memes😂

17.73M

9

#spicymemes

12.99M

10

#fortnitememes

12.91M

11

#animememes

11.99M

12

#memesespañol

10.2M

13

#btsmemes

9.49M

14

#dankmemesdaily

7.96M

15

#tiktokmemes

7.8M
Show More Suggested Tags

16

#memesbrasil

7.42M

17

#bestmemes

7.12M

18

#nichememes

6.83M

19

#relatablememes

5.88M

20

#darkmemes

5.79M

21

#freefirememes

5.64M

22

#kpopmemes

5.61M

23

#wholesomememes

5.55M

24

#pubgmemes

5.43M

25

#memestar

5.28M

26

#spongebobmemes

4.93M

27

#stolenmemes

4.72M

28

#tamilmemes

4.67M

29

#desimemes

4.66M

30

#memesquad

4.51M

31

#memesrlife

4.47M

32

#memesgraciosos

4.38M

33

#memesbrasileiros

4.24M

34

#deepfriedmemes

3.72M

35

#funniestmemes

3.52M

36

#hindimemes

3.34M

37

#bollywoodmemes

3.28M

38

#memesbr

3.26M

39

#memesenespañol

3.18M

40

#memesfordays

3.18M

41

#sarcasticmemes

3.18M

42

#minecraftmemes

3.15M

43

#memess

2.21M

44

#memes4days

2.16M

45

#memes2good

1.66M

46

#memeschile

1.6M

47

#memesengraçados

1.58M

48

#memester

1.55M

49

#memesdank

1.47M

50

#memesargentina

1.42M

51

#memestgram

1.35M

52

#memesforlife

1.33M

53

#memesespa

1.28M

54

#memesita

1.12M

55

#memeslatinos

1.12M

56

#memeschilenos

1.09M

57

#memesfunny

910.34k

58

#memesespañoles

820.28k

59

#memesindia

804.72k

60

#memes4ever

746.01k

61

#memessad

632.48k
Back to Top ⏫
Similar Hashtags
Given a sample of 89 posts using #memes, here are some of the hashtags most frequently used.
#meme

30.00%

#memesdaily

22.50%

#funny

21.25%

#dankmemes

18.75%

#funnymemes

17.50%

#memepage

13.75%

#humor

10.00%

#love

8.75%

#dank

8.75%

#memer

8.75%

#memestagram

8.75%

#tiktok

7.50%

#anime

7.50%

#memes😂

7.50%

#memesespañol

7.50%

#follow

7.50%

#lmao

7.50%

#bhfyp

6.25%

#like

6.25%

#offensivememes

6.25%

#viral

6.25%

#edgymemes

6.25%

#funnyvideos

6.25%

#comedy

6.25%

#lol

6.25%

#humornegro

5.00%

#memesenespañol

5.00%

#shitpost

5.00%

#dankmeme

5.00%

#memeaccount

5.00%