Mood Hashtags
Best Hashtags for Mood Instagram Posts
Last Updated:
#mood is currently the 184th most popular hashtag on Instagram, with 114.61M posts.
Best Hashtags for Mood
28 Hashtags

            #mood #moody_tones #instamood #sad #instalike #moodbooster #moodyportraits #moody #moods #love #moodygrams #happy #nature #portraitmood #cool #mood😏 #moodyports #goodmood #mondaymood #aesthetic #inspiration #lifestyle #dream #instagood #art #me #daily #moodoftheday
        
See more hashtags below! ⬇️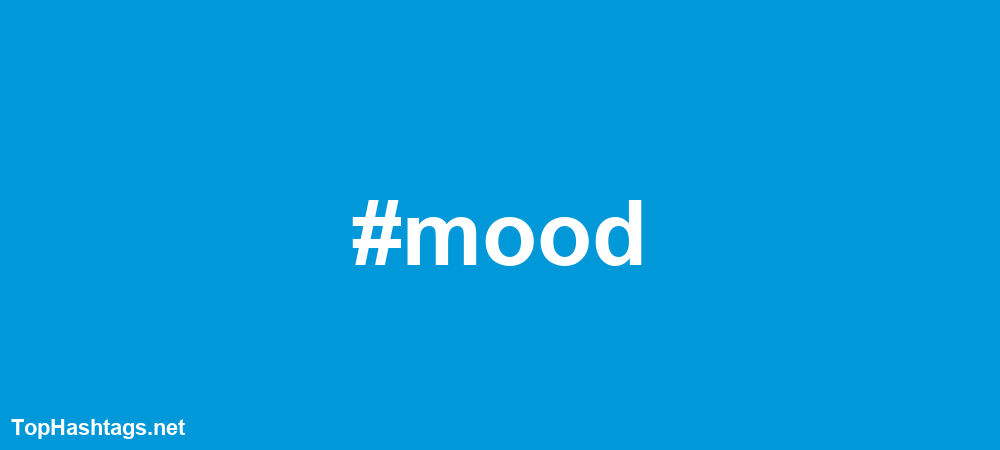 Set 1
27 Hashtags

                #mood #follow #nature #music #goodmood #moodboardaccount #photography #발렌타인데이 #fashion #moody #beautiful #art #moodoftheday #daily #instamood #me #moodygrams #instagood #mondaymood #bnwmood #portraitmood #photooftheday #picoftheday #love #moodyports #instagram #fridaymood
            
Set 2
26 Hashtags

                #mood #instamood #영탁이불 #fashion #naturephotography #cute #sad #ootd #outfit #life #photographer #dream #inspiration #love #photo #영탁신곡 #photography #travel #music #city #travelphotography #citylife #insta #wolf #art #photooftheday
            
Set 3
25 Hashtags

                #mood #mood😍 #instamood #moody_nature #moodoftheday #moodyfilm #moodygramskerala #moodmagic #moodbooster #moodynature #moodyportraits #moodyyeditzzz #moodphotography #moodvideo #moodforfloral #moodcewek #moodquote #moodcommunity #goodmood #moodeditz #moody_tones #moody #moodyedits #creartmood #moodboardaesthetic
            
Set 4
26 Hashtags

                #mood #love #instagood #art #daily #photooftheday #photography #me #instagram #music #nature #20210210_pm6 #comforter #kpop #valentine #youngtak #노래추천 #발렌타인데이 #영탁 #영탁신곡 #영탁의불쑥tv #영탁이불 #좋아요 #cool #aesthetic #likeforlikes
            
Set 5
29 Hashtags

                #mood #instamood #moodygrams #portraitmood #mondaymood #goodmood #moodyports #moodoftheday #bnwmood #moody #fridaymood #moodboard #minimalmood #moodedits #moodygram #moods #moodbooster #moody_nature #moody_tones #moodyportraits #moodygram_kerala #moodrepublik #moodboards #moodyfilm #moodynature #mood😏 #moodygramkerala #creartmood #moodnation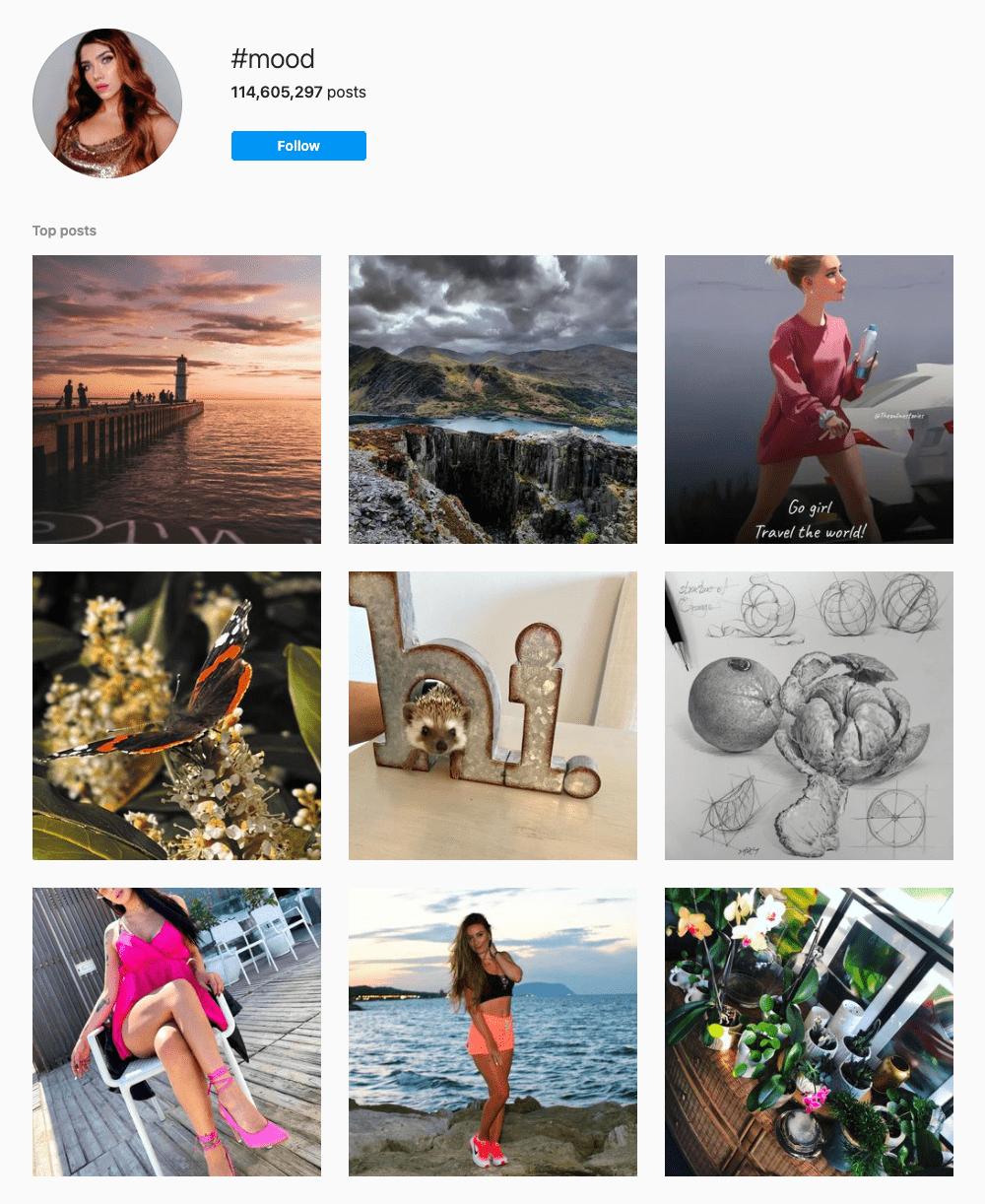 Suggested Hashtags
#

Hashtag

Posts

1

#instamood

258M

2

#moodygrams

38.53M

3

#portraitmood

17.73M

4

#mondaymood

8.88M

5

#goodmood

8.87M

6

#moodyports

8.86M

7

#moodoftheday

8.25M

8

#bnwmood

7.43M

9

#moody

6.82M

10

#fridaymood

6.12M

11

#moodboard

4.36M

12

#minimalmood

4.18M

13

#moodedits

2.54M

14

#moodygram

2.44M

15

#moods

1.96M
Show More Suggested Tags

16

#moodbooster

1.46M

17

#moody_nature

1.32M

18

#moody_tones

1.28M

19

#moodyportraits

1.08M

20

#moodygram_kerala

1.07M

21

#moodrepublik

1.03M

22

#moodboards

833.09k

23

#moodyfilm

818.92k

24

#moodynature

782.11k

25

#mood😏

772.22k

26

#moodygramkerala

767.84k

27

#creartmood

698.45k

28

#moodnation

605.62k

29

#moodcewek

595.15k

30

#moodmagic

592.13k

31

#moods_in_frame

537.44k

32

#moodyedits

485.61k

33

#moodyindia

484.62k

34

#moodedit

479.54k

35

#moodswings

397.61k

36

#moodquotes

276.47k

37

#moodoff

276.28k

38

#mood😍

253.9k

39

#moodtweets

250.27k

40

#moodytoning

247.63k

41

#moodboardaccount

240.2k

42

#moodforfloral

206.8k

43

#moodaf

206.76k

44

#moodeditz

206.38k

45

#moodboster

204.3k

46

#moody_arts

202.71k

47

#moodboardaesthetic

199.32k

48

#moodygramskerala

194.38k

49

#moodcommunity

186.83k

50

#moodphotography

174.94k

51

#moodquote

155.99k

52

#moodvideo

152.87k

53

#moodmusic

150.64k

54

#moodpassion

132.67k

55

#moodtracker

123.72k

56

#moodedits🔥🤦

84.6k

57

#moodyyeditzzz

78.12k
Back to Top ⏫
Similar Hashtags
Given a sample of 90 posts using #mood, here are some of the hashtags most frequently used.
#love

16.05%

#instagood

14.81%

#art

12.35%

#daily

9.88%

#photography

9.88%

#photooftheday

9.88%

#music

8.64%

#me

8.64%

#instagram

8.64%

#영탁의불쑥tv

7.41%

#좋아요

7.41%

#노래추천

7.41%

#발렌타인데이

7.41%

#comforter

7.41%

#youngtak

7.41%

#nature

7.41%

#kpop

7.41%

#valentine

7.41%

#영탁신곡

7.41%

#영탁

7.41%

#20210210_pm6

7.41%

#영탁이불

7.41%

#likeforlikes

6.17%

#aesthetic

6.17%

#style

6.17%

#cute

6.17%

#fashion

6.17%

#instamood

6.17%

#photo

6.17%

#cool

6.17%