Motivation Hashtags
Best Hashtags for Motivation Instagram Posts
Last Updated:
#motivation is currently the 49th most popular hashtag on Instagram, with 271.06M posts.
Best Hashtags for Motivation
27 Hashtags

            #motivation #motivationalwords #motivationdaily #inspiration #success #motivation101 #weightlossmotivation #mondaymotivation #motivational #fit #fitnessmotivation #motivationmonday #monday #lifestyle #dedication #training #style #instagood #gym #motivationalquotes #motivationoftheday #follow #goals #love #motivation💯 #gymmotivation #health
        
See more hashtags below! ⬇️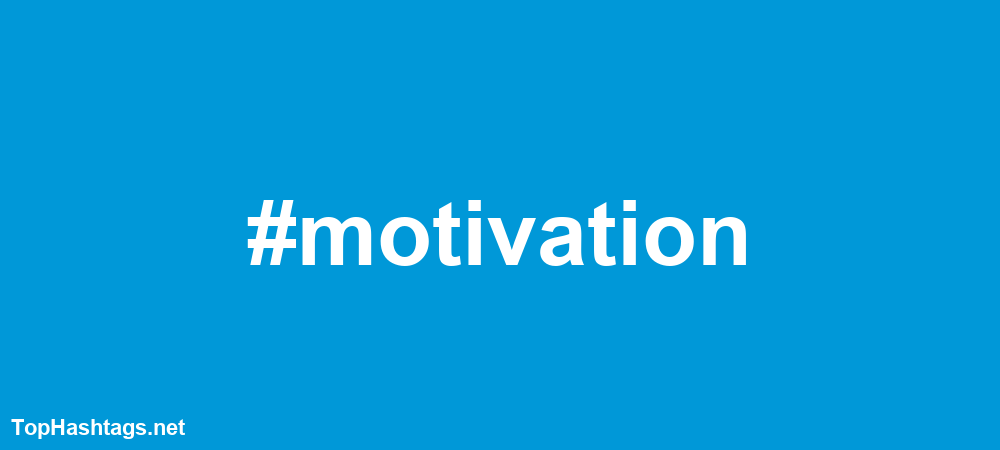 Set 1
28 Hashtags

                #motivation #motivationalquotes #workoutmotivation #gym #fitness #inspiration #photooftheday #motivational #runningmotivation #bodybuildingmotivation #bodybuilding #love #gymmotivation #hardwork #art #lifestyle #attitude #fitnessmotivation #goal #instagood #fashion #motivationmonday #hustle #mondaymotivation #workout #weightlossmotivation #fit #training
            
Set 2
27 Hashtags

                #motivation #fitnessmotivation #beautiful #fitness #success #mindset #quote #healthylifestyle #motivationalquotes #passion #likeforlikes #selfcare #bodybuilding #abs #sport #nike #follow #business #positivity #nature #fit #health #entrepreneur #happiness #monday #selflove #quotes
            
Set 3
29 Hashtags

                #motivation #motivationalspeaking #motivationtuesday #motivationvideo #motivationdaily #mondaymotivation #motivational_quotes #motivationalcoach #motivation💯 #motivationwall #motivationalthoughts #motivationalquotesoftheday #fitnessmotivation #motivationssprüche #motivationalquotesandsayings #motivationalspeech #motivationalposts #weightlossmotivation #runningmotivation #motivationquote #motivations #motivationalspeaker #motivation302 #gymmotivation #motivationalpage #motivationeveryday #bodybuildingmotivation #motivationalquoteoftheday #motivationalspeeches
            
Set 4
25 Hashtags

                #motivation #fitness #training #workout #inspiration #gym #love #fit #instagood #lifestyle #bodybuilding #fitnessmotivation #mindset #style #sport #instagram #happy #goals #follow #success #model #health #gymmotivation #monday #smile
            
Set 5
29 Hashtags

                #motivation #fitnessmotivation #motivationalquotes #gymmotivation #mondaymotivation #workoutmotivation #motivational #motivationmonday #weightlossmotivation #bodybuildingmotivation #runningmotivation #motivationalspeaker #motivationalquote #motivationquotes #motivationalmonday #motivations #motivationquote #motivationdaily #motivationoftheday #motivation101 #motivationalwords #motivationalquotesoftheday #motivationalpost #motivation💯 #motivationforlife #motivationalvideos #motivationmafia #motivationiskey #motivationalquoteoftheday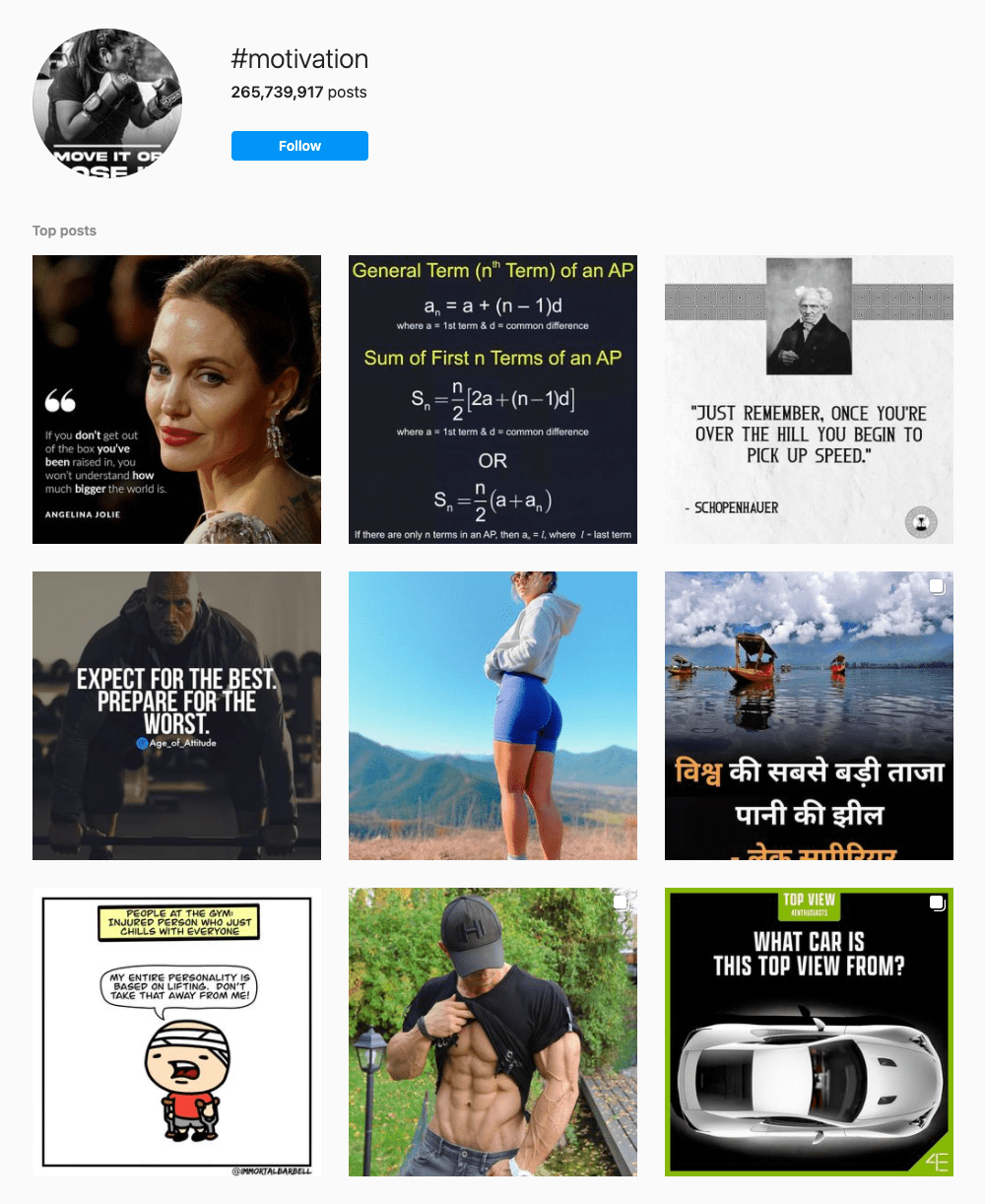 Suggested Hashtags
#

Hashtag

Posts

1

#fitnessmotivation

104.09M

2

#motivationalquotes

38.3M

3

#gymmotivation

31.19M

4

#mondaymotivation

25.12M

5

#workoutmotivation

16.92M

6

#motivational

16.06M

7

#motivationmonday

9.35M

8

#weightlossmotivation

8.31M

9

#bodybuildingmotivation

7.45M

10

#runningmotivation

6.01M

11

#motivationalspeaker

4.03M

12

#motivationalquote

3.3M

13

#motivationquotes

2.67M

14

#motivationalmonday

2.5M

15

#motivations

2.03M
Show More Suggested Tags

16

#motivationquote

1.48M

17

#motivationdaily

1.12M

18

#motivationoftheday

1.12M

19

#motivation101

1.08M

20

#motivationalwords

1M

21

#motivationalquotesoftheday

872.35k

22

#motivationalpost

856.45k

23

#motivation💯

839.05k

24

#motivationforlife

782.75k

25

#motivationalvideos

749.55k

26

#motivationmafia

693.76k

27

#motivationiskey

653.83k

28

#motivationalquoteoftheday

578.6k

29

#motivationnation

550.78k

30

#motivational_quotes

521.32k

31

#motivationfitness

504.72k

32

#motivationalspeakers

497.47k

33

#motivationalpage

492.56k

34

#motivationmondays

484.48k

35

#motivationalthoughts

436.24k

36

#motivationalspeech

422.61k

37

#motivationgym

421.15k

38

#motivationeveryday

405.83k

39

#motivationalquotesdaily

389.02k

40

#motivationssprüche

376.91k

41

#motivationalvideo

357.57k

42

#motivationalposts

350.55k

43

#motivationalsayings

303.19k

44

#motivationtuesday

295.62k

45

#motivationalcoach

271.15k

46

#motivationalspeaking

266.08k

47

#motivationwall

242.58k

48

#motivationvideo

202.49k

49

#motivationalpic

188.12k

50

#motivationalquotesandsayings

181.63k

51

#motivationsunday

178.97k

52

#motivationfriday

177.05k

53

#motivationalmoments

174.15k

54

#motivation302

132.93k

55

#motivationspeech

130.88k

56

#motivationvideos

105.69k

57

#motivationalspeeches

81.09k
Back to Top ⏫
Similar Hashtags
Given a sample of 87 posts using #motivation, here are some of the hashtags most frequently used.
#fitness

37.18%

#training

17.95%

#workout

17.95%

#inspiration

15.38%

#gym

15.38%

#fit

14.10%

#love

14.10%

#lifestyle

11.54%

#instagood

11.54%

#fitnessmotivation

10.26%

#mindset

10.26%

#bodybuilding

10.26%

#sport

8.97%

#style

8.97%

#instagram

8.97%

#happy

7.69%

#model

7.69%

#follow

7.69%

#muscle

6.41%

#life

6.41%

#healthylifestyle

6.41%

#goals

6.41%

#smile

6.41%

#dedication

6.41%

#success

6.41%

#music

6.41%

#gymmotivation

6.41%

#health

6.41%

#monday

6.41%

#personaltrainer

5.13%