OOTD Hashtags
Best Hashtags for OOTD Instagram Posts
Last Updated:
#ootd is currently the 36th most popular hashtag on Instagram, with 360.98M posts.
Best Hashtags for OOTD
27 Hashtags

            #ootd #love #fashionweek #outfitinspiration #fashion #style #cool #fashionblogger #happy #instafashion #ootdmen #model #lookbook #fashionista #fashionstyle #outfit #styleinspo #ootdstyle #ootdmagazine #ootdfashion #picoftheday #stylish #outfitideas #ootdshare #ootdfash #outfitoftheday #life
        
See more hashtags below! ⬇️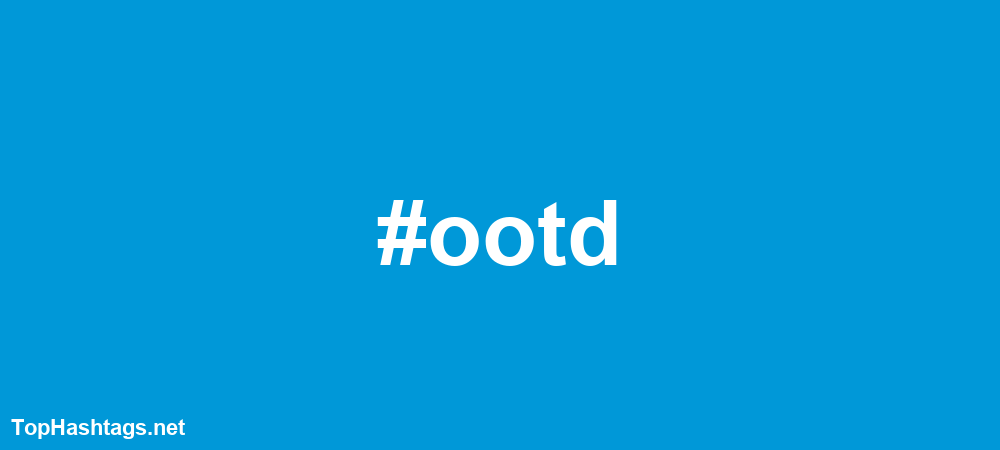 Set 1
27 Hashtags

                #ootd #ootdhijab #photography #ootdmen #ootdstyle #ootdmagazine #instagood #love #photooftheday #ootdindonesia #ootdshare #instagram #ootdph #fashion #ootdhijabindonesia #styleinspo #instadaily #ootdindo #art #blogger #ootdfashion #fashionblogger #ootdinspiration #like4likes #fashionstyle #likeforlikes #beautiful
            
Set 2
29 Hashtags

                #ootd #blogger #photography #instamood #follow4like #followforfollowback #instadaily #outfitinspo #model #styleinspo #ootdfashion #instagood #likeforlikes #styleinspiration #instalike #style #love #lookbook #f4f #styleblogger #instafashion #photooftheday #outfitoftheday #me #bestoftheday #picoftheday #fashion #beautiful #vegan
            
Set 3
23 Hashtags

                #ootd #ootdvietnam #ootdkorea #ootdsituation #ootdjakarta #ootdph #ootdmuslimah #ootdhijabnusantara #ootdcurvy #ootddaily #ootdbatik #ootdbabygirl #ootdvn #ootdgals #ootdkondangan #ootdgamissyari #ootdhijabers #ootdindo #ootdshare #ootdguide #ootdpost #ootdmuslim #ootdindonesia
            
Set 4
29 Hashtags

                #ootd #fashion #likeforlikes #fashionblogger #ootdfashion #photography #blogger #fashionstyle #instagood #instadaily #love #styleinspo #outfit #photooftheday #outfitoftheday #style #picoftheday #travel #instagram #followforfollowback #beautiful #instalike #follow4like #lookbook #styleblogger #styleinspiration #fashionista #outfitinspo #streetstyle
            
Set 5
25 Hashtags

                #ootd #ootdfashion #ootdhijab #ootdshare #ootdindo #ootdmagazine #ootdmen #ootdstyle #ootdph #ootdinspiration #ootdindonesia #ootdhijabindo #ootdkondangan #ootdinspo #ootdkids #ootdfash #ootdmalaysia #ootdwatch #ootdsubmit #ootdvietnam #ootdbatik #ootdbaby #ootdbigsize #ootdhijabindonesia #ootdsyari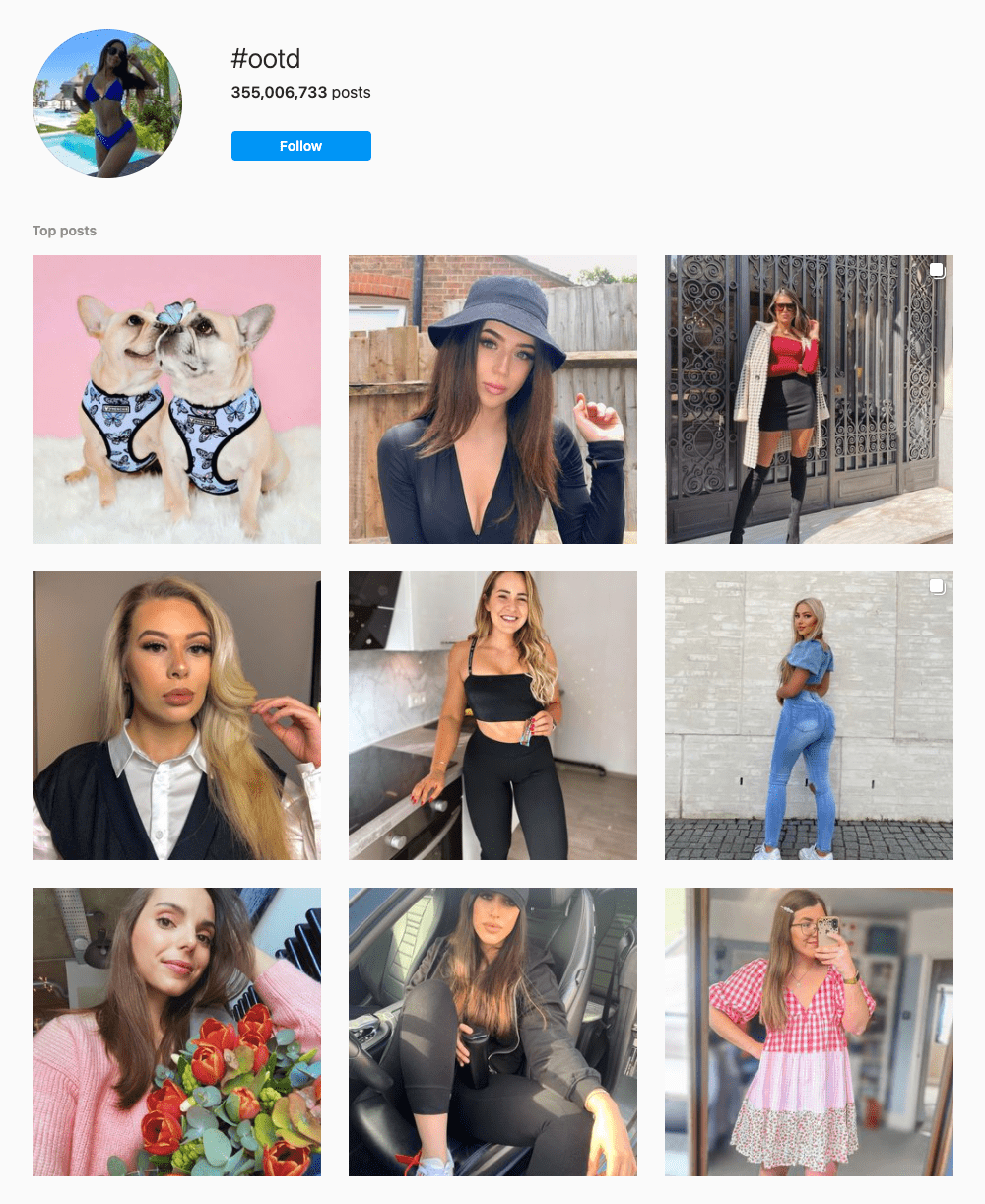 Suggested Hashtags
#

Hashtag

Posts

1

#ootdfashion

21.38M

2

#ootdhijab

12.34M

3

#ootdshare

11M

4

#ootdindo

8.37M

5

#ootdmagazine

5.54M

6

#ootdmen

5.38M

7

#ootdstyle

3.57M

8

#ootdph

2.74M

9

#ootdinspiration

2.5M

10

#ootdindonesia

2.44M

11

#ootdhijabindo

2.26M

12

#ootdkondangan

1.72M

13

#ootdinspo

1.69M

14

#ootdkids

1.53M

15

#ootdfash

1.49M
Show More Suggested Tags

16

#ootdmalaysia

1.32M

17

#ootdwatch

1.29M

18

#ootdsubmit

1.18M

19

#ootdvietnam

1.1M

20

#ootdbatik

999.28k

21

#ootdbaby

934.87k

22

#ootdbigsize

880.82k

23

#ootdhijabindonesia

713.98k

24

#ootdsyari

707.54k

25

#ootdgals

649.93k

26

#ootdhijabers

638.02k

27

#ootdmuslimah

637.63k

28

#ootdpost

595.83k

29

#ootdguide

585.38k

30

#ootdbloggers

584.05k

31

#ootdhijabnusantara

524.17k

32

#ootdblogger

461.52k

33

#ootdgoals

443.77k

34

#ootddaily

329.6k

35

#ootdbrunei

273.68k

36

#ootdraya

270.28k

37

#ootdman

269.67k

38

#ootdmens

253.37k

39

#ootdlovers

226.71k

40

#ootdhijabcasual

206.24k

41

#ootddetails

199.84k

42

#ootdhijaber

191.51k

43

#ootdvn

189.91k

44

#ootdindia

179.56k

45

#ootdjakarta

178.92k

46

#ootdjogja

158.92k

47

#ootdgermany

155.06k

48

#ootdbandung

152.03k

49

#ootdviet

142.96k

50

#ootdsituation

132.18k

51

#ootdideas

130.44k

52

#ootdtunik

120.03k

53

#ootdgamissyari

116.71k

54

#ootdmenindo

111.15k

55

#ootdhijabwanitacantik

111.06k

56

#ootdbabygirl

108.91k

57

#ootdkorea

105.45k

58

#ootdmuslim

103.44k

59

#ootdcurvy

97.73k

60

#ootdcasual

93.73k

61

#ootdindian

83.96k
Back to Top ⏫
Similar Hashtags
Given a sample of 89 posts using #ootd, here are some of the hashtags most frequently used.
#fashion

15.00%

#likeforlikes

13.75%

#fashionblogger

12.50%

#ootdfashion

11.25%

#photography

10.00%

#instagood

8.75%

#fashionstyle

8.75%

#blogger

8.75%

#outfit

7.50%

#love

7.50%

#styleinspo

7.50%

#photooftheday

7.50%

#instadaily

7.50%

#outfitoftheday

6.25%

#style

6.25%

#picoftheday

6.25%

#travel

6.25%

#instagram

6.25%

#followforfollowback

6.25%

#instalike

5.00%

#follow4like

5.00%

#beautiful

5.00%

#bestoftheday

3.75%

#vegan

3.75%

#model

3.75%

#styleblogger

3.75%

#f4f

3.75%

#me

3.75%

#streetstyle

3.75%

#lookoftheday

3.75%