Painting Hashtags
Best Hashtags for Painting Instagram Posts
Last Updated:
#painting is currently the 159th most popular hashtag on Instagram, with 124.96M posts.
Best Hashtags for Painting
26 Hashtags

            #painting #paint #artistsoninstagram #artist #illustration #paintingoftheday #acrylicpainting #contemporarypainting #abstractpainting #digitalpainting #instaart #art #contemporaryart #paintings #landscapepainting #artoftheday #canvaspainting #oilpainting #drawing #artwork #painting🎨 #portraitpainting #watercolorpainting #draw #paintingart #digitalart
        
See more hashtags below! ⬇️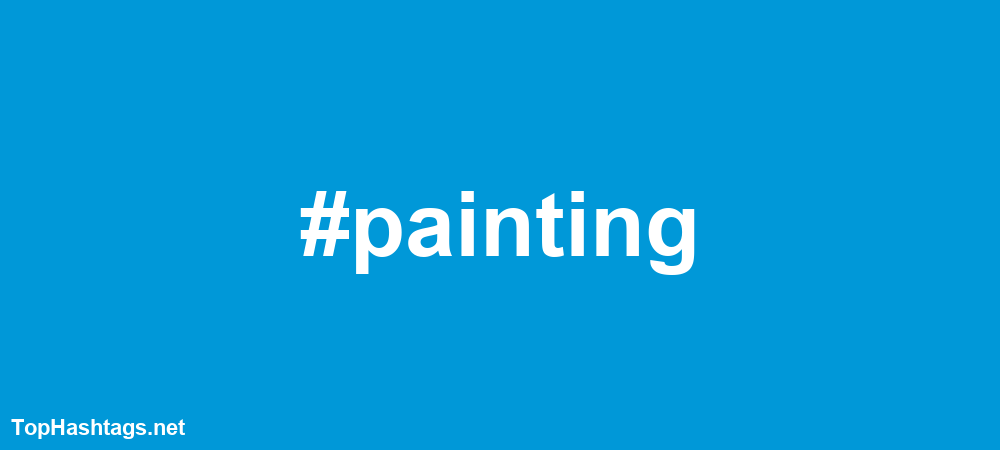 Set 1
24 Hashtags

                #painting #sketch #hairpainting #art #instagood #love #drawing #paintings #watercolorpainting #artwork #canvaspainting #digitalart #fashion #artoftheday #illustration #artistsoninstagram #acrylicpainting #abstractpainting #paint #artist #digitalpainting #contemporarypainting #paintingoftheday #oilpainting
            
Set 2
27 Hashtags

                #painting #procreate #instagram #illustrator #sketchbook #handpainted #digitalartist #photography #fineart #illustration #digitalillustration #artistsupportpledge #digitaldrawing #fanart #artistsoninstagram #drawings #digital #digitalart #contemporaryart #watercolorart #sketch #landscape #watercolor #art #graphicdesign #pintura #artwork
            
Set 3
24 Hashtags

                #painting #paintingtutorial #miniaturepainting #fluidpainting #paintingwarhammer40k #paintingday #paintingfun #watercolorpainting #paintinginprogress #paintingonwood #oilpainting #paintingwarhammer #paintingminiatures #paintingforgeworld #paintinganddecorating #paintingwithatwist #figurativepainting #originalpainting #paintingrocks #facepainting #paintingparty #digitalpainting #canvaspainting #paintingfromlife
            
Set 4
27 Hashtags

                #painting #art #artist #artwork #artoftheday #drawing #illustration #sketch #artistsoninstagram #paint #digitalart #portrait #fineart #draw #instaart #contemporaryart #fanart #digitaldrawing #abstractart #digitalpainting #design #digital #digitalillustration #graphicdesign #photography #modernart #procreate
            
Set 5
29 Hashtags

                #painting #acrylicpainting #oilpainting #digitalpainting #paintings #watercolorpainting #abstractpainting #contemporarypainting #hairpainting #paintingoftheday #canvaspainting #painting🎨 #landscapepainting #facepainting #portraitpainting #paintingwarhammer #lightpainting #paintingart #watercolourpainting #wallpainting #oilpaintings #miniaturepainting #fluidpainting #gouachepainting #aquarellepainting #paintingminiatures #figurativepainting #originalpainting #paintingwithatwist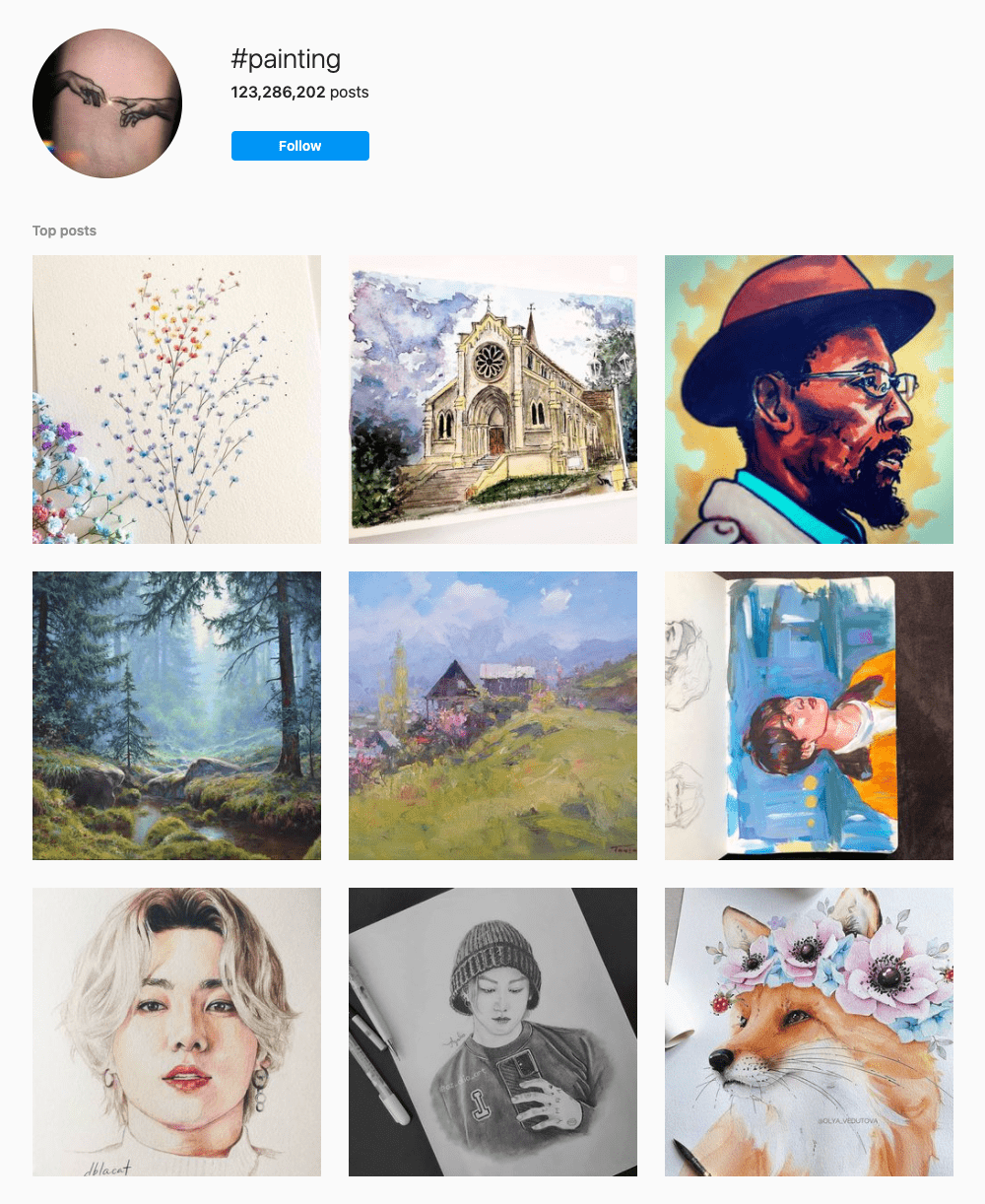 Suggested Hashtags
#

Hashtag

Posts

1

#acrylicpainting

18.17M

2

#oilpainting

17.87M

3

#digitalpainting

15.29M

4

#paintings

14.85M

5

#watercolorpainting

10.89M

6

#abstractpainting

9.28M

7

#contemporarypainting

5.63M

8

#hairpainting

3.78M

9

#paintingoftheday

3.72M

10

#canvaspainting

2.79M

11

#painting🎨

2.75M

12

#landscapepainting

2.72M

13

#facepainting

2.57M

14

#portraitpainting

2.38M

15

#paintingwarhammer

2.01M
Show More Suggested Tags

16

#lightpainting

1.71M

17

#paintingart

1.62M

18

#watercolourpainting

1.54M

19

#wallpainting

1.44M

20

#oilpaintings

1.39M

21

#miniaturepainting

1.36M

22

#fluidpainting

1.3M

23

#gouachepainting

1.06M

24

#aquarellepainting

1.04M

25

#paintingminiatures

865.25k

26

#figurativepainting

803.73k

27

#originalpainting

786.09k

28

#paintingwithatwist

568.15k

29

#paintingforsale

518.05k

30

#paintingprocess

517.05k

31

#paintingsforsale

509.17k

32

#paintingminis

451.29k

33

#paintingwarhammer40k

360.68k

34

#paintingoncanvas

358.01k

35

#painting_forever_art

307.94k

36

#paintinginprogress

279.35k

37

#paintingstudio

240.14k

38

#paintingaday

228.63k

39

#paintingsofinstagram

225.15k

40

#paintingforgeworld

225.03k

41

#paintingclass

216.24k

42

#paintingfun

215.04k

43

#paintingvideo

191.44k

44

#paintingsdaily

176.29k

45

#paintingwithlight

167.43k

46

#paintingfromlife

148.86k

47

#paintingparty

146.22k

48

#paintinganddecorating

136.04k

49

#paintingflowers

135.76k

50

#paintingonpaper

119.9k

51

#paintingonwood

108.1k

52

#paintingartgallery

104.63k

53

#paintingtutorial

98.3k

54

#paintingday

85.63k

55

#paintingrocks

83.23k

56

#paintinginspiration

68.32k
Back to Top ⏫
Similar Hashtags
Given a sample of 89 posts using #painting, here are some of the hashtags most frequently used.
#art

43.75%

#artist

23.75%

#artwork

23.75%

#artoftheday

17.50%

#drawing

16.25%

#illustration

16.25%

#sketch

15.00%

#artistsoninstagram

15.00%

#paint

13.75%

#draw

11.25%

#fineart

11.25%

#portrait

11.25%

#digitalart

11.25%

#contemporaryart

10.00%

#instaart

10.00%

#fanart

8.75%

#abstractart

7.50%

#digitaldrawing

7.50%

#design

6.25%

#photography

6.25%

#digitalillustration

6.25%

#modernart

6.25%

#digital

6.25%

#digitalpainting

6.25%

#graphicdesign

6.25%

#sketchbook

5.00%

#artgallery

5.00%

#watercolorart

5.00%

#acrylicpainting

5.00%

#arte

5.00%