Photography Hashtags
Best Hashtags for Photography Instagram Posts
Last Updated:
#photography is currently the 6th most popular hashtag on Instagram, with 745.25M posts.
Best Hashtags for Photography
27 Hashtags

            #photography #travel #sky #landscape #coolr #landscapephotography #weddingphotography #photographer #portraitphotography #vscocam #zoom #vsco #travelphotography #dslr #filmphotography #photooftheday #nature #style #camera #naturephotography #mirrorless #art #instagram #love #foodphotography #streetphotography #instagood
        
See more hashtags below! ⬇️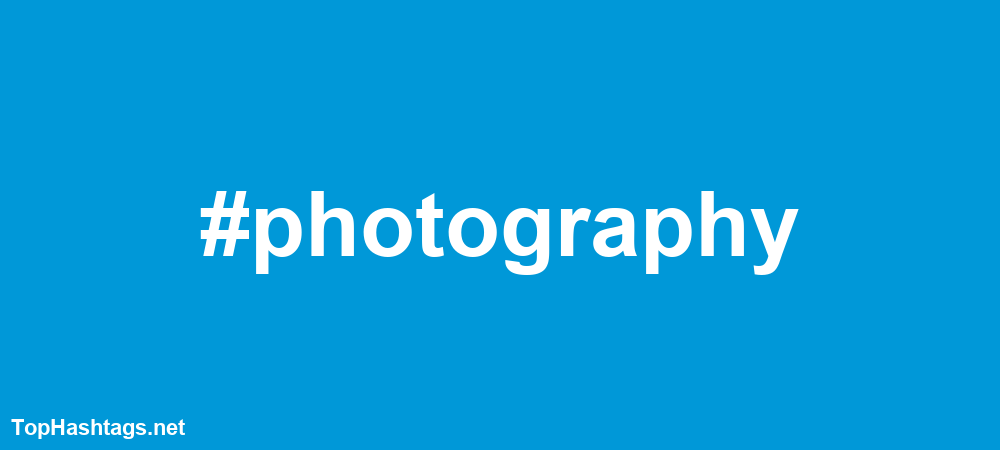 Set 1
24 Hashtags

                #photography #canonphotography #weddingphotography #travel #dslr #art #camera #instagram #beautiful #fuji #photooftheday #photo #naturephotography #landscapephotography #foodphotography #instagood #photographylovers #love #travelphotography #fashion #portraitphotography #filmphotography #nature #streetphotography
            
Set 2
26 Hashtags

                #photography #like #art #adventure #bhfyp #fitness #vintage #foto #fit #life #beauty #like4likes #nofilter #fotografia #instadaily #beach #food #instagram #photoshoot #portrait #home #india #landscapephotography #cute #likesforlike #nature
            
Set 3
26 Hashtags

                #photography #familyphotography #aviationphotography #babyphotography #canonphotography #photographysouls #documentaryphotography #photography_lovers #flowerphotography #foodphotography #photographylife #analogphotography #nightphotography #macrophotography #weddingphotography #mobilephotography #dogphotography #sunsetphotography #photographyeveryday #landscapephotography #photographydaily #underwaterphotography #photographyart #birdphotography #bookphotography #wildlifephotography
            
Set 4
27 Hashtags

                #photography #photooftheday #instagood #love #nature #travel #photo #art #beautiful #instagram #fashion #picoftheday #naturephotography #happy #beauty #bhfyp #landscape #photographer #style #follow #likeforlikes #photoshoot #travelphotography #summer #portrait #model #mountains
            
Set 5
27 Hashtags

                #photography #naturephotography #travelphotography #streetphotography #foodphotography #portraitphotography #landscapephotography #weddingphotography #canonphotography #filmphotography #photographylovers #fashionphotography #mobilephotography #architecturephotography #wildlifephotography #nightphotography #macrophotography #urbanphotography #bnwphotography #photographyislife #dogphotography #analogphotography #photographyeveryday #photographylover #newbornphotography #photographysouls #toyphotography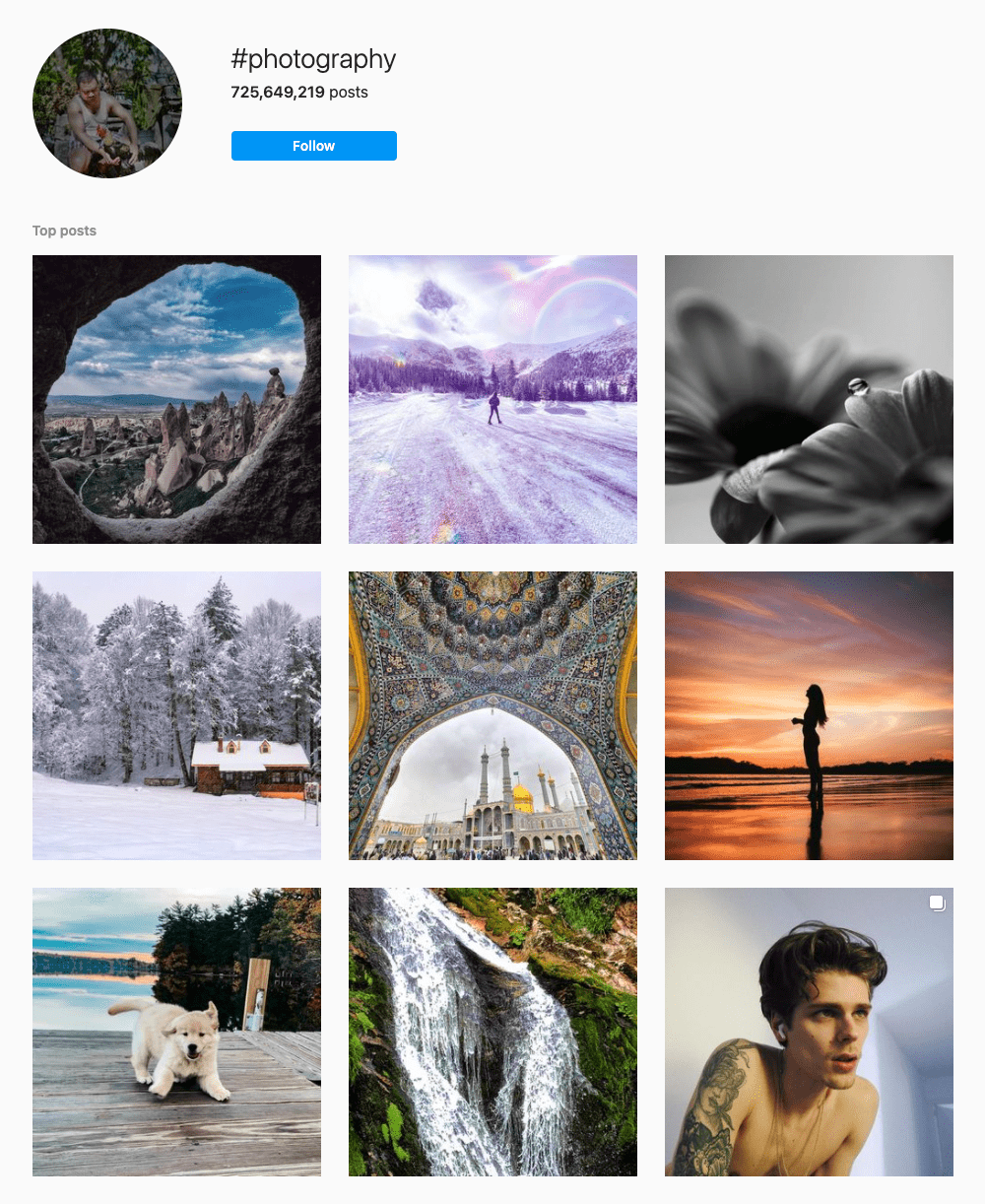 Suggested Hashtags
#

Hashtag

Posts

1

#naturephotography

154.05M

2

#travelphotography

150.68M

3

#streetphotography

93.82M

4

#foodphotography

78.03M

5

#portraitphotography

55.64M

6

#landscapephotography

50.57M

7

#weddingphotography

38.46M

8

#canonphotography

28.79M

9

#filmphotography

28.66M

10

#photographylovers

27.1M

11

#fashionphotography

26.28M

12

#mobilephotography

25.39M

13

#architecturephotography

18.6M

14

#wildlifephotography

18.21M

15

#nightphotography

15.18M
Show More Suggested Tags

16

#macrophotography

14.3M

17

#urbanphotography

12.99M

18

#bnwphotography

12.16M

19

#photographyislife

12.09M

20

#dogphotography

11.97M

21

#analogphotography

11.62M

22

#photographyeveryday

10.84M

23

#photographylover

10.52M

24

#newbornphotography

10.06M

25

#photographysouls

9.96M

26

#toyphotography

9.68M

27

#indianphotography

9.13M

28

#sunsetphotography

9.07M

29

#familyphotography

8.78M

30

#photographyislifee

8.43M

31

#flowerphotography

8.18M

32

#carphotography

8.07M

33

#birdphotography

7.99M

34

#babyphotography

7.66M

35

#dronephotography

7.33M

36

#bookphotography

7M

37

#phonephotography

6.53M

38

#artphotography

6.34M

39

#animalphotography

6.01M

40

#photographylife

5.13M

41

#aviationphotography

5.06M

42

#photographyart

4.97M

43

#underwaterphotography

4.61M

44

#photography📷

4.45M

45

#documentaryphotography

4.16M

46

#aerialphotography

3.87M

47

#astrophotography

3.66M

48

#productphotography

3.24M

49

#photographyoftheday

2.42M

50

#photographyaddict

1.85M

51

#photographydaily

1.45M

52

#photographyy

1.22M

53

#photographylove

1.21M

54

#photographyisart

957.51k

55

#photography_lovers

824.33k
Back to Top ⏫
Similar Hashtags
Given a sample of 90 posts using #photography, here are some of the hashtags most frequently used.
#photooftheday

34.57%

#instagood

28.40%

#love

24.69%

#nature

23.46%

#photo

19.75%

#travel

19.75%

#art

19.75%

#beautiful

18.52%

#instagram

18.52%

#fashion

16.05%

#picoftheday

16.05%

#naturephotography

12.35%

#happy

12.35%

#bhfyp

11.11%

#beauty

11.11%

#photographer

9.88%

#style

9.88%

#landscape

9.88%

#likeforlikes

9.88%

#photoshoot

9.88%

#follow

9.88%

#travelphotography

7.41%

#portrait

7.41%

#summer

7.41%

#model

7.41%

#india

6.17%

#like

6.17%

#girl

6.17%

#instalike

6.17%

#snow

6.17%