Portrait Hashtags
Best Hashtags for Portrait Instagram Posts
Last Updated:
#portrait is currently the 115th most popular hashtag on Instagram, with 149.86M posts.
Best Hashtags for Portrait
27 Hashtags

            #portrait #portraitpage #fashion #beautiful #portrait_ig #photography #portraitgames #portraitphotographer #portraiture #portrait_perfection #beauty #portraits #portrait_vision #art #portraitmood #photooftheday #love #artwork #model #portraits_ig #portraitvision #portraitphotography #instagood #portrait_shots #photo #photographer #pursuitofportraits
        
See more hashtags below! ⬇️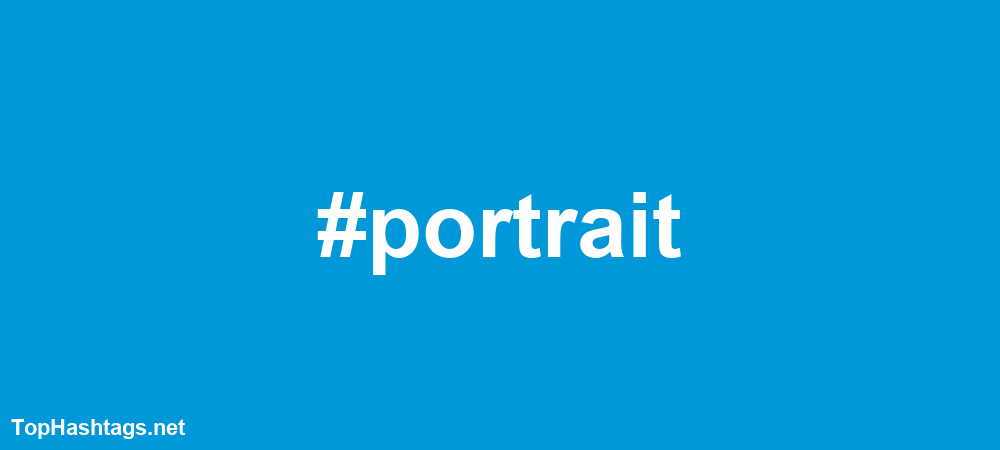 Set 1
23 Hashtags

                #portrait #photo #fashion #portraits #photography #instagram #portraitphotography #portraitmood #portrait_perfection #love #instagood #art #portraitphotographer #beautiful #photooftheday #model #picoftheday #pursuitofportraits #portrait_vision #beauty #portraitpage #portrait_shots #portraiture
            
Set 2
24 Hashtags

                #portrait #beauty #artistsoninstagram #photos #artwork #canon #bnw #photo #pic #lifestyle #photoshoot #instadaily #fitness #photography #modeling #follow #shooting #likeforlikes #blackandwhiteportrait #conceptart #picoftheday #peoplephotography #malemodel #digitalart
            
Set 3
26 Hashtags

                #portrait #portraitpainting #portraits_today #portraitsindia #portraitsmag #portraitphotographer #portraitsvisuals #portraitperfection #portraitsfromtheworld #portrait_perfection #portraitsquad #portraitphotography #portraitsmadeingermany #portraitart #portraitsketch #portraitpage #portraitshoot #portraitsociety #pursuitofportraits #portraitamazing #portraittattoo #portraitkillers #2instagoodportraitlove #portraitfeed #portraitphoto #portraitfestival
            
Set 4
23 Hashtags

                #portrait #photography #art #fashion #photooftheday #portraitphotography #model #photo #beauty #picoftheday #love #instagood #photographer #beautiful #drawing #artwork #instagram #photoshoot #style #nature #shooting #modeling #like
            
Set 5
25 Hashtags

                #portrait #portraitphotography #portraits #portraitmood #portraitpage #portraiture #pursuitofportraits #portrait_vision #portrait_perfection #portraitphotographer #portrait_shots #portraits_ig #portraitgames #portraitvision #portrait_ig #portraitoftheday #portraitstream #portrait_mood #portraits_mf #portraitdrawing #portraitart #portraitpainting #portraits_universe #portraitmode #portraitsociety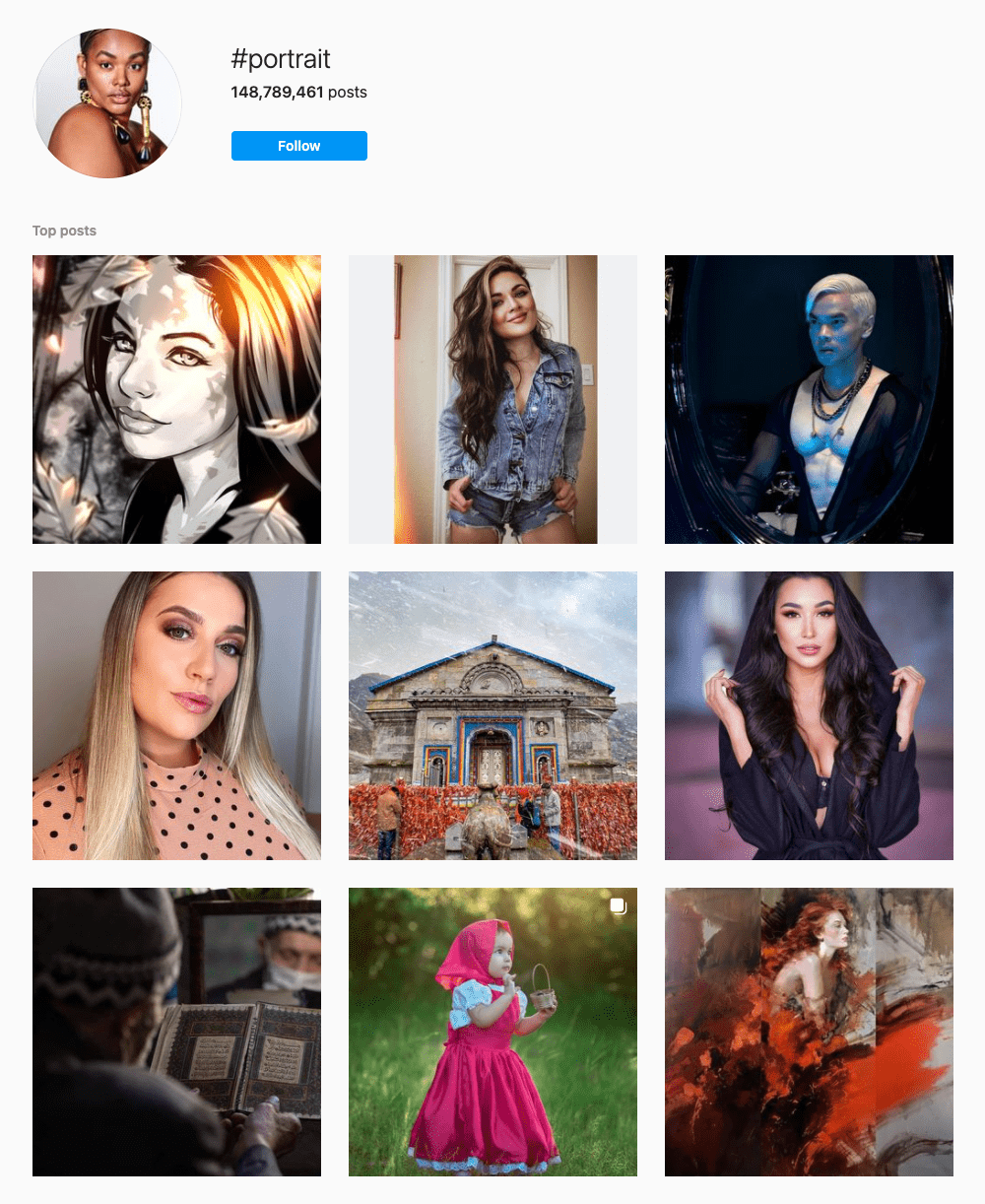 Suggested Hashtags
#

Hashtag

Posts

1

#portraitphotography

55.82M

2

#portraits

22.69M

3

#portraitmood

17.61M

4

#portraitpage

16.58M

5

#portraiture

12.73M

6

#pursuitofportraits

10.09M

7

#portrait_vision

8.61M

8

#portrait_perfection

7.66M

9

#portraitphotographer

7.48M

10

#portrait_shots

6.76M

11

#portraits_ig

6.19M

12

#portraitgames

5.28M

13

#portraitvision

4.96M

14

#portrait_ig

4.49M

15

#portraitoftheday

3.8M
Show More Suggested Tags

16

#portraitstream

3.61M

17

#portrait_mood

3.35M

18

#portraits_mf

3.21M

19

#portraitdrawing

3.1M

20

#portraitart

2.64M

21

#portraitpainting

2.4M

22

#portraits_universe

2.37M

23

#portraitmode

2.34M

24

#portraitsociety

2.29M

25

#portraitfestival

2.06M

26

#portraitstyles_gf

1.97M

27

#portraitsmag

1.54M

28

#2instagoodportraitlove

1.5M

29

#portraitshoot

1.46M

30

#portraitsfromtheworld

1.44M

31

#portraitcentral

1.36M

32

#portraitperfection

1.3M

33

#portraitphoto

1.21M

34

#portraitsofficial

1.14M

35

#portraitcollective

1.12M

36

#portraitfeed

1.11M

37

#portraitkillers

1.1M

38

#portraits_vision

1.09M

39

#portraitsvisuals

1.04M

40

#portraitfolk

1.04M

41

#portraittattoo

1.03M

42

#portrait_universe

957.55k

43

#portraitartist

925.61k

44

#portraitgasm

838.05k

45

#portraitsquad

796.54k

46

#portraits_today

738.11k

47

#portraitsmadeingermany

589.33k

48

#portraitsketch

581.53k

49

#portraitinspiration

551k

50

#portraithood

505.84k

51

#portraits_life

495.35k

52

#portraitsindia

388.34k

53

#portraitunit

325.37k

54

#portraitamazing

288.48k

55

#portraitdrawings

221.19k
Back to Top ⏫
Similar Hashtags
Given a sample of 88 posts using #portrait, here are some of the hashtags most frequently used.
#photography

34.18%

#art

30.38%

#photooftheday

22.78%

#portraitphotography

22.78%

#fashion

22.78%

#photo

16.46%

#model

16.46%

#love

15.19%

#instagood

15.19%

#picoftheday

15.19%

#beauty

15.19%

#beautiful

13.92%

#photographer

13.92%

#drawing

11.39%

#artwork

10.13%

#instagram

10.13%

#style

10.13%

#photoshoot

10.13%

#nature

8.86%

#like

7.59%

#illustration

7.59%

#painting

7.59%

#shooting

7.59%

#artist

7.59%

#modeling

7.59%

#artoftheday

6.33%

#digitalart

6.33%

#sketch

6.33%

#smile

6.33%

#artistsoninstagram

6.33%