Selfie Hashtags
Best Hashtags for Selfie Instagram Posts
Last Updated:
#selfie is currently the 22nd most popular hashtag on Instagram, with 445.16M posts.
Best Hashtags for Selfies
28 Hashtags

            #selfie #follow #cute #instadaily #picoftheday #mirrorselfie #happy #smile #instagood #fashion #selfiequeen #gymselfie #instaselfie #photooftheday #followme #selfienation #selfies #nature #model #selfietime #self #ootd #selfiesaturday #selfiegram #selfiesunday #me #love #style
        
See more hashtags below! ⬇️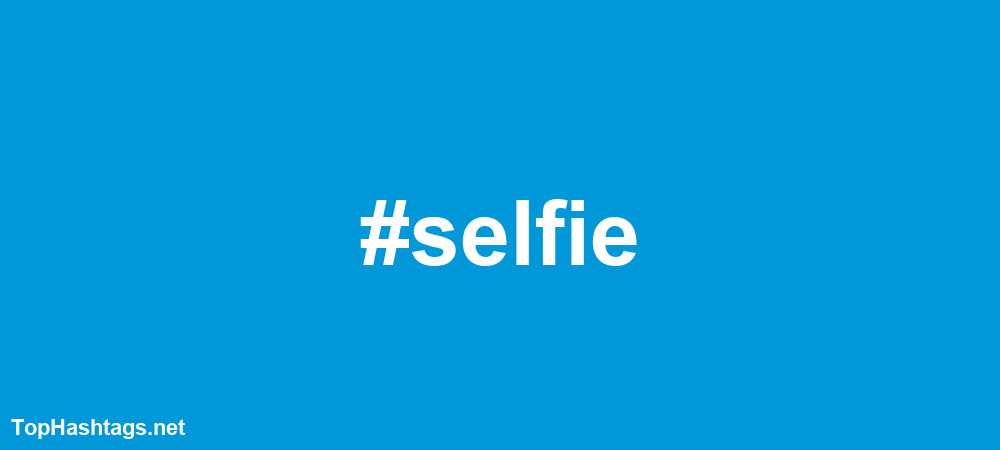 Set 1
27 Hashtags

                #selfie #picoftheday #gymselfie #selfies #selfiesaturday #selfiesunday #fashion #me #cute #beautiful #mirrorselfie #selfienation #selfiegamestrong #instaselfie #instagram #instagood #selfiequeen #gayselfie #photooftheday #selfietime #art #happy #love #follow #instadaily #photography #girl
            
Set 2
25 Hashtags

                #selfie #home #model #likeforlike #tbt #repost #instalike #nature #likeforlikes #art #like #fun #photo #happy #love #look #gym #photography #likeforfollow #motivation #instamood #pictureoftheday #lifestyle #cute #f4f
            
Set 3
27 Hashtags

                #selfie #selfiemode #selfiepelomundo #selfiesforjvo #selfiemoment #selfieee #selfiegirl #selfiewednesday #selfieholic #selfiegame #selfies #selfie #selfiegamestrong #selfielover #selfiee #selfieme #selfie_time #selfieking #catselfie #selfie116 #selfiemood #selfiegram #selfielove #selfie📷 #selfiegay #selfiefriday #selfieaddict
            
Set 4
27 Hashtags

                #selfie #instagood #girl #follow #love #me #photooftheday #picoftheday #happy #instadaily #fashion #followme #model #instagram #makeup #likeforlikes #cute #smile #like4like #beautiful #ootd #nature #blonde #style #instalike #art #beauty
            
Set 5
25 Hashtags

                #selfie #selfies #selfietime #instaselfie #selfiesunday #mirrorselfie #selfienation #gayselfie #gymselfie #selfiequeen #selfiesaturday #carselfie #selfiestick #selfiegram #selfiee #catselfie #dogselfie #selfie #bidadariselfie #selfieaddict #selfie_time #selfiegirl #selfielove #selfieking #selfiemirror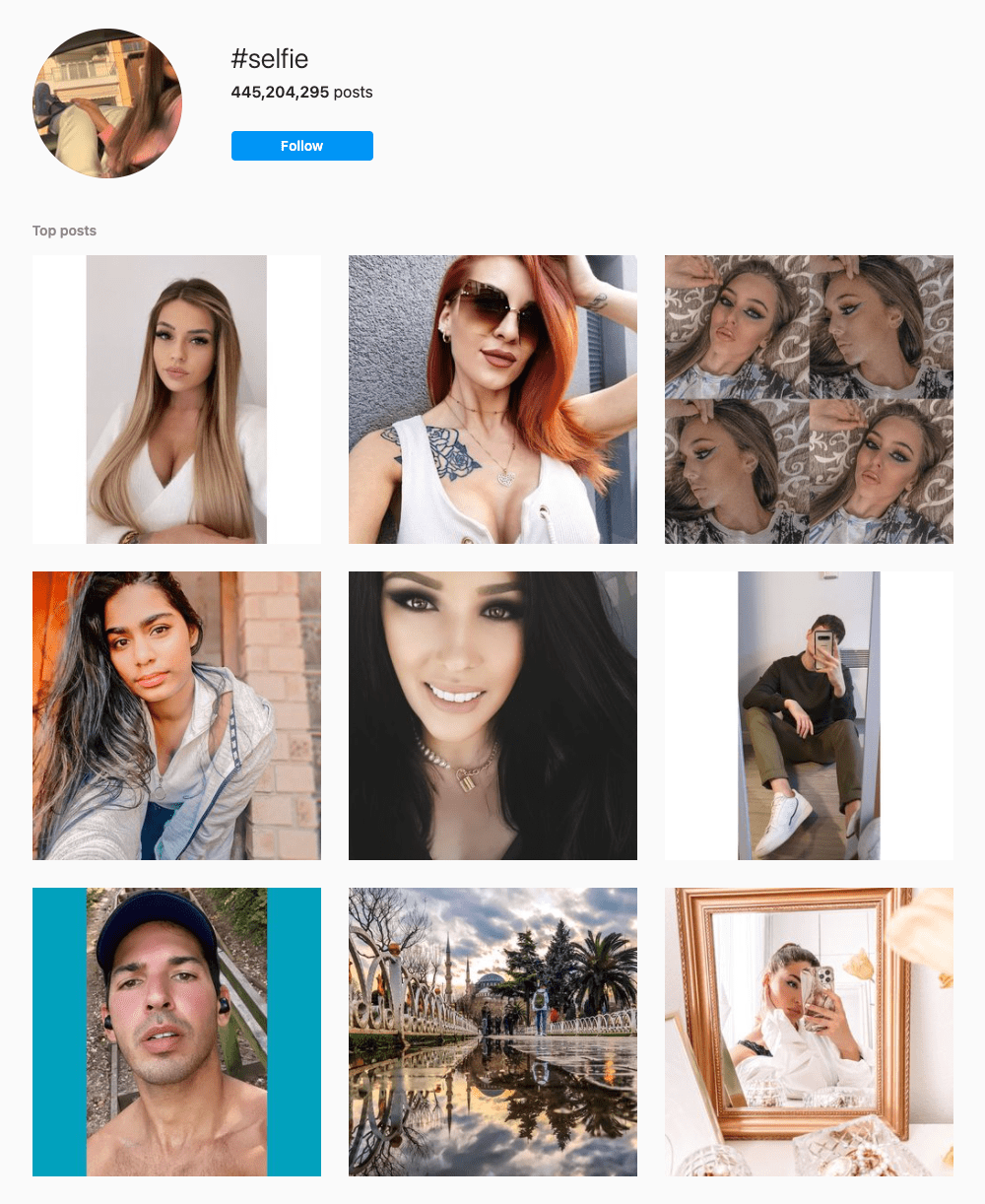 Suggested Hashtags
#

Hashtag

Posts

1

#selfies

25.38M

2

#selfietime

16.27M

3

#instaselfie

15.17M

4

#selfiesunday

9.95M

5

#mirrorselfie

9.42M

6

#selfienation

8.98M

7

#gayselfie

4.94M

8

#gymselfie

3.22M

9

#selfiequeen

2.78M

10

#selfiesaturday

2.51M

11

#carselfie

2.29M

12

#selfiestick

2.08M

13

#selfiegram

2.06M

14

#selfiee

1.96M

15

#catselfie

1.82M
Show More Suggested Tags

16

#dogselfie

1.61M

17

#selfie

1.31M

18

#bidadariselfie

1.1M

19

#selfieaddict

1.01M

20

#selfie_time

986.33k

21

#selfiegirl

885.22k

22

#selfielove

881.45k

23

#selfieking

527.56k

24

#selfiemirror

514.14k

25

#selfiemode

498.58k

26

#selfiegamestrong

494.59k

27

#selfiemood

458.57k

28

#selfieofday

453.25k

29

#selfieee

446.47k

30

#selfie📷

442.07k

31

#selfiemania

433.05k

32

#selfiegame

416.49k

33

#selfiepelomundo

386.27k

34

#selfiefriday

342.27k

35

#selfiesforkz

318.01k

36

#selfiemonday

316.03k

37

#selfielover

303.92k

38

#selfielovers

288.92k

39

#selfiegay

267.89k

40

#selfielife

261.04k

41

#selfiewhore

240.17k

42

#selfie116

225.78k

43

#selfietuesday

222.84k

44

#selfiemoment

213.78k

45

#selfiedog

206.35k

46

#selfiepic

204.52k

47

#selfiethursday

181.26k

48

#selfiesforjvo

179.77k

49

#selfiecantik

174.81k

50

#selfiewednesday

163.6k

51

#selfiefordays

159.03k

52

#selfieme

152.3k

53

#selfieholic

131.72k
Back to Top ⏫
Similar Hashtags
Given a sample of 88 posts using #selfie, here are some of the hashtags most frequently used.
#instagood

26.58%

#girl

25.32%

#follow

21.52%

#love

20.25%

#me

18.99%

#photooftheday

17.72%

#picoftheday

17.72%

#happy

16.46%

#followme

13.92%

#fashion

13.92%

#instadaily

13.92%

#like4like

12.66%

#cute

12.66%

#instagram

12.66%

#makeup

12.66%

#likeforlikes

12.66%

#model

12.66%

#smile

12.66%

#beautiful

11.39%

#ootd

10.13%

#nature

10.13%

#tbt

8.86%

#fun

8.86%

#art

8.86%

#followforfollowback

8.86%

#instalike

8.86%

#life

8.86%

#style

8.86%

#beauty

8.86%

#fitness

8.86%