Selfie Hashtags
Best Hashtags for Selfie Instagram Posts
Last Updated:
#selfie is currently the 24th most popular hashtag on Instagram, with 448.1M posts.
Best Hashtags for Selfies
28 Hashtags

            #selfie #follow #cute #instadaily #picoftheday #mirrorselfie #happy #smile #instagood #fashion #selfiequeen #gymselfie #instaselfie #photooftheday #followme #selfienation #selfies #nature #model #selfietime #self #ootd #selfiesaturday #selfiegram #selfiesunday #me #love #style
        
See more hashtags below! ⬇️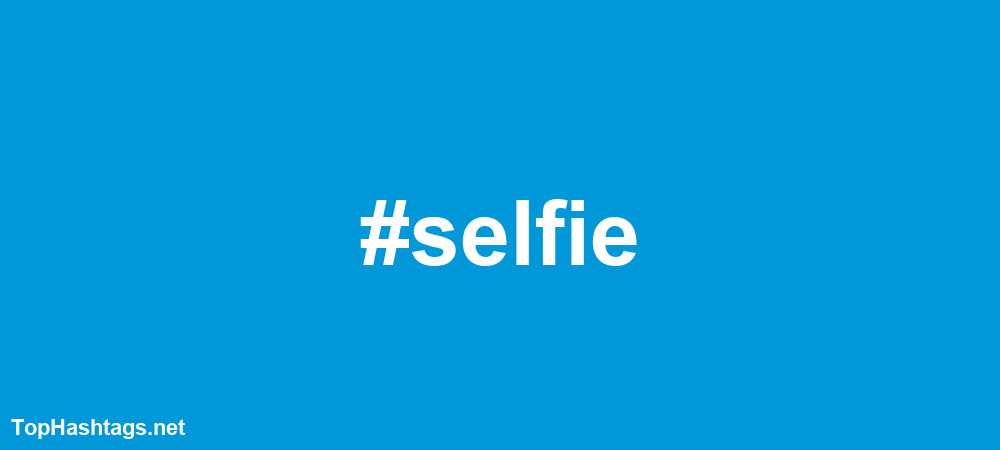 Set 1
27 Hashtags

                #selfie #instaselfie #love #happy #follow #selfiesaturday #selfies #photography #mirrorselfie #gayselfie #beautiful #fashion #photooftheday #picoftheday #selfietime #art #likeforlike #gymselfie #selfiequeen #selfiesunday #instagram #me #instagood #instadaily #selfienation #girl #selfiewednesday
            
Set 2
24 Hashtags

                #selfie #follow #motivation #igers #selfies #model #cute #myself #instalike #좋반 #lifestyle #fitness #fun #followme #gym #smile #bhfyp #happy #instadaily #ootd #instamood #instagram #naturephotography #blonde
            
Set 3
26 Hashtags

                #selfie #selfiemood #selfiefordays #bidadariselfie #mirrorselfie #selfiegame #selfietuesday #selfielovers #selfiemirror #selfieme #selfienation #selfieofday #instaselfie #selfiesaturday #selfiecantik #selfiegirl #selfie #selfiethursday #selfielove #selfieonfilm #gayselfie #selfiedog #selfiesforjvo #selfie116 #selfieee #selfiesunday
            
Set 4
25 Hashtags

                #selfie #instagood #girl #follow #love #me #photooftheday #picoftheday #happy #instadaily #fashion #followme #model #instagram #makeup #likeforlikes #cute #smile #like4like #beautiful #ootd #nature #blonde #style #instalike
            
Set 5
29 Hashtags

                #selfie #selfies #selfietime #instaselfie #selfiesunday #mirrorselfie #selfienation #gayselfie #gymselfie #selfiequeen #selfiesaturday #carselfie #selfiegram #selfiestick #selfiee #catselfie #dogselfie #selfie #bidadariselfie #selfieaddict #selfie_time #selfiegirl #selfielove #selfieking #selfiemirror #selfiemode #selfiegamestrong #selfiemood #selfieofday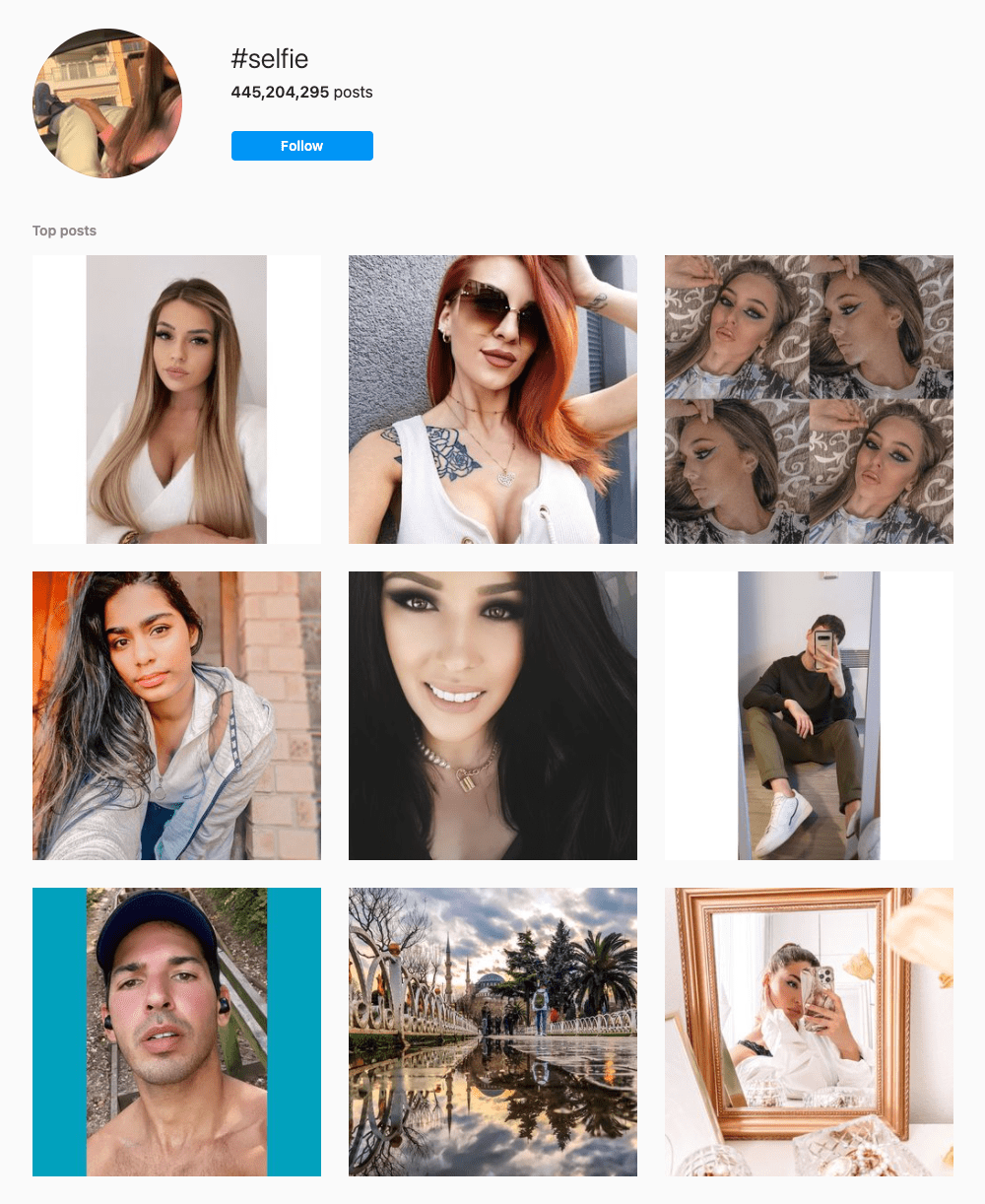 Suggested Hashtags
#

Hashtag

Posts

1

#selfies

25.44M

2

#selfietime

16.48M

3

#instaselfie

15.23M

4

#selfiesunday

9.96M

5

#mirrorselfie

9.6M

6

#selfienation

9M

7

#gayselfie

5M

8

#gymselfie

3.25M

9

#selfiequeen

2.81M

10

#selfiesaturday

2.52M

11

#carselfie

2.31M

12

#selfiegram

2.12M

13

#selfiestick

2.08M

14

#selfiee

1.97M

15

#catselfie

1.86M
Show More Suggested Tags

16

#dogselfie

1.63M

17

#selfie

1.34M

18

#bidadariselfie

1.13M

19

#selfieaddict

1.02M

20

#selfie_time

991.25k

21

#selfiegirl

908.32k

22

#selfielove

895.16k

23

#selfieking

528.53k

24

#selfiemirror

526.18k

25

#selfiemode

503.71k

26

#selfiegamestrong

495.65k

27

#selfiemood

471.39k

28

#selfieofday

460.13k

29

#selfieee

448.68k

30

#selfie📷

443.23k

31

#selfiemania

434.9k

32

#selfiegame

417.11k

33

#selfiepelomundo

391.46k

34

#selfiefriday

344.08k

35

#selfiesforkz

318.12k

36

#selfiemonday

317.21k

37

#selfielover

307.48k

38

#selfielovers

292.62k

39

#selfiegay

267.89k

40

#selfielife

263.23k

41

#selfiewhore

240.91k

42

#selfie116

227.76k

43

#selfietuesday

223.51k

44

#selfiemoment

216.17k

45

#selfiedog

208.34k

46

#selfiepic

208.18k

47

#selfiethursday

182.16k

48

#selfiesforjvo

180.53k

49

#selfiecantik

175.51k

50

#selfiewednesday

164.3k

51

#selfiefordays

159.46k

52

#selfieme

153.77k

53

#selfieholic

132.31k

54

#selfieonfilm

99.08k
Back to Top ⏫
Similar Hashtags
Given a sample of 88 posts using #selfie, here are some of the hashtags most frequently used.
#instagood

26.58%

#girl

25.32%

#follow

21.52%

#love

20.25%

#me

18.99%

#picoftheday

17.72%

#photooftheday

17.72%

#happy

16.46%

#followme

13.92%

#instadaily

13.92%

#fashion

13.92%

#like4like

12.66%

#cute

12.66%

#smile

12.66%

#makeup

12.66%

#model

12.66%

#instagram

12.66%

#likeforlikes

12.66%

#beautiful

11.39%

#ootd

10.13%

#nature

10.13%

#fitness

8.86%

#art

8.86%

#beauty

8.86%

#life

8.86%

#tbt

8.86%

#followforfollowback

8.86%

#instalike

8.86%

#style

8.86%

#blonde

8.86%