Shoes Hashtags
Best Hashtags for Shoes Instagram Posts
Last Updated:
#shoes is currently the 169th most popular hashtag on Instagram, with 120.36M posts.
Best Hashtags for Shoes
27 Hashtags

            #shoes #cool #instashoes #sneakers #outfit #loveshoes #love #fashion #fresh #shopping #hypebeast #shoeslover #shoesaddict #shoesoftheday #shoes👟 #footwear #sport #shoestagram #kicks #streetstyle #style #bhfyp #shoe #nicekicks #instagood #newshoes #shop
        
See more hashtags below! ⬇️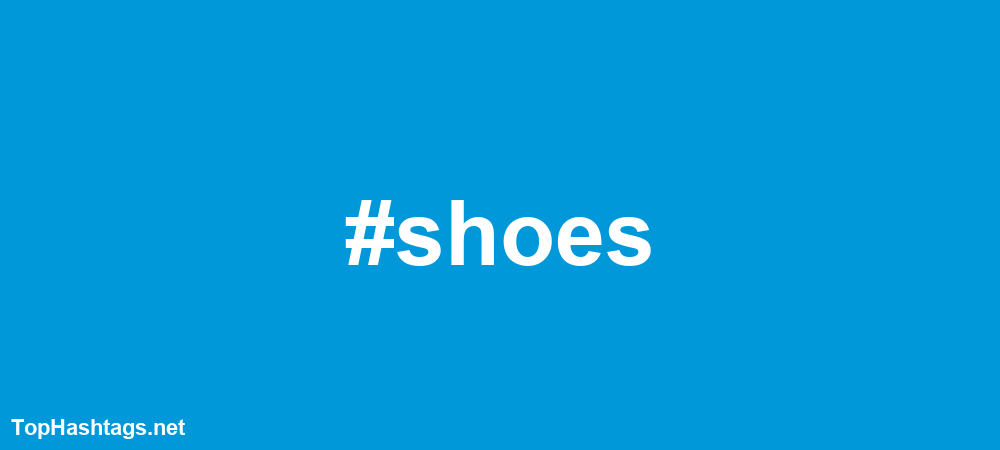 Set 1
26 Hashtags

                #shoes #ootd #beautiful #photooftheday #photography #newshoes #shoeslover #shoesaddict #danceshoes #shoesforsale #flatshoes #tenis #love #art #shoestagram #nike #fashion #sneakers #adidas #guccishoes #instagood #nikeshoes #style #moda #shoesoftheday #instashoes
            
Set 2
24 Hashtags

                #shoes #fashionstyle #adidas #baratos #onlineshop #hypebeast #love #clothes #nicekicks #kickstagram #envios #beautiful #man #fashionista #jordan #instagood #tenis #picoftheday #beauty #kicksonfire #swag #model #reebok #rapidos.
            
Set 3
24 Hashtags

                #shoes #greenweddingshoes #luxuryshoes #shoeslove #mensshoes #instashoes #shoestyle #shoesaddict #shoesshoesshoes #shoesstore #shoesonline #leathershoes #adidasshoes #designershoes #shoestagram #handmadeshoes #shoesforsale #shoes👟 #babyshoes #shoesshop #shoesofinstagram #weddingshoes #danceshoes #shoesoftheday
            
Set 4
23 Hashtags

                #shoes #fashion #style #nike #love #instagood #adidas #sneakers #tenis #moda #ootd #converse #sport #onlineshopping #baratos #entregas #envios #hn #lomejor #marcas #rapidos. #reebok #seguros
            
Set 5
27 Hashtags

                #shoes #flatshoes #instashoes #shoesaddict #nikeshoes #shoestagram #shoesoftheday #newshoes #shoesforsale #shoeslover #guccishoes #adidasshoes #loveshoes #babyshoes #shoestyle #chanelshoes #greenweddingshoes #customshoes #handmadeshoes #mensshoes #luxuryshoes #leathershoes #womenshoes #weddingshoes #designershoes #shoesph #valentinoshoes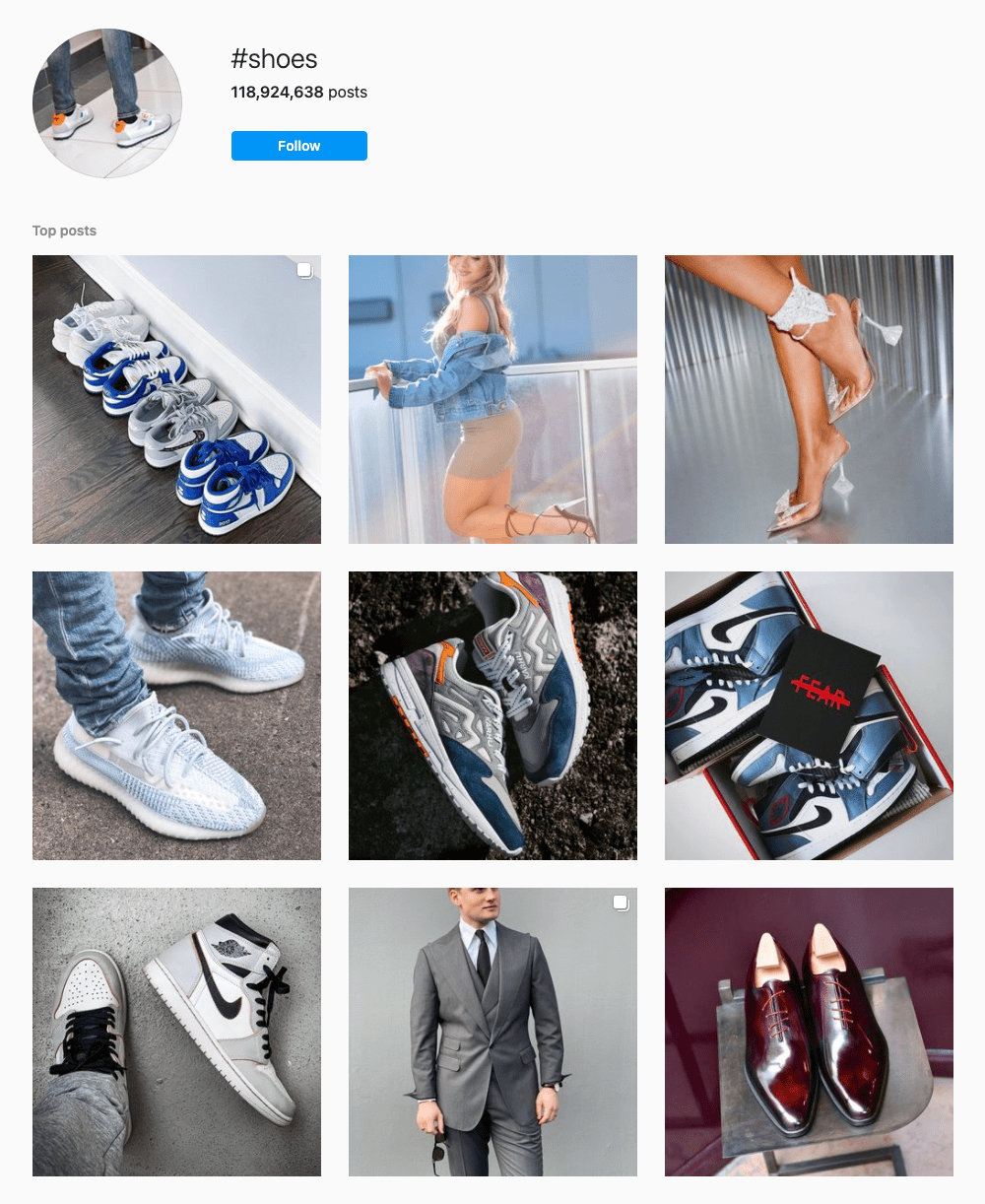 Suggested Hashtags
#

Hashtag

Posts

1

#flatshoes

6.85M

2

#instashoes

6.77M

3

#shoesaddict

6.05M

4

#nikeshoes

5.64M

5

#shoestagram

4.26M

6

#shoesoftheday

3.59M

7

#newshoes

3.15M

8

#shoesforsale

2.94M

9

#shoeslover

2.68M

10

#guccishoes

2.33M

11

#adidasshoes

2.28M

12

#loveshoes

2.19M

13

#babyshoes

2.13M

14

#shoestyle

2.05M

15

#chanelshoes

2.02M
Show More Suggested Tags

16

#greenweddingshoes

2M

17

#customshoes

1.98M

18

#handmadeshoes

1.8M

19

#mensshoes

1.68M

20

#luxuryshoes

1.63M

21

#leathershoes

1.61M

22

#womenshoes

1.52M

23

#weddingshoes

1.47M

24

#designershoes

1.35M

25

#shoesph

1.35M

26

#valentinoshoes

1.27M

27

#shoeslovers

1.26M

28

#iloveshoes

1.25M

29

#pointeshoes

1.13M

30

#danceshoes

1.05M

31

#shoes👠

977.14k

32

#shoeshopping

843.82k

33

#shoesthailand

828.31k

34

#shoesfashion

643.25k

35

#shoestore

577.79k

36

#shoes👟

443.18k

37

#shoesaholic

398.14k

38

#shoesshop

380.32k

39

#shoesmurah

371.94k

40

#shoesofinstagram

346.06k

41

#shoesformen

322.99k

42

#shoesporn

317.33k

43

#shoesonline

312.99k

44

#aldoshoes

293.07k

45

#shoesaddicted

266.61k

46

#shoesinlagos

258.2k

47

#shoesimport

246.28k

48

#shoesshoesshoes

245.44k

49

#shoeslove

234.74k

50

#shoesday

226.59k

51

#shoesstyle

215.87k

52

#shoescleaning

193.55k

53

#shoes4sale

186.84k

54

#shoesshoponly

183.85k

55

#shoesdesign

173.22k

56

#shoescare

164.46k

57

#shoestobehappy

158k

58

#shoesstore

153.11k
Back to Top ⏫
Similar Hashtags
Given a sample of 79 posts using #shoes, here are some of the hashtags most frequently used.
#fashion

30.00%

#style

17.14%

#nike

15.71%

#love

15.71%

#adidas

14.29%

#instagood

14.29%

#tenis

12.86%

#moda

11.43%

#sneakers

11.43%

#sport

10.00%

#converse

10.00%

#onlineshopping

10.00%

#ootd

10.00%

#envios

8.57%

#hn

8.57%

#marcas

8.57%

#seguros

8.57%

#rapidos.

8.57%

#siempre

8.57%

#baratos

8.57%

#lomejor

8.57%

#entregas

8.57%

#reebok

8.57%

#shop

8.57%

#photooftheday

8.57%

#tumejoropción

8.57%

#fashionstyle

7.14%

#clothes

7.14%

#shopping

7.14%

#streetstyle

7.14%