Sunset Hashtags
Best Hashtags for Sunset Instagram Posts
Last Updated:
#sunset is currently the 46th most popular hashtag on Instagram, with 279.21M posts.
Best Hashtags for Sunset
27 Hashtags

            #sunset #photography #sunsets #photo #sunsetporn #naturephotography #picoftheday #instagood #sunset_vision #sunset🌅 #travel #sunset_pics #sunsetlover #sunsets_captures #sunsetlovers #sunset_madness #landscape #outdoors #art #summer #life #nature #sunset_hub #sky #sunsetphotography #sunsetsky #beautiful
        
See more hashtags below! ⬇️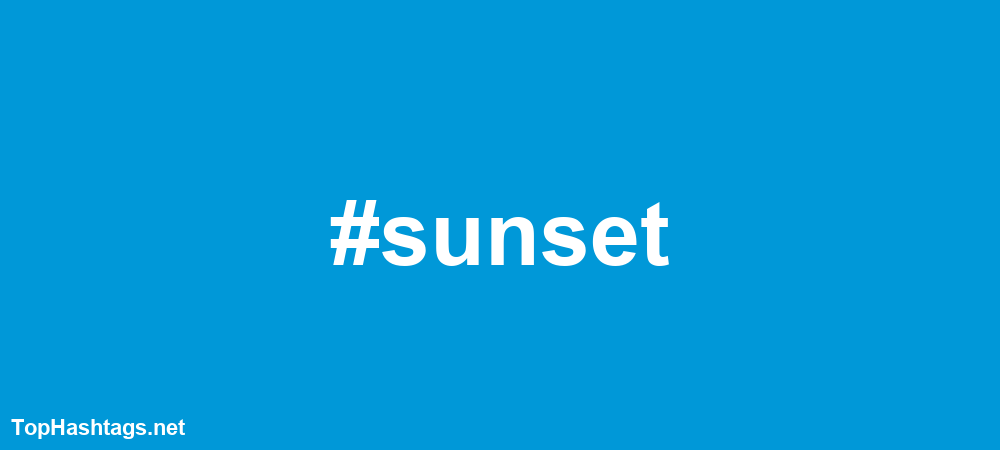 Set 1
27 Hashtags

                #sunset #sunsetporn #sunset_pics #art #sunset🌅 #nature #travel #photography #fotografie #sunsetlovers #sunsets #naturephotography #sunset_vision #sunsetphotography #sunset_madness #sunset_ig #sunsetlover #landscape #beautiful #sunset_hub #fashion #photooftheday #love #landscapephotography #sky #instagood #instagram
            
Set 2
23 Hashtags

                #sunset #travel #fitness #love #l #adventure #travelphotography #like #fotografie #ootd #fun #lol #explore #life #beautiful #photograph #igers #nikon #beauty #smile #canon #instahub #instagood
            
Set 3
28 Hashtags

                #sunset #sunset_hunter #sunsets_captures #sunset🌅 #sunset_ig #sunsetview #sunsetmag #sunsetting #sunset_love #sunsethunter #sunsetsnipers #sunset_captures #sunset_oftheworld #sunsetvideo #sunsetwedding #sunsetsea #sunsetlover #sunsetgram #sunsetlandscape #sunsetpic #sunsetoftheday #sunsetstrip #sunsetsky #sunsetclouds #sunset_universe #sunsetpainting #sunsetporn #sunsetaddict
            
Set 4
27 Hashtags

                #sunset #nature #travel #photography #landscape #photooftheday #naturephotography #beautiful #instagood #landscapephotography #sky #travelphotography #photo #naturelovers #art #clouds #photographer #picoftheday #mountains #love #summer #adventure #bhfyp #ig #sun #sunsetphotography #instagram
            
Set 5
23 Hashtags

                #sunset #sunsets #sunsetlovers #sunsetphotography #sunset_pics #sunsetlover #sunsetporn #sunset_madness #sunset_vision #sunset🌅 #sunset_hub #sunsetbeach #sunsetsniper #sunset_ig #sunset_stream #sunsetsky #sunsethunter #sunsets_captures #sunsetview #sunsets_oftheworld #sunset_love #sunset_lovers #sunsetgram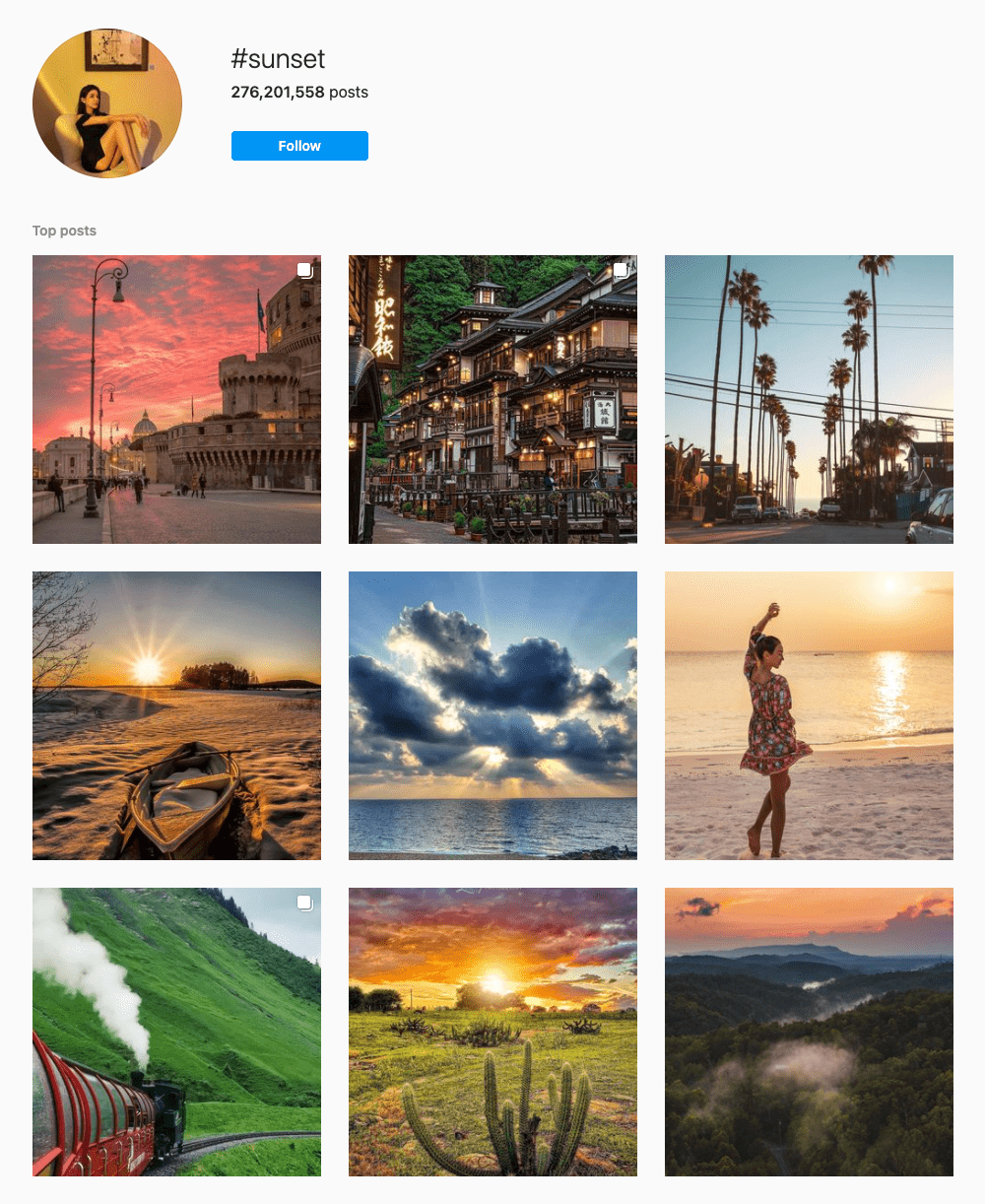 Suggested Hashtags
#

Hashtag

Posts

1

#sunsets

17.46M

2

#sunsetlovers

10.07M

3

#sunsetphotography

9.07M

4

#sunset_pics

7.06M

5

#sunsetlover

6.02M

6

#sunsetporn

4.42M

7

#sunset_madness

3.92M

8

#sunset_vision

3.16M

9

#sunset🌅

2.61M

10

#sunset_hub

2.04M

11

#sunsetbeach

1.98M

12

#sunsetsniper

1.82M

13

#sunset_ig

1.81M

14

#sunset_stream

1.79M

15

#sunsetsky

1.64M
Show More Suggested Tags

16

#sunsethunter

1.4M

17

#sunsets_captures

1.24M

18

#sunsetview

1.01M

19

#sunsets_oftheworld

907.03k

20

#sunset_love

891.95k

21

#sunset_lovers

869.84k

22

#sunsetgram

774.32k

23

#sunset_captures

733.46k

24

#sunsetcolors

730.92k

25

#sunsetmadness

593.02k

26

#sunsetphoto

577.78k

27

#sunsetpics

574.02k

28

#sunset_madness_

560.09k

29

#sunsetoftheday

548.28k

30

#sunset_hunter

479.53k

31

#sunsetshots

479.37k

32

#sunset_universe

471.67k

33

#sunsetlove

438.34k

34

#sunsetchaser

413.86k

35

#sunsetting

389.11k

36

#sunsetstrip

331.87k

37

#sunsetcliffs

322.78k

38

#sunsetsnipers

311.57k

39

#sunsetpic

272.42k

40

#sunsetpainting

243.1k

41

#sunsetclouds

211.99k

42

#sunsetphotos

174.38k

43

#sunsetaddict

172.86k

44

#sunsetskies

168.7k

45

#sunsetorsunrisemagazine

145.6k

46

#sunsetcaptures

139.76k

47

#sunsetmag

136.43k

48

#sunset_capture

109.36k

49

#sunsetart

103.17k

50

#sunsetmakeup

103.02k

51

#sunsetwedding

100.41k

52

#sunsetshimmer

96.8k

53

#sunsetsurf

90.17k

54

#sunsetlandscape

87.11k

55

#sunset_oftheworld

84.08k

56

#sunsethair

76.03k

57

#sunsetsea

63.45k

58

#sunsetvideo

60.26k
Back to Top ⏫
Similar Hashtags
Given a sample of 89 posts using #sunset, here are some of the hashtags most frequently used.
#nature

42.50%

#travel

35.00%

#landscape

33.75%

#photography

33.75%

#photooftheday

27.50%

#naturephotography

26.25%

#instagood

25.00%

#landscapephotography

23.75%

#sky

23.75%

#beautiful

23.75%

#travelphotography

22.50%

#photo

20.00%

#naturelovers

18.75%

#clouds

17.50%

#art

17.50%

#picoftheday

15.00%

#photographer

15.00%

#mountains

15.00%

#love

13.75%

#summer

13.75%

#bhfyp

12.50%

#adventure

12.50%

#ig

11.25%

#sun

10.00%

#wanderlust

10.00%

#sunsetphotography

10.00%

#beach

10.00%

#life

10.00%

#instagram

10.00%

#bestoftheday

8.75%