Top 100 Instagram Hashtags Today
What are the most popular hashtags on Instagram?
Last Updated:
Skip to Top 100 ⬇️
Want more Instagram likes, followers, comments or interaction? Want to grow your account? Then it's important to understand what Instagram hashtags are the most popular – and how to use them effectively.
This is a list of the most popular hashtags on Instagram, and it's updated on a daily basis. In addition to each hashtag and its ranking, you can see roughly how many posts are using the hashtag. We also include some additional information about each hashtag, including if it's banned or restricted, why it so popular and how to effectively use it.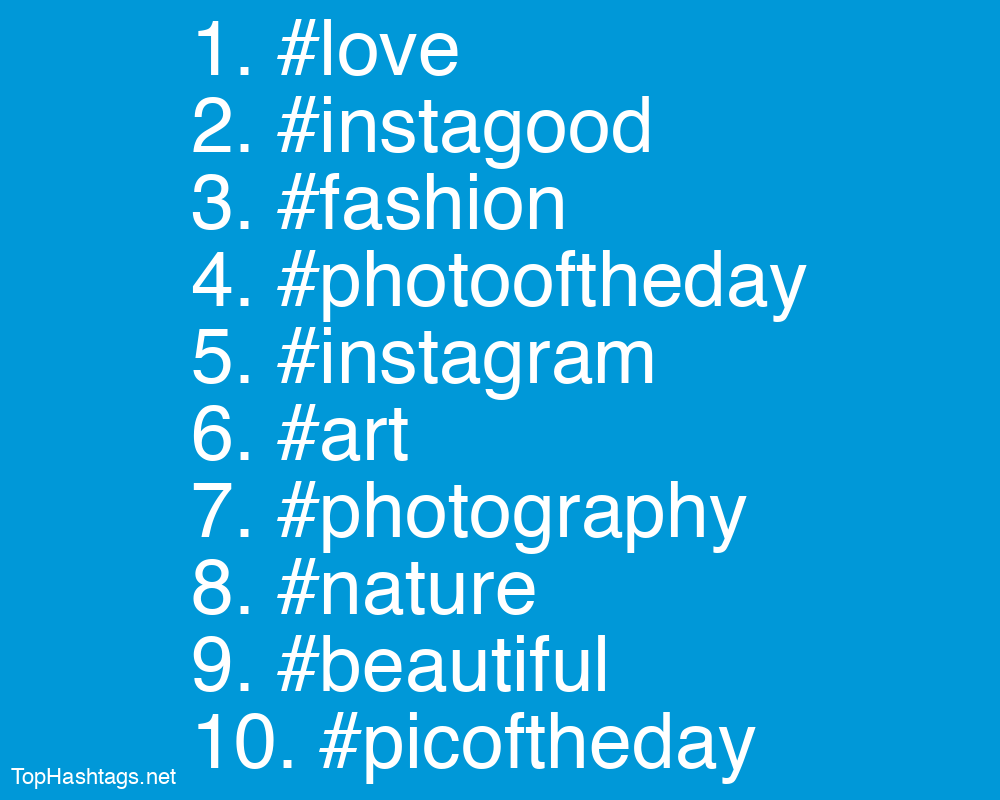 What is a hashtag?
A hashtag is a number sign or pound sign (#) followed by a combination of characters – letters (upper or lowercase), numbers, underscores or emojis.
A hashtag can NOT contain spaces, dashes or punctuation marks likes apostrophes, quotes, periods or commas.
Hashtag can be as short as one character, or as long as the social network they're used on will allow (e.g. a TikTok caption may only be 100 characters in length, so any hashtag you use will be at most 99 characters long)
Here are some examples of valid hashtags:
Here are some examples of invalid hashtags:
#friday night (hashtags can't contain spaces)
#best-friend (hashtags can't contain dashes)
#jim'shouse (hashtags can't contain apostrophes or any other punctuation mark)
#yes. (hashtags can't contain periods or any other punctuation mark)
Skip to Top 100 ⬇️
What are hashtags used for on Instagram?
The purpose of hashtags are for grouping related content together. For instance, if you search for the hashtag #puppy on Instagram (or any other website or application that uses hashtags), you will almost certainly see a bunch of posts about puppies.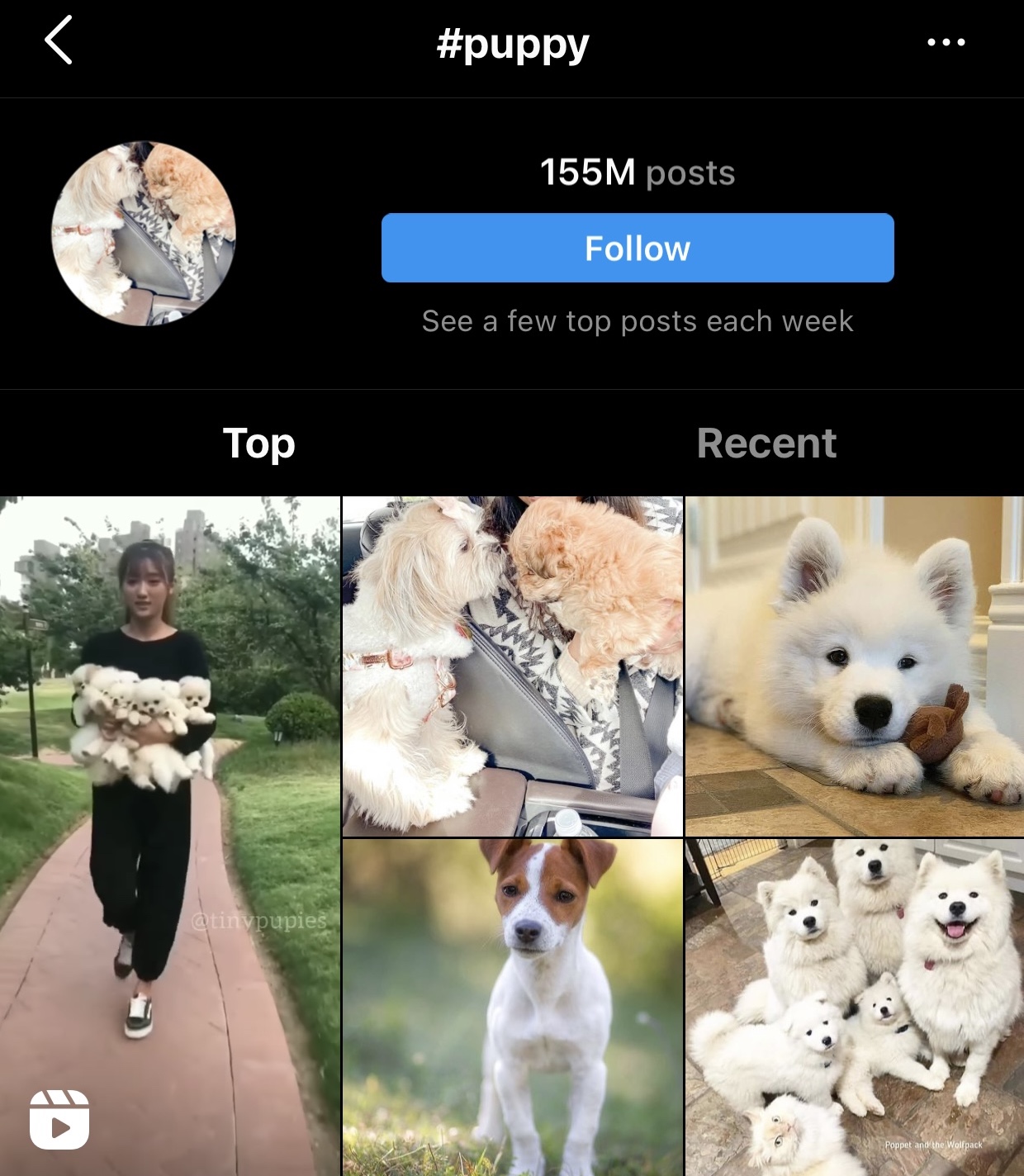 Hashtags are chosen by the people who post the content; they're not automatically created.
Hashtags make it easier for people to find posts about specific topics. Imagine a world in which hashtags don't exist and you are looking for photos of you running in the Boston Marathon. You know that there are probably thousands of photos being posted to Instagram, but how are you going to find them? Unless you already know the people posting them (or the posts are geotagged), you can't! Hashtags make it much easier to find posts like these.
How are hashtags used on Instagram?
As described above, hashtags on Instagram allow people to find certain types of content. You can use hashtags on your posts (limited to 30 hashtags) and on your Stories (limited to 10 hashtags).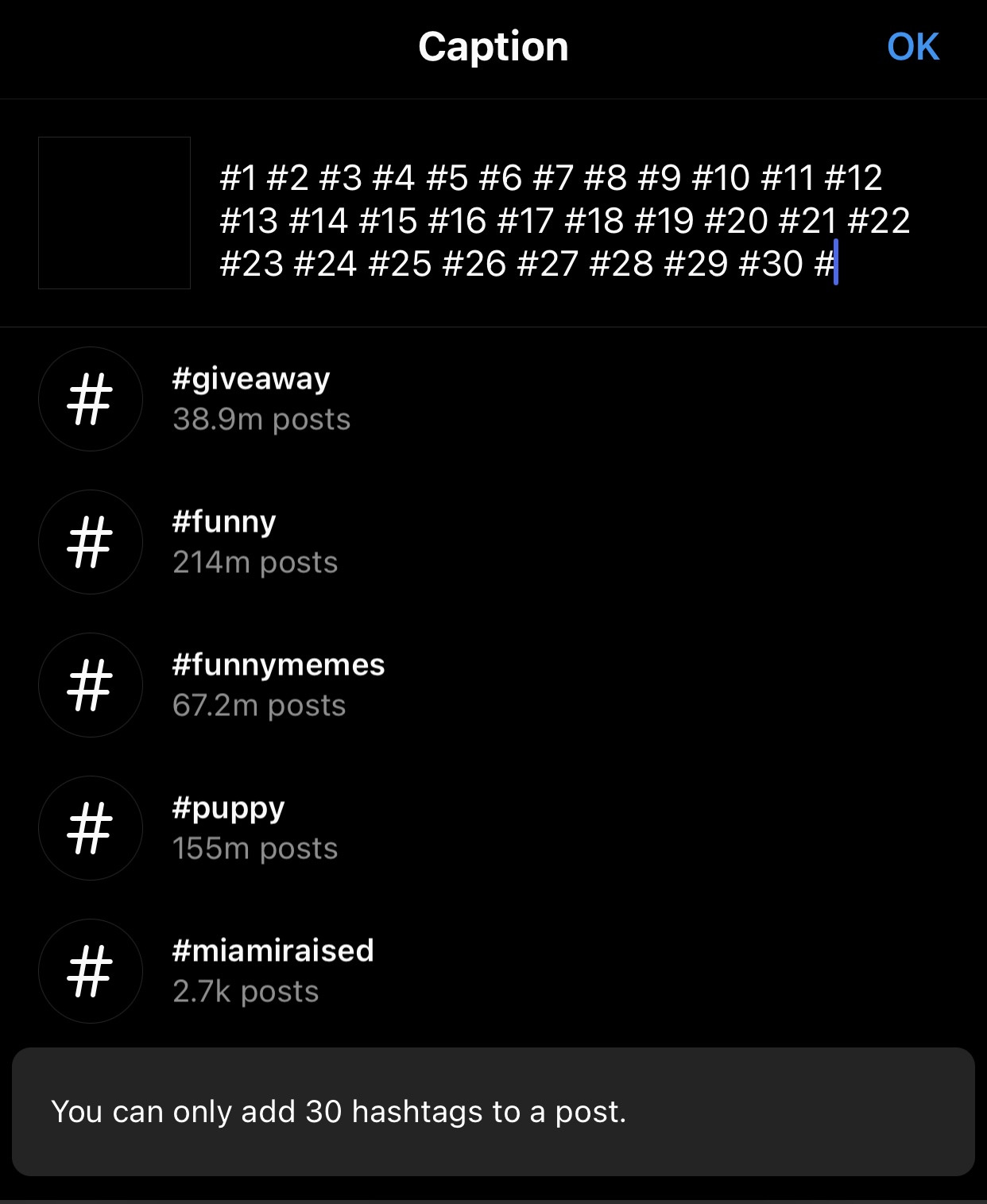 When you use a hashtag on your post, that post will then show up on the explore page for that hashtag. If there is enough activity on your post in a short enough time-frame, your post may appear at the top of that page in the 'Top Posts' section.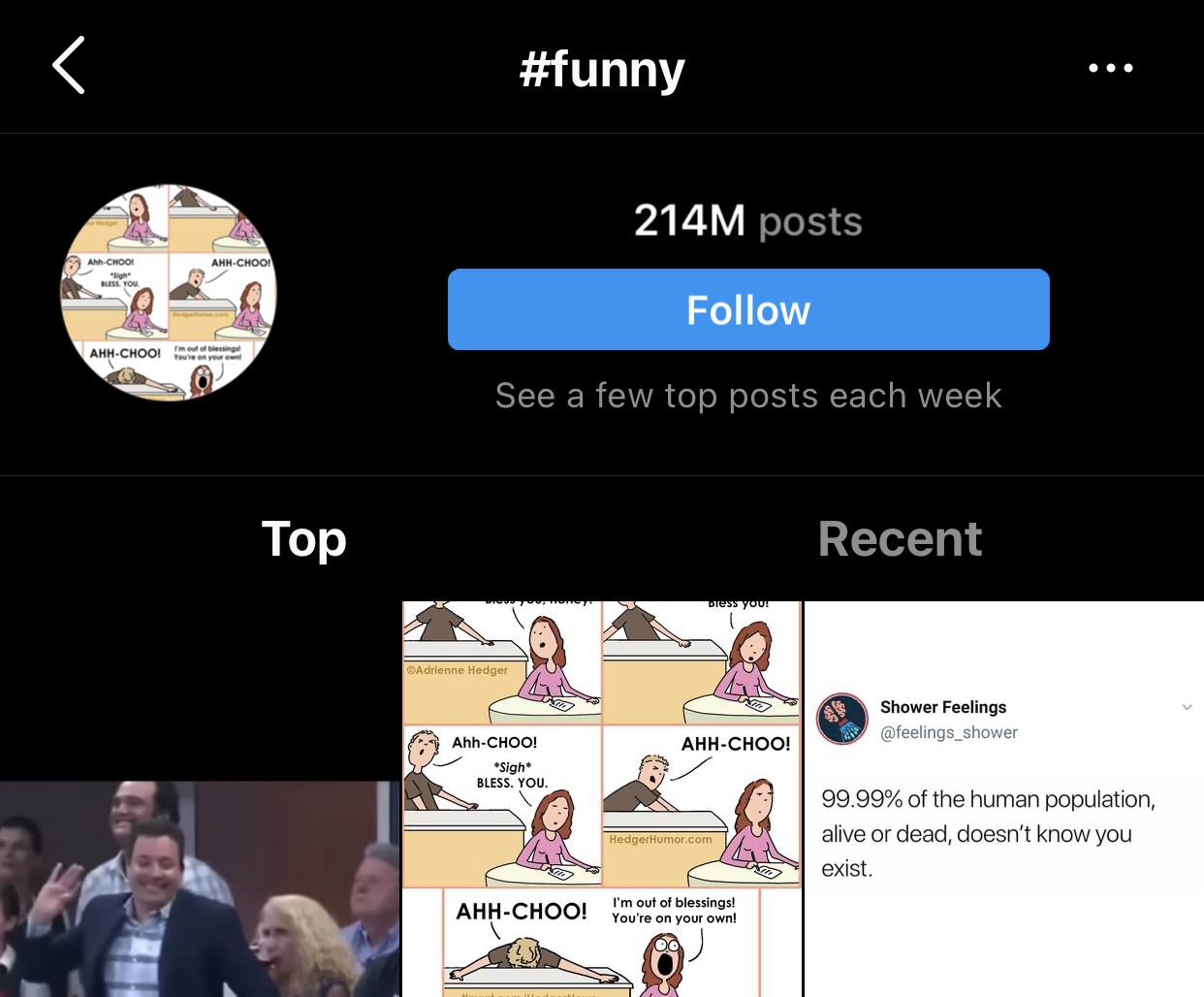 When you use a hashtag on your story, it may (no guarantees) be included in the story for that hashtag which can be found on the explore page.
Hashtags will only work if your account if public. If you have a private account, you can still put hashtags on your post, but it is effectively pointless as no one will be able to find your posts using those hashtags.
Instagram also allows users to follow hashtags. This means that if you follow the hashtag #ocean, you will see posts using that hashtag show up in your feed. Unlike traditional posts in your feed, you don't have to be following an account to see these posts.
Why should I use Instagram hashtags?
Hashtags can be great for building a brand and engaging with people. Someone may buy some new product and make a post about it using a hashtag, and some of their followers will tap on that hashtag and learn more about the product by seeing other posts using the same hashtag.
Perhaps, as a brand, you want to see who is using your product or service and what they think about it. Hashtags can allow you to do this, and you can even interact with them. In the past, someone would just buy your product and you would have no idea what happened to them; now, you can potentially see if they're using it and how they feel about it.
Maybe you want to do a giveaway or do some sort of "use this hashtag and we might repost your post" thing; hashtags can be perfect for this!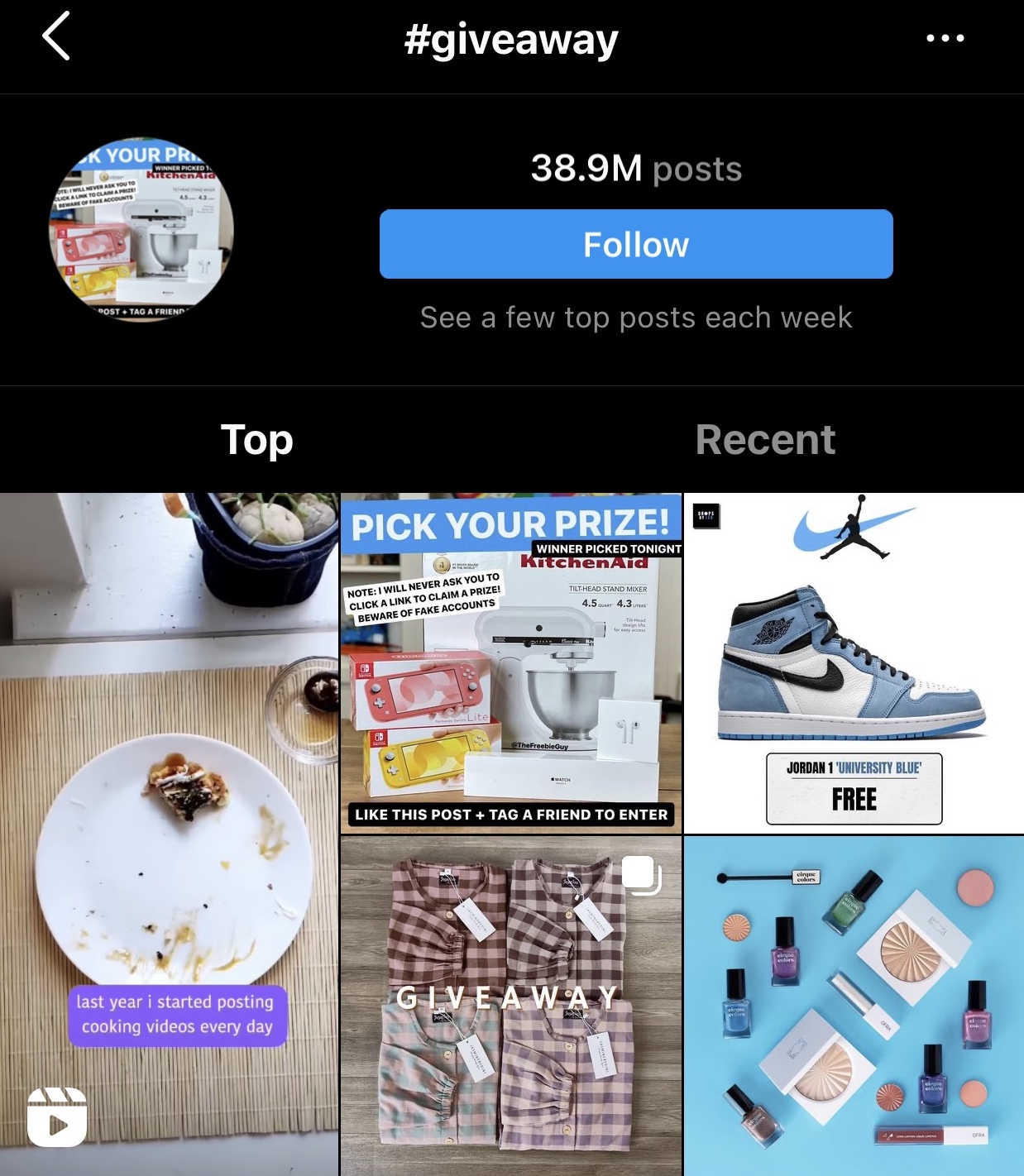 Hashtags can even be used for meeting new people. Imagine you have some really obscure thing (an old computer, camera, car, whatever) which you make a post about using some hashtags. Those hashtags may have few-to-no posts, but perhaps they will help someone who is looking for that thing find your post and contact you.
What kinds of Instagram hashtags are there?
Here are a few ways you can think about hashtags:
Hashtags for a product or service
A bike shop may use hashtags like #bikeshop or #bicycles. A clothing brand may use hashtags like #teeshirt or #hoodie/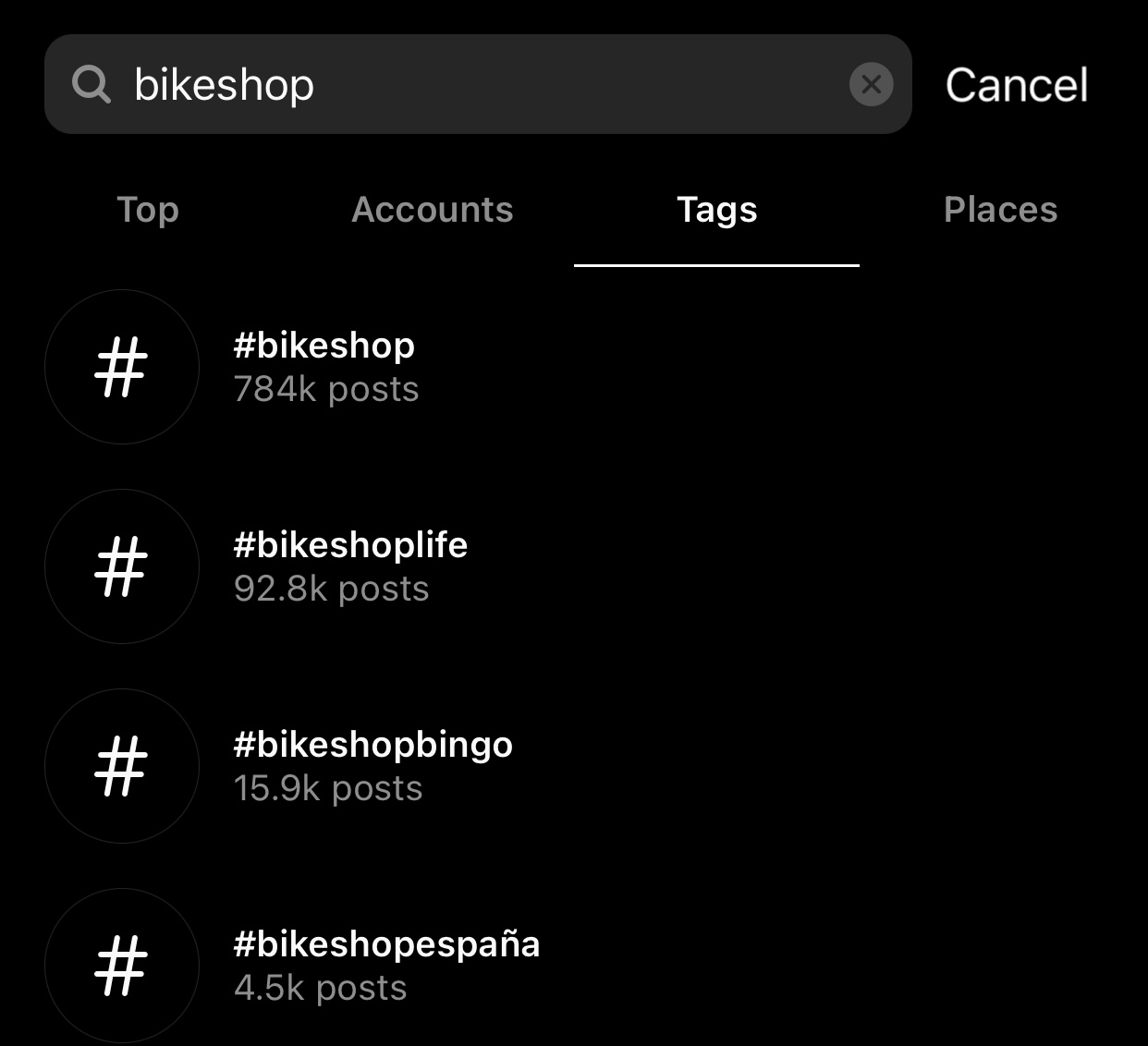 Hashtags for a niche within a larger industry
If you are a wedding photographer, you might use tags like #weddingphotography. If you do fashion photography, you could use #fashionphotography.
Hashtags for communities within an industry
These hashtags can indicate that you're part of an industry. For example, if you are a plumber, you may use #plumbersofinstagram. This will allow other plumbers to find your posts.
Hashtags for events or holidays
Hashtags like #nationaldonutday, #christmas2021 or #blackfriday can be used for special events.
Hashtags for geographic locations
You can use hashtags to tell people where you or your business is located. For example, an athlete from Miami may use the hashtag #miamiraised and a automotive parts manufacturer from England could use the hashtag #madeinengland.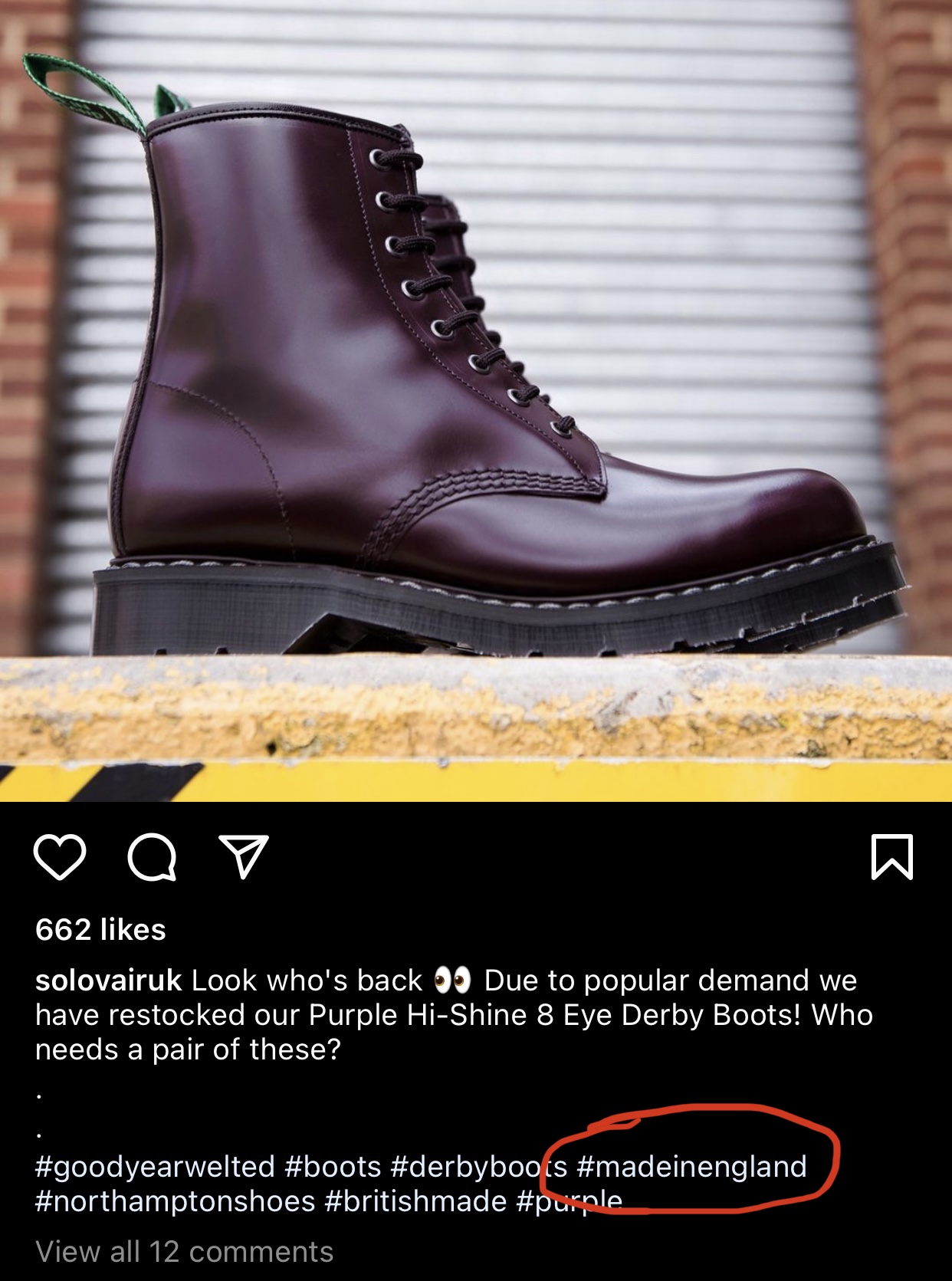 Hashtags for daily posts
Some very popular hashtags like #throwbackthursday or #selfiesunday can be used for posts on certain days of the week.
Hashtags for popular phrases or saying relevant to what you do
If you're an artist, you may use hashtags like #creativity, #expression or #feelings on your posts; if you're an extreme athlete, you might use #nofear or #justdoit.
Hashtags that are acronyms or abbreviations
The hashtag #throwbackthursday was mentioned earlier, but many people also use #TBT – an abbreviation for throwback Thursday. Some similar popular hashtags include #FBF (#flashbackfriday), #ss (#selfiesunday), #ootd (#outfitoftheday, or outfit of the day) and #bhfyp (best hashtag for your post).
Hashtags that include (or solely consist of) emojis
You can make your hashtags more interesting by adding emojis to them, or you can simply use emojis and nothing else!
How many hashtags can you use on Instagram?
Instagram allows you to use a maximum number of 30 hashtags on posts and 10 hashtags on Stories. This means you need to be somewhat judicious in what hashtags you use, as you can't use all of them!
How many hashtags SHOULD you use on Instagram?
Just because you can use 30 hashtags doesn't mean you should. But are there actually any reasons that you shouldn't? Is using a lot of hashtags a bad thing?
Other than making your post look spammy, no, not really. While it may be true that the average 'top post' uses x number of hashtags (where x is 12 or 13 or something), there are a many explanations for why that could be; it does not necessarily mean that those posts are top posts because they used a certain number of hashtags.
Top 100 Most Popular Hashtags on Instagram
Here are the top 100 most popular Instagram hashtags as of .
#love (2.1B posts)
#instagood (1.6B posts)
#fashion (1.1B posts)
#photooftheday (1B posts)
#instagram (962.8M posts)
#art (960.8M posts)
#photography (953.9M posts)
#nature (746M posts)
#beautiful (801.4M posts)
#picoftheday (701.7M posts)
#happy (681.6M posts)
#follow (671M posts)
#travel (659.6M posts)
#cute (653.5M posts)
#style (616.2M posts)
#instadaily (601M posts)
#tbt (580M posts)
#followme (554.8M posts)
#repost (550.2M posts)
#summer (535.8M posts)
#fitness (501.3M posts)
#like4like (500.3M posts)
#beauty (508.5M posts)
#food (490.9M posts)
#instalike (473.1M posts)
#photo (465.1M posts)
#selfie (451M posts)
#me (449.5M posts)
#friends (431.6M posts)
#fun (426.7M posts)
#smile (426.1M posts)
#girl (424.1M posts)
#family (423.3M posts)
#life (419.6M posts)
#music (417.5M posts)
#explore (412.9M posts)
#ootd (411.7M posts)
#makeup (381.8M posts)
#likeforlikes (376M posts)
#dog (353.5M posts)
#model (343.2M posts)
#design (335.3M posts)
#likeforlike (330.8M posts)
#handmade (328M posts)
#motivation (325.9M posts)
#lifestyle (325.1M posts)
#sunset (312.9M posts)
#dogsofinstagram (293.4M posts)
#foodporn (292.5M posts)
#nofilter (284.6M posts)
#artist (296.5M posts)
#igers (278.6M posts)
#drawing (274.1M posts)
#cat (272.3M posts)
#beach (287.6M posts)
#instamood (270.7M posts)
#amazing (286.6M posts)
#sun (267.3M posts)
#일상 (265.8M posts)
#followforfollowback (265.4M posts)
#follow4follow (257.4M posts)
#sky (255.2M posts)
#flowers (248.2M posts)
#wedding (242M posts)
#moda (241.5M posts)
#photographer (240.8M posts)
#gym (239.1M posts)
#hair (236.7M posts)
#funny (229.6M posts)
#foodie (228.9M posts)
#inspiration (228.4M posts)
#instafood (228.4M posts)
#memes (225.9M posts)
#l4l (224.5M posts)
#f4f (222.8M posts)
#likeforfollow (217.5M posts)
#followforfollow (216.4M posts)
#naturephotography (212.9M posts)
#workout (207.2M posts)
#baby (224.9M posts)
#nails (205.3M posts)
#instapic (204.4M posts)
#vsco (201.2M posts)
#home (200.3M posts)
#illustration (199.8M posts)
#travelphotography (199.8M posts)
#india (198.3M posts)
#vscocam (196.8M posts)
#tagsforlikes (195.6M posts)
#yummy (194.1M posts)
#bestoftheday (201.2M posts)
#insta (191.6M posts)
#christmas (191M posts)
#landscape (190.7M posts)
#catsofinstagram (190.1M posts)
#girls (189.6M posts)
#fit (187M posts)
#puppy (186.8M posts)
#party (186.2M posts)
#healthy (184.3M posts)
#blackandwhite (180.4M posts)
#pretty (179.6M posts)
#tattoo (177.3M posts)
#photoshoot (177.3M posts)
#instafashion (174.7M posts)
#portrait (173.6M posts)
#winter (170.6M posts)
#sea (170M posts)
Copy the top 30 most popular Instagram hashtags

            #love #instagood #fashion #photooftheday #instagram #art #photography #nature #beautiful #picoftheday #happy #follow #travel #cute #style #instadaily #tbt #followme #repost #summer #fitness #like4like #beauty #food #instalike #photo #selfie #me #friends #fun
        
Top 31-60 Hashtags

            #smile #girl #family #life #music #explore #ootd #makeup #likeforlikes #dog #model #design #likeforlike #handmade #motivation #lifestyle #sunset #dogsofinstagram #foodporn #nofilter #artist #igers #drawing #cat #beach #instamood #amazing #sun #일상 #followforfollowback #follow4follow
        
Top 61-90 Hashtags

            #sky #flowers #wedding #moda #photographer #gym #hair #funny #foodie #inspiration #instafood #memes #l4l #f4f #likeforfollow #followforfollow #naturephotography #workout #baby #nails #instapic #vsco #home #illustration #travelphotography #india #vscocam #tagsforlikes #yummy #bestoftheday #insta #christmas #landscape #catsofinstagram #girls #fit #puppy #party #healthy #blackandwhite #pretty #tattoo #photoshoot #instafashion #portrait #winter #sea