Valentine's Day 2022 Hashtags
Best Hashtags for Valentine's Day Instagram Posts in 2022
Last Updated:
#valentinesday is currently the 214th most popular hashtag on Instagram, with 22.87M posts.
NOTE: #valentinesday is currently restricted (or hidden) on Instagram. This means that people will not currently be able to find your posts by searching for this hashtag (unless your posts are very popular and become "top posts").
Best Hashtags for Valentine's Day
24 Hashtags

            #valentinesday #life #gifts #valentinesdaygift #flowers #vday #cookies #valentinesday2022 #valentinesdaynails #art #giftsforher #valentinesdayparty #love #photography #valentinesday❤️ #2022 #valentinesdaygifts #valentine #fashion #valentines #valentinesdaycard #happy #valentinesdaymakeup #beautiful
        
See more hashtags below! ⬇️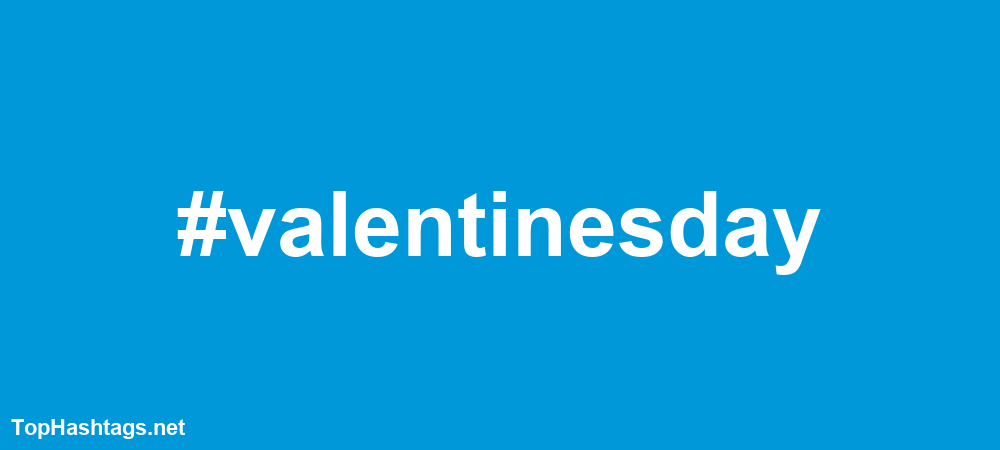 Set 1
24 Hashtags

                #valentinesday #art #chocolate #valentinesday2020 #valentines #cake #valentinesdaymakeup #valentinesday2019 #valentinesdaygifts #instagood #photooftheday #valentinesdaynails #valentinesday2021 #nyc #valentine #fashion #valentinesday❤️ #valentinesdaygift #vday #dubaifashion #cute #valentinesday2018 #valentinesday2017 #love
            
Set 2
28 Hashtags

                #valentinesday #dubai #desserts #food #valentines #uaefashion #sunset #vday #localbusiness #selfie #lovindubai #supportlocalbusiness #etsy #nycprimeshot #fiorbox #hearts #nycgo #manhattan #söz #dubaifashion #art #cute #nyonair #photooftheday #newyear #dubai🇦🇪 #partydecorations #uaeblog
            
Set 3
25 Hashtags

                #valentinesday #valentinesdayquotes #valentinesday2020❤ #valentinesdaymakeuplook #valentinesdaydecorations #valentinesdaysucks #valentinesday2019❣🎁🍫 #valentinesday2018 #valentinesdaypresent #valentinesdaycraft #valentinesdaystrawberries #valentinesdaychallenge #valentinesday2021 #valentinesdaycountdown #valentinesdayspecial #valentinesdaycrafts #valentinesdaysurprise #valentinesdaymakeup #valentinesdaycards #valentinesdaycontest #valentinesdayballoons #valentinesdaynailart #valentinesdaycard #valentinesday❤️ #valentinesdaydinner
            
Set 4
28 Hashtags

                #valentinesday #love #valentines #nyc #valentine #cute #vday #dubaifashion #art #cake #chocolate #2021 #giftbox #babyshower #handmade #hearts #birthday #localbusiness #supportlocal #newyear #instagood #photooftheday #dubai #dubaiblogger #dubaitag #fiorbox #lovindubai #mydubai
            
Set 5
27 Hashtags

                #valentinesday #valentinesdaygift #valentinesday2019 #valentinesday2020 #valentinesday2021 #valentinesday2018 #valentinesdaygifts #valentinesday❤️ #valentinesdaymakeup #valentinesdaynails #valentinesday2017 #valentinesdayspecial #valentinesdaygiftideas #valentinesdaysale #valentinesdaycookies #valentinesdaydecor #valentinesdaycard #valentinesday2019❤️ #valentinesdaycards #valentinesdayparty #valentinesdaydinner #valentinesdayflowers #valentinesdayoutfit #valentinesdayideas #valentinesdaypresent #valentinesdaytreats #valentinesdayweekend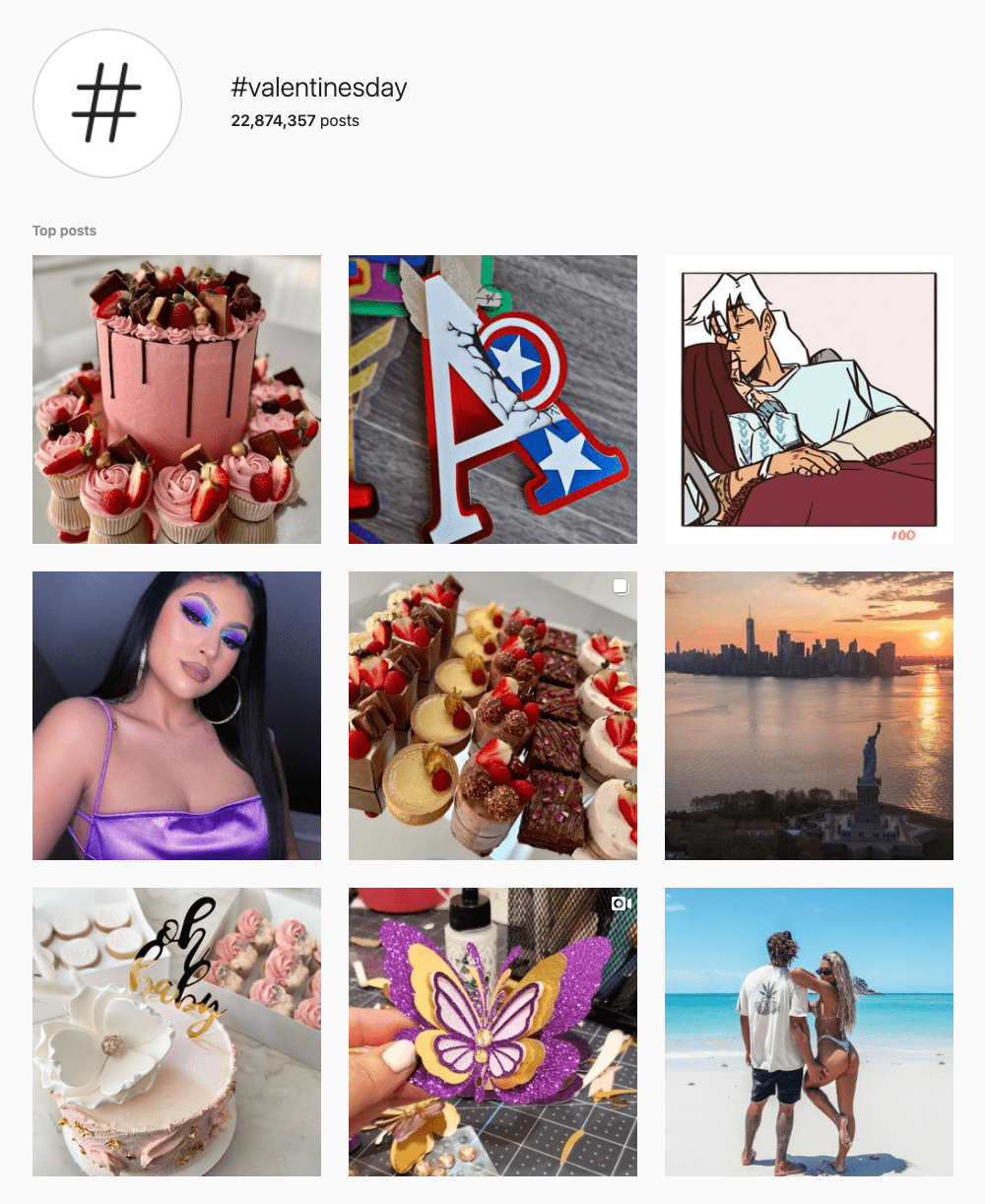 Suggested Hashtags
#

Hashtag

Posts

1

#valentinesdaygift

1.46M

2

#valentinesday2019

1.3M

3

#valentinesday2020

1.07M

4

#valentinesday2021

943.29k

5

#valentinesday2018

466.58k

6

#valentinesdaygifts

269.03k

7

#valentinesday❤️

182.67k

8

#valentinesdaymakeup

174.81k

9

#valentinesdaynails

160.21k

10

#valentinesday2017

106.66k

11

#valentinesdayspecial

104.87k

12

#valentinesdaygiftideas

95.88k

13

#valentinesdaysale

91.53k

14

#valentinesdaycookies

80.58k

15

#valentinesdaydecor

78.13k
Show More Suggested Tags

16

#valentinesdaycard

78.13k

17

#valentinesday2019❤️

68.74k

18

#valentinesdaycards

67.47k

19

#valentinesdayparty

66.03k

20

#valentinesdaydinner

63.13k

21

#valentinesdayflowers

58.33k

22

#valentinesdayoutfit

57.98k

23

#valentinesdayideas

56.17k

24

#valentinesdaypresent

52.97k

25

#valentinesdaytreats

52.91k

26

#valentinesdayweekend

43.56k

27

#valentinesdays

43.09k

28

#valentinesdayiscoming

40.1k

29

#valentinesdaylook

39.49k

30

#valentinesdaycake

37.58k

31

#valentinesday2021❤

36.78k

32

#valentinesdaygiveaway

33.46k

33

#valentinesdaychallenge

32.9k

34

#valentinesdayphotoshoot

23.1k

35

#valentinesdayart

20.31k

36

#valentinesday2020❤

20.21k

37

#valentinesdaygiftsforher

19.75k

38

#valentinesdaycrafts

19.56k

39

#valentinesdaycupcakes

19k

40

#valentinesdaysucks

15.03k

41

#valentinesdaydessert

14.94k

42

#valentinesdaymemes

14.91k

43

#valentinesdaybox

12.96k

44

#valentinesdayballoons

11.36k

45

#valentinesdayshoot

10.45k

46

#valentinesdaymakeuplook

10.02k

47

#valentinesdaysurprise

9.67k

48

#valentinesdaynailart

9.66k

49

#valentinesdaycontest

8.92k

50

#valentinesdaygiftsforhim

7.79k

51

#valentinesday2019❣🎁🍫

7.59k

52

#valentinesdaycraft

7.29k

53

#valentinesdaystrawberries

6.83k

54

#valentinesdaydecorations

6.59k

55

#valentinesdaymeme

6.19k

56

#valentinesdayquotes

5.96k

57

#valentinesdaywreath

5.8k

58

#valentinesdaycountdown

5.01k

59

#valentinesdaycakes

4.88k

60

#valentinesdaydiy

3.96k
Back to Top ⏫
Similar Hashtags
Given a sample of 403 posts using #valentinesday, here are some of the hashtags most frequently used.
#love

16.35%

#valentines

15.97%

#ValentinesDay

8.75%

#valentine

6.46%

#cute

5.32%

#dubaifashion

5.32%

#art

4.94%

#2021

4.94%

#chocolate

4.94%

#giftbox

4.94%

#supportlocal

4.56%

#hearts

4.56%

#localbusiness

4.56%

#handmade

4.56%

#dubaitag

4.18%

#dubaiblogger

4.18%

#babyshower

4.18%

#instagood

4.18%

#birthday

4.18%

#uaefashion

4.18%

#uaeblog

4.18%

#valentineindubai

4.18%

#lovindubai

4.18%

#dubai

4.18%

#fiorbox

4.18%

#supportlocalbusiness

4.18%

#mydubai

4.18%

#uae🇦🇪

4.18%

#instadaily

3.80%

#Holidays

3.80%