Workout Hashtags
Best Hashtags for Workout Instagram Posts
Last Updated:
#workout is currently the 85th most popular hashtag on Instagram, with 179.77M posts.
Best Hashtags for Workout
28 Hashtags

            #workout #workoutflow #homeworkout #health #sport #workoutmotivation #workoutroutine #workouts #strong #workoutideas #workoutgear #fit #training #hiitworkout #gymlife #bodybuilding #gym #workouttime #workouttips #fitness #streetworkout #lifestyle #fitnessmotivation #love #fitfam #workoutoftheday #workoutclothes #motivation
        
See more hashtags below! ⬇️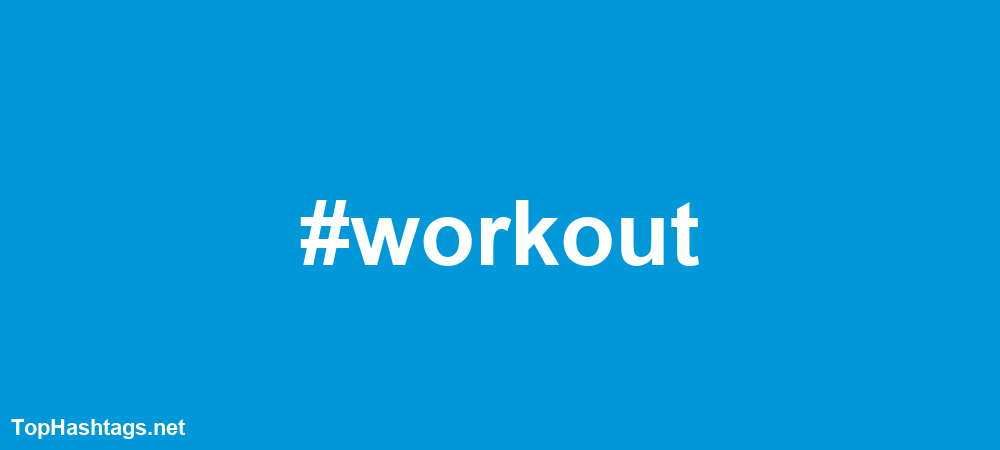 Set 1
23 Hashtags

                #workout #workouttime #homeworkout #fitfam #love #muscle #fitness #workoutoftheday #workoutathome #gym #motivation #workoutroutine #workouts #workoutvideo #fitnessmotivation #training #hiitworkout #gymmotivation #fit #bodybuilding #instagood #streetworkout #workoutmotivation
            
Set 2
27 Hashtags

                #workout #gymmotivation #diet #art #me #beach #photo #workhard #idfa #girl #healthyeating #style #motivation #naw2021 #boxing #beautiful #fitness #crossfit #beastmode #fitspo #fitnessmotivation #physique #instafit #model #exercise #lifestyle #likeforlikes
            
Set 3
26 Hashtags

                #workout #workoutsnap #workoutoftheday #workoutvideos #workoutvids #workoutgear #workoutathome #workoutcomplete #workoutsforwomen #workoutanywhere #workoutapparel #workoutbuddy #workoutday #workouts #workouteveryday #homeworkout #workoutgirl #workoutsession #workoutplan #streetworkout #workoutmotivations #workout24 #workoutroutines #workoutpartner #workoutwithme #workouttime
            
Set 4
25 Hashtags

                #workout #fitness #gym #motivation #fitnessmotivation #bodybuilding #fit #gymmotivation #training #fitfam #muscle #gymlife #lifestyle #fitnessjourney #instagood #sport #workoutmotivation #love #photooftheday #strong #health #exercise #healthylifestyle #idfa #idfa2021
            
Set 5
24 Hashtags

                #workout #workoutmotivation #homeworkout #workouts #streetworkout #workoutroutine #workouttime #hiitworkout #workoutathome #workoutoftheday #workoutvideo #workoutvideos #workoutwednesday #workoutfit #workoutclothes #workouttips #workoutdone #workoutflow #workoutideas #workoutgear #workoutfromhome #workoutplan #workoutbuddy #workoutlife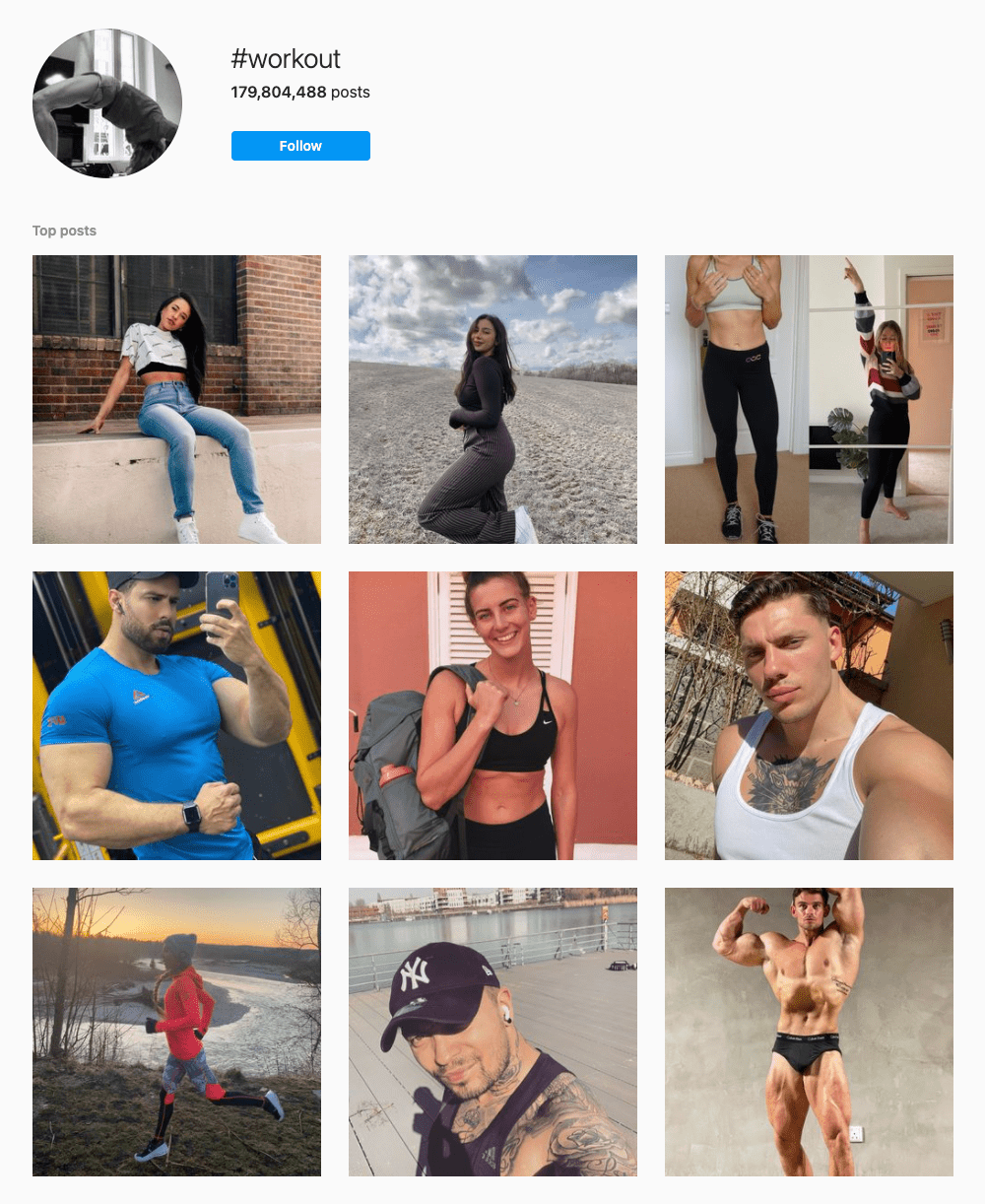 Suggested Hashtags
#

Hashtag

Posts

1

#workoutmotivation

16.44M

2

#homeworkout

7.05M

3

#workouts

5.45M

4

#streetworkout

5.1M

5

#workoutroutine

3.36M

6

#workouttime

2.84M

7

#hiitworkout

2.23M

8

#workoutathome

2.17M

9

#workoutoftheday

1.63M

10

#workoutvideo

1.41M

11

#workoutvideos

1.13M

12

#workoutwednesday

1.03M

13

#workoutfit

965.96k

14

#workoutclothes

874.05k

15

#workouttips

717.65k
Show More Suggested Tags

16

#workoutdone

688.3k

17

#workoutflow

675.72k

18

#workoutideas

641.2k

19

#workoutgear

592.59k

20

#workoutfromhome

576.46k

21

#workoutplan

490.15k

22

#workoutbuddy

480.12k

23

#workoutlife

459.29k

24

#workout24

437.63k

25

#workoutday

404.46k

26

#workoutinspiration

396.61k

27

#workoutwear

368.54k

28

#workoutmode

362.01k

29

#workoutgirl

346.64k

30

#workoutpartner

322.32k

31

#workoutgoals

309.84k

32

#workoutselfie

236.32k

33

#workouthard

235.76k

34

#workoutcomplete

224.6k

35

#workoutchallenge

221.26k

36

#workoutstyle

219.67k

37

#workoutanywhere

207.47k

38

#workoutbuddies

207.3k

39

#workoutmusic

200.95k

40

#workoutdaily

194.25k

41

#workouteveryday

192.47k

42

#workoutapparel

175.39k

43

#workoutsforwomen

171.83k

44

#workoutroutines

163.07k

45

#workoutoutfit

153.59k

46

#workoutfood

147.22k

47

#workoutaddict

140.25k

48

#workoutprogram

138.81k

49

#workoutwithme

133.1k

50

#workoutvids

131.93k

51

#workoutsnap

125.02k

52

#workoutsession

124.15k

53

#workoutplans

110.35k

54

#workoutmotivations

102.55k
Back to Top ⏫
Similar Hashtags
Given a sample of 89 posts using #workout, here are some of the hashtags most frequently used.
#fitness

52.50%

#gym

43.75%

#motivation

28.75%

#fitnessmotivation

25.00%

#bodybuilding

22.50%

#gymmotivation

20.00%

#fit

20.00%

#training

20.00%

#fitfam

15.00%

#gymlife

13.75%

#muscle

13.75%

#lifestyle

12.50%

#fitnessjourney

11.25%

#sport

11.25%

#instagood

11.25%

#workoutmotivation

10.00%

#love

10.00%

#healthylifestyle

8.75%

#idfa

8.75%

#health

8.75%

#strong

8.75%

#naw2021

8.75%

#exercise

8.75%

#photooftheday

8.75%

#naw

8.75%

#idfa2021

8.75%

#fitspo

7.50%

#abs

7.50%

#gains

7.50%

#beautiful

7.50%