Workout Hashtags
Best Hashtags for Workout Instagram Posts
Last Updated:
#workout is currently the 86th most popular hashtag on Instagram, with 182.14M posts.
Best Hashtags for Workout
28 Hashtags

            #workout #workoutflow #homeworkout #health #sport #workoutmotivation #workoutroutine #workouts #strong #workoutideas #workoutgear #fit #training #hiitworkout #gymlife #bodybuilding #gym #workouttime #workouttips #fitness #streetworkout #lifestyle #fitnessmotivation #love #fitfam #workoutoftheday #workoutclothes #motivation
        
See more hashtags below! ⬇️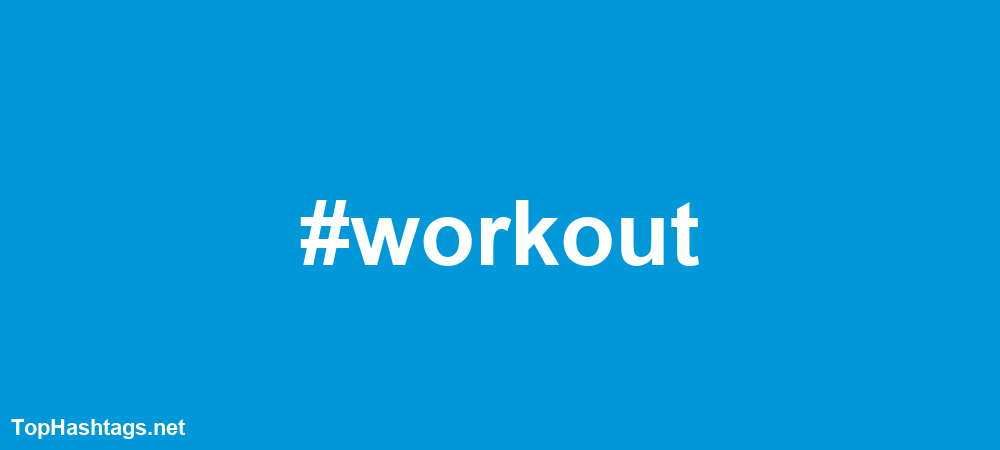 Set 1
27 Hashtags

                #workout #homeworkout #gymmotivation #workouts #fit #training #workoutroutine #hiitworkout #streetworkout #fitfam #workoutapparel #photooftheday #gym #photo #workoutvideo #workoutmotivation #muscle #fitness #workouttime #workoutoftheday #fitnessmotivation #fashion #love #bodybuilding #instagood #motivation #workoutathome
            
Set 2
23 Hashtags

                #workout #boxing #model #follow #yoga #healthyfood #idfa #motivation #weightloss #weightlossjourney #healthylifestyle #fashion #healthy #bodybuilding #loveyourself #personaltrainer #muscle #picoftheday #tattoo #fitnessaddict #training #fitnessmodel #me
            
Set 3
26 Hashtags

                #workout #workoutlife #workoutgoals #workoutfromhome #workoutflow #workouttips #workoutapparel #workoutcomplete #workoutinspiration #workoutdone #workoutfood #workoutstyle #workouthard #workoutroutines #workoutgear #workouts #workoutpartner #workoutwednesday #workoutmode #workoutgirl #workoutprogram #workoutbuddies #homeworkout #workoutdaily #workoutvideo #workoutmotivation
            
Set 4
27 Hashtags

                #workout #fitness #gym #motivation #fitnessmotivation #bodybuilding #fit #gymmotivation #training #fitfam #muscle #gymlife #lifestyle #fitnessjourney #instagood #sport #workoutmotivation #love #photooftheday #strong #health #exercise #healthylifestyle #idfa #idfa2021 #naw #naw2021
            
Set 5
24 Hashtags

                #workout #workoutmotivation #homeworkout #workouts #streetworkout #workoutroutine #workouttime #hiitworkout #workoutathome #workoutoftheday #workoutvideo #workoutvideos #workoutwednesday #workoutfit #workoutclothes #workouttips #workoutdone #workoutflow #workoutideas #workoutgear #workoutfromhome #workoutplan #workoutbuddy #workoutlife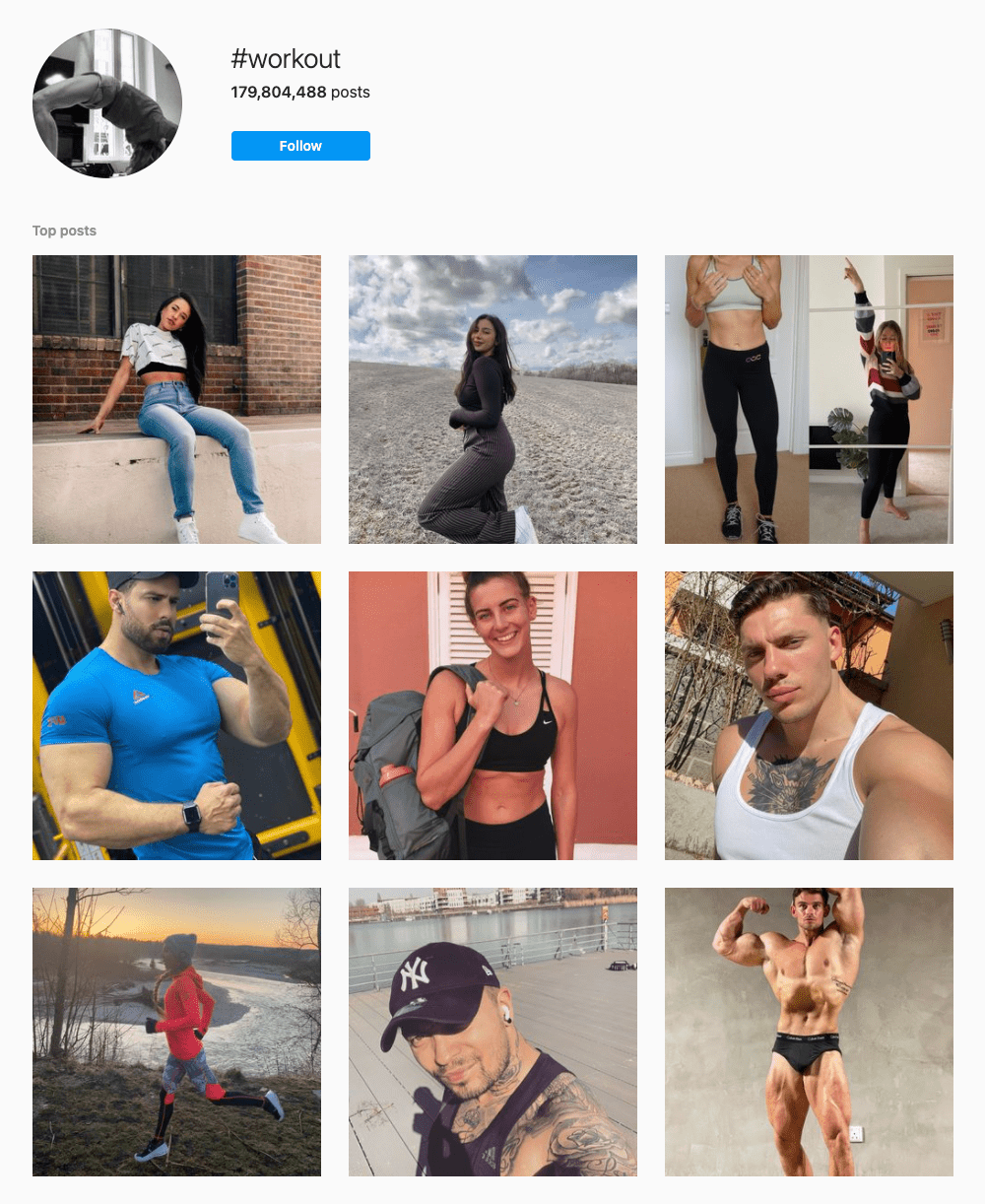 Suggested Hashtags
#

Hashtag

Posts

1

#workoutmotivation

16.92M

2

#homeworkout

7.31M

3

#workouts

5.53M

4

#streetworkout

5.16M

5

#workoutroutine

3.48M

6

#workouttime

2.86M

7

#hiitworkout

2.3M

8

#workoutathome

2.26M

9

#workoutoftheday

1.67M

10

#workoutvideo

1.43M

11

#workoutvideos

1.18M

12

#workoutwednesday

1.04M

13

#workoutfit

989.56k

14

#workoutclothes

896.9k

15

#workouttips

748.42k
Show More Suggested Tags

16

#workoutdone

698.37k

17

#workoutflow

680.19k

18

#workoutideas

663.42k

19

#workoutgear

601.36k

20

#workoutfromhome

600.44k

21

#workoutplan

501.93k

22

#workoutbuddy

485.84k

23

#workoutlife

466.1k

24

#workout24

441.37k

25

#workoutday

411.01k

26

#workoutinspiration

408.34k

27

#workoutwear

376.48k

28

#workoutmode

367.33k

29

#workoutgirl

353.85k

30

#workoutpartner

326.58k

31

#workoutgoals

316.66k

32

#workoutselfie

238.93k

33

#workouthard

238.6k

34

#workoutchallenge

234.58k

35

#workoutcomplete

227.51k

36

#workoutstyle

222.71k

37

#workoutanywhere

213.06k

38

#workoutbuddies

210.47k

39

#workoutmusic

203.62k

40

#workoutdaily

201.1k

41

#workouteveryday

196.65k

42

#workoutsforwomen

184.85k

43

#workoutapparel

181.91k

44

#workoutroutines

169.31k

45

#workoutoutfit

160.01k

46

#workoutfood

149.03k

47

#workoutprogram

143.69k

48

#workoutaddict

143.16k

49

#workoutwithme

139.47k

50

#workoutvids

135.7k

51

#workoutsnap

127.86k

52

#workoutsession

127.4k

53

#workoutplans

113.43k

54

#workoutmotivations

108.2k
Back to Top ⏫
Similar Hashtags
Given a sample of 89 posts using #workout, here are some of the hashtags most frequently used.
#fitness

52.50%

#gym

43.75%

#motivation

28.75%

#fitnessmotivation

25.00%

#bodybuilding

22.50%

#fit

20.00%

#training

20.00%

#gymmotivation

20.00%

#fitfam

15.00%

#muscle

13.75%

#gymlife

13.75%

#lifestyle

12.50%

#instagood

11.25%

#fitnessjourney

11.25%

#sport

11.25%

#workoutmotivation

10.00%

#love

10.00%

#photooftheday

8.75%

#naw2021

8.75%

#idfa2021

8.75%

#strong

8.75%

#health

8.75%

#healthylifestyle

8.75%

#naw

8.75%

#idfa

8.75%

#exercise

8.75%

#beautiful

7.50%

#picoftheday

7.50%

#gains

7.50%

#photography

7.50%